Mortgage Rates Improve On Dismal Job Numbers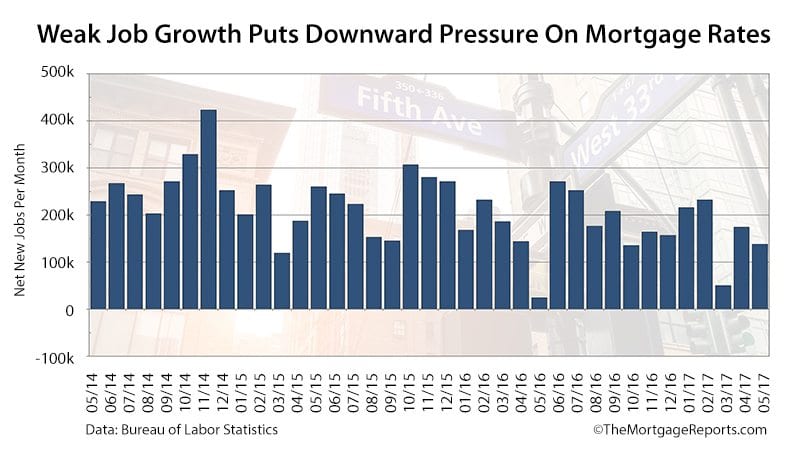 Non-Farm Payrolls Report Casts Shadow On Economy
Mortgage rates are improving on lackluster job creation in May.
Just 138,000 jobs were added, which sounds decent until you hear that one hundred eighty-five thousand were expected.
It casts doubt on the notion that the economy is doing as well as everyone thought. This is helping mortgage rates.
Mortgage rates rise in hot economies. Inflation heats up when everyone has a job and wages rise. But inflation is bad for mortgage rates.
Low inflation means that investors can "afford" to buy mortgage-backed securities (MBS) that offer low rates of return. This helps consumer mortgage rates.
Jobs are what drive an economy. This month's jobs data suggests that economic growth is still subdued, relieving pressure on rates.
Click to see today's rates (Sep 24th, 2017)
The Effect Of The Jobs Report
On the first Friday of each month, the Bureau of Labor Statistics releases its Non-Farm Payrolls report.
More commonly known as "the jobs report", Non-Farm Payrolls gives a detailed look at the nation's workforce. The report includes jobs by sector, average earnings, and the national unemployment rate.
The U.S. economy is inextricably tied to the job market.
Jobs create wealth. Workers have money to spend, and they pump that money back into the economy in a virtuous cycle.
The reverse can happen, too.
If workers can't find jobs, they stop consuming goods and services. Companies pull back on hiring, lay off workers, and decrease production. More slack in the job market ensues, and workers spend even less.
A healthy balance of jobs, spending, and wage growth is ideal for the economy. That's why Wall Street watches the Non-Farm Payrolls report so closely, and why everyday consumers should, too.
Plus, mortgage rates can swing wildly based on jobs data.
Click to see today's rates (Sep 24th, 2017)
May Non-Farm Payrolls Report: Not Enough To Call Off a June Rate Hike
The May Non-Farm Payrolls report showed 138,000 net new jobs created last month -- much lower than the consensus estimate of one hundred eighty-five thousand jobs.
March and April Non-Farm Payrolls data was revised lower by a total of sixty-six thousand jobs.
These aren't the numbers the Fed was looking for.
At its May meeting, the Fed called recent weakness in various economic reports "transitory", meaning things would improve as 2017 marches on.
But improvement has yet to materialize.
Job creation has averaged just 121,000 over March, April, and May. The previous three-month average clocked in north of two-hundred thousand.
In addition, new home sales posted a surprising spring loss in April, down 11% from the month prior, and other housing data is showing signs of weakness, too.
Will all this deter the Fed from hiking rates in June? Probably not.
The Fed will likely say it's too early to steer the rate-hike train onto another track. This is the trajectory the central bank chose at the start of the year, and it would take a lot more data for it to change direction.
Still, consumer mortgage rates could benefit. The Fed doesn't control rates, it only influences them. But lackluster readings in May's jobs report can (at least temporarily) improve mortgage rates.
That's what we're seeing this morning, as investors digest the news. Rates are improving, at least for now.
It's a good time to check rates if you are currently shopping for a mortgage.
Click to see today's rates (Sep 24th, 2017)
How To "Play" Economic Reports As A Mortgage Shopper
Getting a mortgage rate is a lot like buying a stock.
You want to strike at the right value. There's nothing worse than hitting "buy" the day before the market turns.
"Investing" in a mortgage rate can be just as frustrating. You lock in a rate, and the next thing you know, rates drop. But it doesn't have to go like that.
You can time your mortgage lock just like you would a stock purchase and buy when the value is there. It all comes down to playing on market shifts.
Mortgage rates often swing on unexpected results from an expected report. The May jobs report is a good example, because numbers were much lower than expected.
Weaker-than-expected numbers caused investors to buy into safer assets like mortgage-backed bonds.
These bonds get very popular in times of economic uncertainty. Watching the month's economic reports -- and locking in when the news turns sour -- can pay off.
Just a small improvement in your mortgage rate can make a difference over the life of a 30-year loan. Often, it pays to be patient, shop around, and be ready to lock in when rates suddenly move south.
What Are Today's Mortgage Rates?
The Non-Farm Payrolls report offers a brief respite from rising mortgage rates.
Take a look at today's live rates now. Your social security number is not required to get started, and all quotes come with instant access to your credit scores.
Click to see today's rates (Sep 24th, 2017)
The information contained on The Mortgage Reports website is for informational purposes only and is not an advertisement for products offered by Full Beaker. The views and opinions expressed herein are those of the author and do not reflect the policy or position of Full Beaker, its officers, parent, or affiliates.
Try the Mortgage Calculator