It's Official: Mortgage Rates Fall Below 4%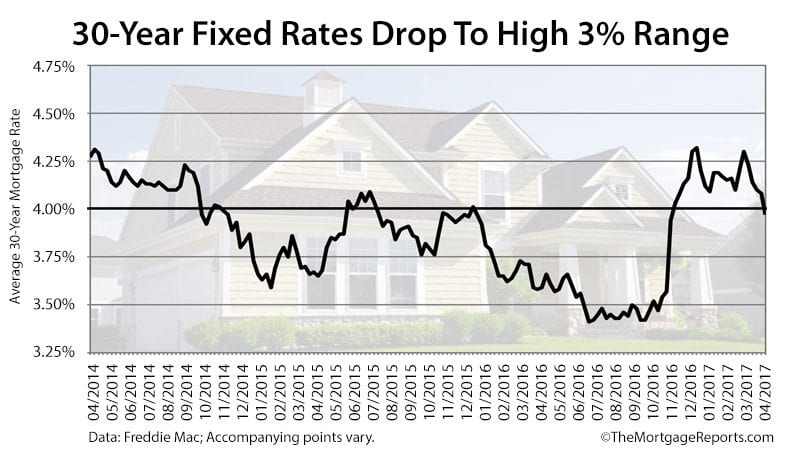 Rates In The 3s Are Back: Mortgage Rates Hit 3.97%
In an unexpected rally, mortgage rates fell below the important 4% barrier.
Freddie Mac, in its weekly survey of more than 100 lenders nationwide, reported the average thirty-year rate dropped a stunning 11 basis points (0.11%) to 3.97% this week.
It's the first time mortgage rates have hit the 3s since mid-November, in the wake of the election that pushed rates to multi-year highs.
Mortgage rates are on the decline shortly after analysts predicted rates in the mid- to high-4s all year. This is a golden opportunity to lock in a low rate in 2017.
As a mortgage rate shopper, here's your chance at a 30-year fixed rate in the 3s.
Click to see today's rates (Aug 21st, 2017)
How Freddie Mac "Makes" Its Weekly Average Rate
Each week, mortgage agency Freddie Mac surveys 125 lenders nationwide for its Primary Mortgage Market Survey (PMMS), a snapshot of current mortgage interest rates.
It asks mortgage companies, banks, and credit unions, and other lenders their current rate for a well-qualified borrower putting 20% down, and paying "discount points," or extra fees that directly reduce the rate.
The weekly Freddie Mac report is great for watching mortgage rate trends. The organization has been conducting the survey for 45 years. So, the weekly average rate is a good measure of historical movement.
But as a mortgage rate consumer who needs a truly current rate, Freddie Mac's survey isn't very useful. They poll lenders Monday through Wednesday for the Thursday release. By publish time, their rate is already outdated.
Mortgage rates change by the minute.
Plus, Freddie's rates are based on the quote for a mythical homeowner: one with great credit, 20% down, and a short closing time frame.
Your rate might be higher or lower. The only way to know is to contact a reputable lender and request a rate quote.
Click to see today's rates (Aug 21st, 2017)
Donald Trump, Plus World Conflict, Helps Rates
The honeymoon is over.
That's what investors are saying, anyway, denoting their curbed enthusiasm about the new administration. They still like many of the ideas presented. They are just becoming doubtful that any of them will materialize.
Donald Trump has presented economy-boosting albeit inflationary proposals. That combo is not good for mortgage rates. The best environment for rates is a soft economy and stubbornly low inflation.
The U.S. was deeply immersed in that situation between 2009 and 2015. Last year, things were looking up. Then Brexit happened mid-year, and rates plummeted to near all-time lows.
In late 2016, the election pushed up mortgage rates to multi-year highs. Investor built in massive economic growth before it actually happened. Now, tax reforms and infrastructure plans have failed to materialize.
Add that to the fact that world conflict is heating up, and you have a recipe for falling rates.
As a mortgage shopper, it could be the time to lock in a rate. Mortgage rates are now at 2017 lows, when most analysts believe they would inch higher all year.
What Are Today's Mortgage Rates?
Today's interest rates are low. Historically any rate in the 4% range was considered "too good to be true." Rates have averaged more than 8% over the 45 years Freddie Mac has been tracking them.
Get today's live mortgage rates now. Your social security number is not required to get started, and all quotes come with access to your live mortgage credit scores.
Click to see today's rates (Aug 21st, 2017)
The information contained on The Mortgage Reports website is for informational purposes only and is not an advertisement for products offered by Full Beaker. The views and opinions expressed herein are those of the author and do not reflect the policy or position of Full Beaker, its officers, parent, or affiliates.
Try the Mortgage Calculator