Mortgage Rates Today, April 14, 2017, Plus Lock Recommendations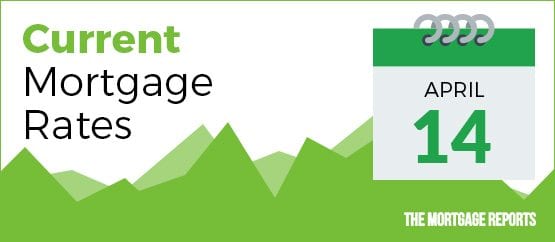 What's Driving Mortgage Rates Today?
Mortgage rates today are bumping around within a small range as the holiday-shortened weekend takes its toll.
Inflation Lower Than Expected
The Consumer Price Index and Retail Sales report both came in significantly lower than expected. Meaning that inflation is still not the boogie man everyone expects when these reports come out. Nice for rates, but we'll probably not get the full effect of the report until Monday when bond markets actually open.
Click to see today's rates (Sep 25th, 2017)
Other Stuff
We've got a mixed bag of indicators this morning. All three major stock indexes are down -- nice for rates. The yield on ten-year Treasuries is down more than five basis points (5/100ths of one percent, a lot) -- and also nice for rates. Gold is up -- which normally indicates economic instability, also good for rates.
But then there is oil -- thanks, Syria. Oil shortages or worries about oil shortages tend to push rates up.
So how are investors feeling abut all this? According to CNNMoney's Fear & Greed Index, which measures investor sentiment / bravery / foolishness / whatever, market participants are scared witless. The index plunged from neutral-ish last week (40-50) to a teeth-chattering 25 today.
Which might be nice if you're floating an interest rate.
Mortgage Rates Today
Mortgage pricing today is likely to be  little more expensive than it would otherwise be. That's because markets shut down early yesterday for the spring (Easter) holiday.
If, while lenders were closed and consumers were able to lock in rates over the weekend,  a war started, causing rates to skyrocket, and no one wants to be caught with the pants down if a war starts while they are closed and consumers begin protecting themselves by locking rates over the weekend.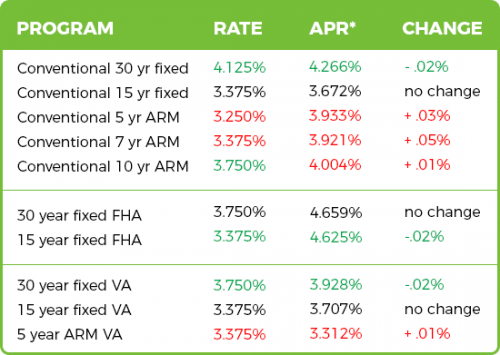 These rates are averages, and your rate could be lower.
Monday
The bond markets will be closing early for a holiday weekend. This means mortgage pricing is likely to be very conservative on Friday, as lenders won't want to get caught closed while events cause rates elsewhere to rise. (This, in the industry, is called a "tape bomb."). Monday might pay off if nothng bad happens over the weekend and lenders exhale next week.
Rate Lock Recommendation
I'd float if I were you. Lock Monday if I can catch a small break.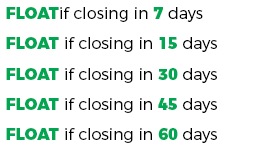 Note that this is what I would do if I had a mortgage in process today. Your own goals and tolerance for risk may differ.
Click to see today's rates (Sep 25th, 2017)
What Causes Rates To Rise And Fall?
Mortgage interest rates depend on a great deal on the expectations of investors. Good economic news tends to be bad for interest rates, because an active economy raises concerns about inflation. Inflation causes fixed-income investments like bonds to lose value, and that causes their yields (another way of saying interest rates) to increase.
For example, suppose that two years ago, you bought a $1,000 bond paying five percent interest ($50) each year. (This is called its "coupon rate.") That's a pretty good rate today, so lots of investors want to buy it from you. You sell your $1,000 bond for $1,200.
When Rates Fall
The buyer gets the same $50 a year in interest that you were getting. However, because he paid more for the bond, his interest rate is not five percent.
Your interest rate: $50 annual interest / $1,000 = 5.0%
Your buyer's interest rate: $50 annual interest / $1,200 = 4.2%
The buyer gets an interest rate, or yield, of only 4.2 percent. And that's why, when demand for bonds increases and bond prices go up, interest rates go down.
When Rates Rise
However, when the economy heats up, the potential for inflation makes bonds less appealing. With fewer people wanting to buy bonds, their prices decrease, and then interest rates go up.
Imagine that you have your $1,000 bond, but you can't sell it for $1,000, because unemployment has dropped and stock prices are soaring. You end up getting $700. The buyer gets the same $50 a year in interest, but the yield looks like this:
$50 annual interest / $700 = 7.1% The buyer's interest rate is now slightly more than seven percent.
Click to see today's rates (Sep 25th, 2017)
The information contained on The Mortgage Reports website is for informational purposes only and is not an advertisement for products offered by Full Beaker. The views and opinions expressed herein are those of the author and do not reflect the policy or position of Full Beaker, its officers, parent, or affiliates.
Try the Mortgage Calculator