This Is How To "Play" Bad Economic Reports As A Mortgage Shopper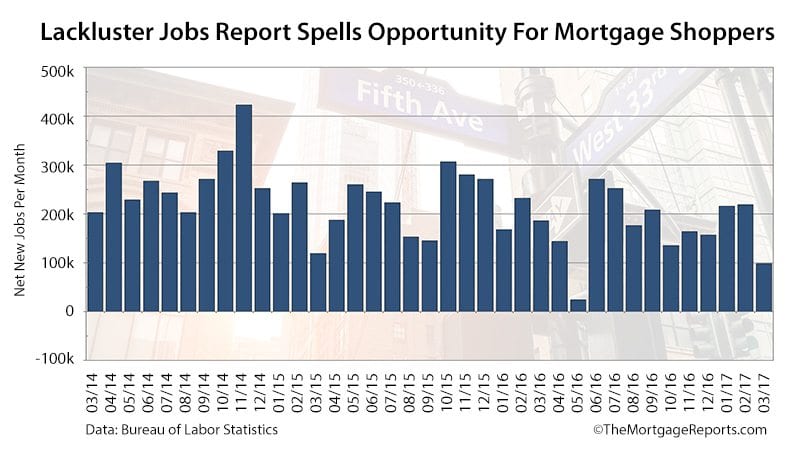 Mortgage Rates Drop Along With Job Gains
Mortgage rates got some help from a lackluster March Non-Farm Payrolls report.
"Just" 98,000 jobs were added, well below estimates, and the lowest since May 2016.
Whenever the economy shows signs of weakness, interest rates tend to drop. That can spell golden opportunity for home buyers and refinancing homeowners.
As a mortgage rate shopper, it pays to note the bigger economic reports that come out monthly. Unexpected news can drive big movements in the mortgage market.
The March jobs report is helping rates, and it could be a great time to lock.
Click to see today's rates (Apr 30th, 2017)
The Effect Of The Jobs Report
On the first Friday of each month, the Bureau of Labor Statistics releases its Non-Farm Payrolls report.
More commonly known as "the jobs report", Non-Farm Payrolls gives a detailed look at the nation's workforce. The report includes jobs by sector, average earnings, and the national unemployment rate.
The U.S. economy is inextricably tied to the job market.
Jobs create wealth. Workers have money to spend, and they pump that money back into the economy in a virtuous cycle.
The reverse can happen, too.
If workers can't find jobs, they stop consuming goods and services. Companies pull back on hiring, lay off workers, and decrease production. More slack in the job market ensues, and workers spend even less.
A healthy balance of jobs, spending, and wage growth is ideal for the economy. That's why Wall Street watches the Non-Farm Payrolls report so closely, and why everyday consumers should, too.
Plus, mortgage rates can swing wildly based on jobs data.
Click to see today's rates (Apr 30th, 2017)
March Non-Farm Payrolls Report: No Fed Fuel
The March Non-Farm Payrolls report showed 98,000 net new jobs created last month -- much lower than the consensus estimate of one hundred seventy-five thousand jobs.
January and February Non-Farm Payrolls data was revised lower by a total of thirty-eight thousand jobs.
The data has alerted Wall Street, and no doubt the Fed is watching, too.
The third Federal Reserve meeting of 2017 convenes just weeks after the release of the report. Weak jobs data is not giving the group the fuel it would need to justify a May rate hike.
Fewer jobs mean a lower risk of inflation. Wage growth slowed in March, too. No doubt this has alleviated fears of a too-hot economy, at least for now.
The Federal Funds Rate is one of the group's important "levers" with which to control economic growth. The group can counter-balance strong shifts in the economy -- both positive and negative ones -- with this tool.
This month, the Fed is none too eager to call for a May rate hike. The data does not warrant that.
Click to see today's rates (Apr 30th, 2017)
How To "Play" Economic Reports As A Mortgage Shopper
Getting a mortgage rate is a lot like buying a stock.
You want to strike at the right value. There's nothing worse than hitting "buy" the day before the market turns.
"Investing" in a mortgage rate can be just as frustrating. You lock in a rate, and the next thing you know, rates drop. But it doesn't have to go like that.
You can time your mortgage lock just like you would a stock purchase and buy when the value is there. It all comes down to playing on market shifts.
Mortgage rates often swing on unexpected results from an expected report. The March jobs report is a perfect example. Hours after the report was issued, mortgage rates improved. Weaker-than-expected numbers caused investors to buy into safer assets like mortgage-backed bonds.
These bonds get very popular in times of economic uncertainty. Watching the month's economic reports -- and locking in when the news turns sour -- can pay off.
Just a small improvement in your mortgage rate can make a difference over the life of a 30-year loan. Often, it pays to be patient, shop around, and be ready to lock in when rates suddenly move south.
What Are Today's Mortgage Rates?
The Non-Farm Payrolls report offers a brief respite from rising mortgage rates.
Take a look at today's live rates now. Your social security number is not required to get started, and all quotes come with instant access to your credit scores.
Click to see today's rates (Apr 30th, 2017)
The information contained on The Mortgage Reports website is for informational purposes only and is not an advertisement for products offered by Full Beaker. The views and opinions expressed herein are those of the author and do not reflect the policy or position of Full Beaker, its officers, parent, or affiliates.
Try the Mortgage Calculator