How Often Can I Refinance My Mortgage?
How Soon Can I Refinance My Mortgage After Closing?
Do you have "buyers remorse" about your current home loan?
Do you want to know how soon you can refinance? Or are you a "serial refinancer" wondering, "How often can I refinance my mortgage without messing up my finances or hurting my credit?"
We have your answers.
Verify your new rate (Sep 21st, 2020)
Top Reasons For Refinancing….Again
There are several valid reasons you might want to refinance soon after closing on a home purchase or refinance.
Interest rates dropped after you closed on your current loan
You have an ARM and now want the stability of a fixed loan
You have a 30-year fixed mortgage, but will only be in your home five years
You took a non-QM, Alt-A, hard money or other loan with a high rate
Your income increased and could qualify for a 15-year fixed loan
You want a cash-out refinance to consolidate debt or finance home improvement
Your income decreased; now you want a lower payment
Your property value increased and you can drop mortgage insurance
You would like to pay off a second mortgage
You want to buy out a co-borrower
If your reason didn't make this list, it doesn't mean you shouldn't refinance again. Examine your goals, without emotion attached. If it makes economic sense to refinance, don't let a recent mortgage transaction keep you from it.
"How Often Can I Refinance?"
You can refinance your mortgage as many times as you want while you own your house. But just because you can, doesn't mean you should.
Every time you refinance, you restart your mortgage. This can be costly.
In the beginning, most of your monthly payment pays the interest due. That's because there's a large amount of principal remaining.
Only a little of the monthly payment goes to reduce the principal. As the balance slowly comes down, less money is needed for interest and more goes toward paying off the loan.
The chart below illustrates this.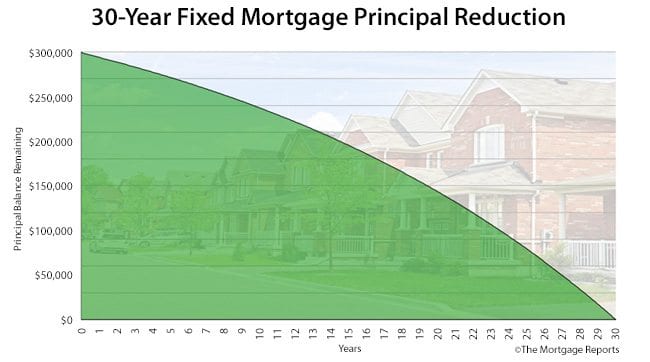 When you refinance over and over, it takes longer to pay off your mortgage.
However, if you are refinancing within months of closing on your previous loan, the damage is minimal.
Verify your new rate (Sep 21st, 2020)
Refinancing Without Extending Your Repayment
If you restart your mortgage, but don't want to add years to the life of your loan, you have options.
Calculate a payment based on the remaining term of your current mortgage.
For instance, if your current 30-year loan is five years old, calculate a payment for your refinance based on a 25 year loan term. Send in the extra separately and label it a "principal reduction."
Refinance to a mortgage with a shorter term.
You don't have to choose another 30-year mortgage. The most common terms are 30 and 15 years, but there are also ten and 20-year mortgages. Another benefit is that loans with shorter terms generally have lower interest rates.
How Soon Can I Refinance?
If your current mortgage has a prepayment penalty (which is rare these days), you'll either have to pay it when you refinance, or wait until it expires.
If you refinance with a Fannie Mae or Freddie Mac loan, there is no waiting period, as long as your new loan is a "rate and term" refinance.
A rate and term refinance is one in which your new loan amount is the same as the remaining balance on your old loan.
Another option is a "limited cash out" refinance, which allows you to pay off your old loan and include refinancing costs in the new loan.
Cash-out refinancing requires a six-month waiting period. In other words, you can't buy a home below-market, and the next week, get a cash-out refinance with the instant equity.
There's one more rare refinance type: a "special cash-out" refinance, which is used when one co-owner buys out another. This type of refinance is common when married couples divorce, or business partners wish to go their separate ways. This refinance purpose requires a 12 month waiting period.
For FHA home loans, there is no seasoning requirement if you refinance a non-FHA mortgage to an FHA loan.
FHA Streamline refinances require you to have made at least six monthly payments, and at least 210 days must have passed since the current mortgage closed. FHA cash-out refinances require at least six months of payment history for the current mortgage.
For a VA-to-VA refinance, also called an Interest Rate Reduction refinance Mortgage, or IRRRL, there is a six-month seasoning requirement.
What Are Today's Refinance Mortgage Rates?
Today's interest rates are still low enough that demand for refinancing has not really slowed. If you can benefit from a rate-and-term, limited cash-out or cash-out refinance, consult with a loan professional today.
Verify your new rate (Sep 21st, 2020)