A Mortgage Rate Forecast: Week Of February 22, 2016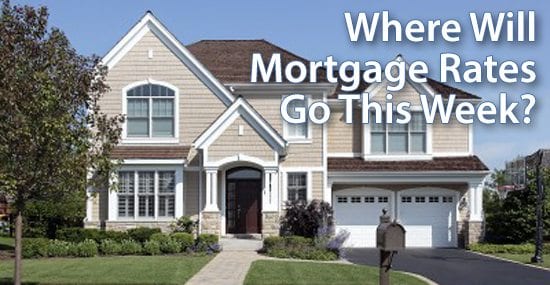 Mortgage Rate Forecast For The Week
It's shaping up to be a rough week for mortgage rate shoppers.
After falling for six straight weeks to start the year, mortgage rates idled last week and appear headed higher into this week's market.
Mortgage rates for conventional loans, and FHA and VA mortgage rates had been at 10-month lows. They're now inching higher, and threatening to wipe out the savings today's buyers and refinancing households were hoping to capture.
Rates are down on falling oil prices and concern for a global economic slowdown. That is, an economic  slowdown everywhere but in the United States.
As oil prices rise, stock markets are rising, too, created a drag on demand for mortgage-backed securities (MBS). When demand for MBS drops, bond prices rise which leads U.S. mortgage rates higher.
Mortgage rates start the week higher as compared to last Friday, and may move higher into next weekend. However, nothing's guaranteed.
Click to see today's rates (Jul 20th, 2017)
Freddie Mac: 30-Year Rates At 3.65%
Each week, Freddie Mac surveys mortgage lenders nationwide to gauge "current rates" for prime mortgage borrowers.
Last week's survey showed:
30-year fixed-rate mortgage rate: 3.65% with 0.5 discount points
15-year fixed-rate mortgage rate: 2.95% with 0.5 discount points
5-year adjustable-rate mortgage rate: 2.85% with 0.4 discount points
Rates reflect purchase money mortgages on primary residences, where the mortgage applicant can verify income and assets; where the downpayment is twenty percent or greater; and, where credit risk is deemed to be low.
The Freddie Mac survey covers conventional loans only.
Mortgage rates for conventional loans tend to run higher than rates for comparable FHA loans, and VA loans which are made possible by the Department of Veterans Affairs' G.I. Bill.
For buyers with average credit scores, VA mortgage rate quotes can beat conventional ones by as much as 100 basis points (1.00%). VA loans also allow zero down payment.
Note that Freddie Mac's surveyed rates are quoted with discount points attached.
Discount points are a one-time, upfront closing cost which grant access to "discounted" mortgage rates. The more discount points paid, the larger the mortgage rate discount.
One discount point comes at a cost of one percent of your loan size.
A borrower in Seattle, Washington, therefore, borrowing at the local mortgage loan limit of $540,500 would pay $5,405 for each discount point charged.
Discount points are optional but, without them, your quoted mortgage rate increases. Loans with no discount points may be one-eighth of a percentage point higher than Freddie Mac's rate.
Click to see today's rates (Jul 20th, 2017)
This Week's Mortgage Rate Forecast
Mortgage rates begin the week off their 10-month bests, but still quite low. Rates are below their year-ago level and continue to defy Wall Street predictions.
That said, mortgage rates are volatile and are subject to change. Today's mortgage rates could look very different from tomorrow's. Mortgage rates take their cues from the market and, if the market calls for higher rates, that's what rate shoppers will see.
The week's economic calendar follows. Any of the following events could affect mortgage market pricing and live mortgage rates.
Monday: None
Tuesday: Case-Shiller Home Price Index; Existing Home Sales; Federal Reserve Vice-Chairman Stanley Fischer speaks; Consumer Confidence
Wednesday: Richmond Fed President Jeffrey Lacker speaks; Dallas Fed President Rob Kaplan speaks; St. Louis Fed President James Bullard speaks; 5-Year Treasury note auction
Thursday: Jobless claims; Atlanta Fed President Dennis Lockhart speaks; Durable Goods; FHFA Home Price Index; San Francisco Fed President John Williams speaks; 7-year Treasury note auction
Friday: GDP; Personal Income and Outlays; Consumer Sentiment; Federal Reserve Bank Governor Jerome Powell speaks; Federal Reserve Bank Governor Lael Brainard speaks
Note that there are a bevy of public appearances this week for members of the Federal Reserve.
Each is important because Fed members communicate key ideas to markets, which can appear later in Fed economic outlooks and policy. The 5-year and 7-year auctions may affect mortgage rates as well.
Mortgage rates are expected to be volatile all week.
What Are Today's Mortgage Rates?
Mortgage rates begin the week worse for the first time since last year. It's an excellent time to consider the refinance of an existing mortgage; or to get financing for a new home purchase.
Take a look at today's real mortgage rates now. Your social security number is not required to get started, and all quotes come with instant access to your live credit scores.
Click to see today's rates (Jul 20th, 2017)
The information contained on The Mortgage Reports website is for informational purposes only and is not an advertisement for products offered by Full Beaker. The views and opinions expressed herein are those of the author and do not reflect the policy or position of Full Beaker, its officers, parent, or affiliates.
Try the Mortgage Calculator