Freddie Mac's Deceptive Mortgage Rates : Why 3.78% Costs More Than 3.79%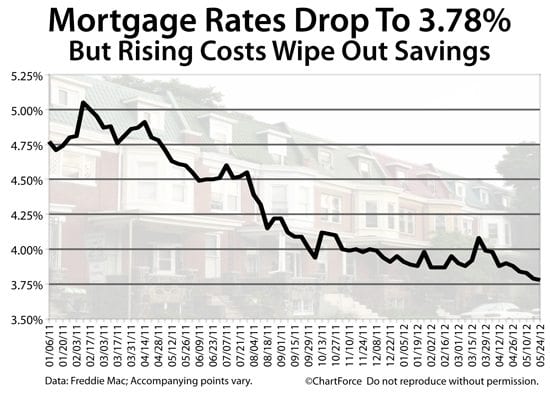 Conforming mortgage rates dropped to 3.78% last week, says Freddie Mac. An all-time record. Or was it? Mortgage rates were down last week, but that doesn't mean loans got cheaper.
Click here for today's mortgage rates (Jul 24th, 2017).
Freddie Mac Assumes You Pay Big Costs
Each week, mortgage-backer Freddie Mac performs a mortgage rate survey of more than 125 banks nationwide. The survey queries banks on their current, offered mortgage rates across various loans products, and asks about the accompanying discount points required to "lock" those rates.
A "discount point" is a one-time cost paid at closing where 1 discount point is equal to 1 percent of your loan size. For example, if you live in Alexandria, Virginia and you borrow up to the local conforming loan limit of $636,100, 1 discount point will cost you $6,361.
Discount points are paid in addition to "typical" mortgage closing costs; items such as appraisal fees; underwriting fees; and, title fees. The IRS treats them as pre-paid interest and, in many cases, discount points are tax-deductible.
Paying discount points also gets you access to lower mortgage rates than you may otherwise have been quoted. The more discount points you pay, the lower your mortgage rate can be.This is why Freddie Mac's published mortgage rates are routinely lower than the rates published by HSH, or the Mortgage Bankers Association, for example.
Freddie Mac mortgage rates assume you want to pay closing costs.
Click here for today's mortgage rates (Jul 24th, 2017).
Mortgage Rates Down; Loan Costs Up
The most recent Freddie Mac mortgage rate survey contains a little bit of trickery. It reports that the average 30-year fixed rate mortgage rate dropped to 3.78% nationwide -- an all-time low. However, it also says that number of accompanying discount points required to get that rose to 0.8.
To compare the last two Freddie Mac surveys :
May 17, 2012 : 3.79% with 0.7 points
May 24, 2012 : 3.78% with 0.8 points
To put these figures to a real-life example, assuming a mortgage at the 2017 conforming loan size limit of $424,100, to lock a mortgage rate at this week's Freddie Mac average would yield a mortgage payment that's lower by $2.41 per month versus last week.
That's a tiny savings. And, meanwhile, the lower rate brings with it an additional $417 in closing costs. To recoup that extra cost -- $2.41 at a time -- would take a person 176 months, or nearly 15 years.
Mortgage rates hardly appear "better" when we put them in that sort of context.
Click here for today's mortgage rates (Jul 24th, 2017).
Lock Your Mortgage Rate While Closing Costs Are Low
If you've been shopping for a mortgage, waiting for the bottom, remember that mortgage terms have two parts -- there's the rate, and there's the fees. Mortgage rates may be dropping, but loans aren't getting cheaper. This week's 3.78% serves as a terrific example.
Mortgage rates and discount points change daily. Make sure you're shopping today's most current pricing.
Click here for today's mortgage rates (Jul 24th, 2017).
The information contained on The Mortgage Reports website is for informational purposes only and is not an advertisement for products offered by Full Beaker. The views and opinions expressed herein are those of the author and do not reflect the policy or position of Full Beaker, its officers, parent, or affiliates.
Try the Mortgage Calculator