Mortgage Rates : Retail Sales Raises Rates As New FHA MIP Policy Looms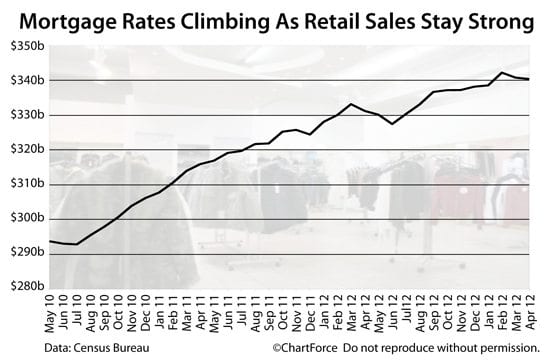 U.S. mortgage rates worsened again Monday, for the 7th time in the last eight days. A strong U.S. Retail Sales report surprised economists and Wall Street, sending mortgage bonds to their worst levels since March of this year. 
The reason rates are rising? Economic growth appears sustained and above-expectations.
Get a mortgage rate quote at today's rates (Oct 23rd, 2017).
Retail Sales Push Mortgage Rates Up
U.S. consumer confidence climbed in April, according to The Conference Board, and in few places is this more clear than at the register.
Total Retail Sales rose 0.1 percent in April from the month prior, U.S. Census Bureau data shows. U.S. Retail Sales totaled $343 billion for the month, excluding cars and auto parts.
Retail Sales is a measure of total cash receipts for merchandise bought from a brick-and-mortar store, or online. It's roughly 30 of consumer spending, which is believed to comprise roughly 70 percent of the U.S. economy.
As Retail Sales receipts grow, therefore, so does the U.S. economy.
It's an unfortunate consequence for today's mortgage rate shoppers. Since the release of the April Retail Sales data, mortgage rates have moved higher for all loan types including conforming, VA, FHA and USDA.
Economic weakness contributed to low mortgage rates in 2012. Economic strength is reversing that path for 2013.
Get a mortgage rate quote at today's rates (Oct 23rd, 2017).
FHA-Insured Homeowners : Victims Of Bad Timing
For homeowners with mortgages insured by the Federal Housing Administration (FHA), the timing of this month's rising mortgage is especially tough.
This is because, effective June 3, 2013, the FHA is implementing a new MIP cancelation policy for new loans, including those refinanced via the agency's FHA Streamline Refinance program. 
The FHA is trying to rebuild its reserves. Here's why.
Between 2007-2009, as conventional financing dried up, "bad loans" were more likely to end up with the FHA as compared to loans from earlier in the decade. It;s no surprise, therefore, than loans from those late-decade vintages have defaulted at a higher rate as compared to the typical FHA-insured mortgage.
The FHA has been forced to pay a larger number of default claims than for which it had budgeted originally. The FHA's reserves have dropped below federal mandate. 
To recapitalize, therefore, the FHA has opted to increase its mortgage insurance premium schedule six times in five years, most recently on April 1, 2013.
Now, beginning June 3, 2013, the FHA is taking away some borrowers' right to cancel FHA MIP.
Going forward, FHA loans with loan-to-value (LTV) of 90% or lower will be required to pay MIP to the Federal Housing Administration for a minimum of 11 years. Loans with an LTV above 90% will be required to pay MIP for as long as the loan is active.
There's a rush to refinance FHA mortgages because of the pending MIP change. Unfortunately, rising mortgage rates are changing the refinance math. FHA mortgage rates are higher by as much as 0.375% since May 1. 
Is This The Bottom For Mortgage Rates?
Mortgage rates change all day, every day. You can't know when rates will rise and you can't know when they'll fall. Mortgage rates are subject to influence from economic data, government policy, and technical trading trends. You also can't know when rates have reached their bottom.
Today, rates are off their best levels of the year, and have more reasons to rise than to fall heading into summer, it seems. This may be as good as rates get for a while. See how today's low rates can fit your budget.
Get a mortgage rate quote at today's rates (Oct 23rd, 2017).
The information contained on The Mortgage Reports website is for informational purposes only and is not an advertisement for products offered by Full Beaker. The views and opinions expressed herein are those of the author and do not reflect the policy or position of Full Beaker, its officers, parent, or affiliates.
Try the Mortgage Calculator