Why it may be easier to buy a new home soon
If you want to buy a new home today, you have to be patient. Home prices and interest rates continue to head north. And a supply shortage can make it hard to find homes for sale within your budget.
Part of the problem has been that builders aren't starting enough new affordable homes to meet demand. But new data suggests that help is on the way.
Experts say this news should make home shoppers, who seek positive signs in the real estate market, feel more confident.
Learn what you can afford. Then, explore your options. You don't have to feel limited to only buying a resale home.
Fresh numbers point in positive directions
Looking for signs of hope from the housing industry? Ponder these latest findings:
New construction is off to a strong start this year, per the Commerce Department. In January, the number of new construction housing units increased to an annual rate of 1.326 million. That's a rise of 9.7 percent from a month earlier. It's also the third increase in four months.
The number of building permits builders obtained jumped to an annual rate of 1.396 million. That's an increase of 7.4 percent compared to December 2016.
Total new home starts grew 7.3 percent in the 12 months through January. Single-family starts climbed 7.6 percent over that period.
Rising mortgage rates affect home affordability, but less than you think
Builders feel more confident and optimistic, too. Consider the National Association of Home Builders' (NAHB) Housing Market Index (HMI). The HMI score is based on results of a monthly survey of NAHB home builder members. This poll asks builders to assess current market conditions for newly built homes. It also asks for their expectations for these conditions over the next half-year. An HMI score over 50 suggests more builders believe conditions are "good" versus "poor."

The total HMI score for February is a favorable 72.
But the score for its most forward-forecasting component—asking about conditions six months in the future—is even better, at 80. That marks a post-recession high. It indicates that builders are more confident about the second half of 2018.
Why this is good news
Robert Dietz, the NAHB's chief economist, likes these numbers.
"The builder confidence measure would indicate that single-family home construction is going to increase. It indicates that builders are going to add inventory to the market," he says. "More supply is coming. But the growth rates will be modest."
Homes are still affordable, despite the ending of historically low-interest rates and increasing prices. The illustration below shows the difference between buying a home today at 4.5 percent (with 20 percent down) and buying a home in 1981 at 18.75 percent with 20 percent down. The household income required increased by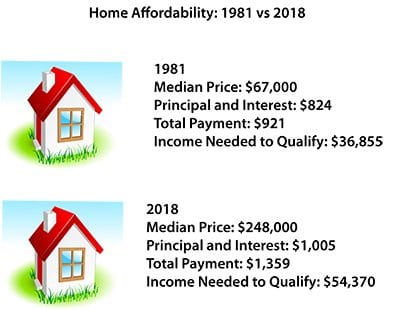 After 37 years, the income requires has increased by 47 percent, but that's not adjusted for inflation. If adjusted for inflation, the 1981 figure of $36,885 would be equal to $105,098 today. So the median-priced home today is much more affordable than it was in 1981.
Dietz says the NAHB is expecting around a 5 percent increase in single-family home construction in 2018. That would bring the year's production level to just below 900,000 units. He says the market needs more like 1.3 million units to keep pace with demand.
Still, builders and home shoppers have a reason to feel hopeful right now.
"Economic optimism is high," says Bruce Ailion, an Atlanta-based property attorney. "And we can expect builders to build as much as possible as soon as possible."
Ailion explains that, for years, builders have focused on constructing higher-priced new homes.
"That's because they can typically charge 20 percent more for these homes than a similar resale home. As this demand was met, builders looked to expand and found a large unmet demand for entry-level housing. They're now working to meet this demand," says Ailion. "Prices being paid for entry-level renovated homes have reached the point that builders are comfortable building for this market."
Feeling the pressure
But there's still a lot of pressure on builders and buyers alike these days, says George Ratiu, managing director of housing and commercial research for the National Association of Realtors.
He notes that population growth is up nine percent over the past decade. Plus, household formation has returned to a historical average of 1.2 million per year. As a result, new home construction and sales have lagged.
"Rising demand and low supply resulted in home prices rising 41 percent over the past five years. Real wages gained only 12 percent over the same period," says Ratiu. "This shift has decreased affordability, especially for first-time buyers. A steady increase in new home construction is precisely the solution to the affordability squeeze."
Why builders have been hamstrung
Yet new home construction has been hampered by several factors.
"Builders cite increasing costs of building materials as the main driver of higher new housing prices. Combine that with a significant shortage of labor. Also, zoning regulations and municipal requirements for new construction have pushed developers into focusing on high-end homes in recent years. This has been to the detriment of affordable housing," Ratiu adds.
Priced out of the city? Consider suburban living
Other factors have hampered builders' efforts, too, says Dietz. These include a lack of available lots on which to build, tighter financing from lenders, and higher lumber and construction material prices.
Hence, many builders today are crafting slightly smaller homes in more distant or emerging markets where land is cheaper, says Ailion.
What you can do
To help you find the right home, prepare to broaden your horizons and do your homework.
"Some shoppers will have to get more creative to find a new or existing home they can afford," says Dietz.
Affordable homes: the country's top 10 neighborhoods
Dietz recommends checking out several options, including:
Teardowns and empty lots on which to build a new home. Teardowns now represent about 10 percent of single-family home starts. That's up from eight percent a year earlier, per Dietz.
New townhomes, which now comprise 12 percent of single-family home starts.
Fixer-uppers that can be bought at a discount but remodeled.
"Shop around. And think about different neighborhoods in suburban and urban areas," Dietz says. "Keep your prospects open. That's because inventory is going to remain limited for the foreseeable future."