Affordable homes: the country's 10 hottest neighborhoods
Affordable homes: They're out there
Finding a neighborhood that's within your budget and desirable to live in isn't easy. Home prices continue to climb across the country, and many of the best cities with in-demand amenities are too expensive for first-time buyers. That does not mean affordable homes and areas don't exist.
Worthy areas – affordable and resident-friendly — exist. A new list ranks 10 hot neighborhoods that fit these criteria. If you're in the market to buy a home and willing to move away, this list is worth a look.
Verify your new rate (May 31st, 2020)
Factors to consider
To help narrow down your locations, it's important to look at many factors. Home price is crucial. But so is commute time, closeness to stores and services, and quality of schools.
Research different areas carefully. Consult with experts like your agent and lender. Widen your boundaries and look outside your comfort zone. The payoff? You may just find the perfect home and the perfect community, too.
10 towns that deserve your attention
Redfin has just published a new list that's getting a lot of attention: The Top 10 Hottest Neighborhoods Within Reach. This list suggests markets where the median home price is less than $286,700. That was the median sales price of homes sold nationwide in December 2017.
The 10 neighborhoods that made the cut are:
1. Hillcrest, Washington D.C.
Median sale price: $125,000
Average sale-to-list price ratio: 96.8%
% of homes that sold above list price: 25.0%
2. Deanwood, Washington D.C.
Median sale price: $248,500
Average sale-to-list price ratio: 100.5%
% of homes that sold above list price: 50.0%
3. Riverview, Seattle, Wash.
Median sale price: $270,000
Average sale-to-list price ratio: 100.7%
% of homes that sold above list price: 54.6%
4. Misty Meadows, Columbus, Ohio
Median sale price: $161,500
Average sale-to-list price ratio: 99.3%
% of homes that sold above list price: 20.0%
5. Fairmount, Providence, R.I.
Median sale price: $170,000
Average sale-to-list price ratio: 98.2%
% of homes that sold above list price: 30.8%
6. Stevens Square, Minneapolis, Minn.
Median sale price: $116,000
Average sale-to-list price ratio: 98.5%
% of homes that sold above list price: 33.3%
7. Brewer's Hill, Milwaukee, Wis.
Median sale price: $260,000
Average sale-to-list price ratio: 97.4%
% of homes that sold above list price: 22.2%
8. Country Lakes, Chicago, Ill.
Median sale price: $207,250
Average sale-to-list price ratio: 97.3%
% of homes that sold above list price: 0%
9. Downtown St. Louis, St. Louis, Mo.
Median sale price: $139,900
Average sale-to-list price ratio: 95.9%
% of homes that sold above list price: 4.4%
10. South Coast, Orange County, Calif.
Median Sale Price: $277,000
Average Sale-to-List Price Ratio: 99.9%
Percent of Homes that Sold Above List Price: 40.7%
How these areas made the cut
Jon Whitely, a Redfin spokesperson who helped assemble this list, says a special algorithm was used to rank these spots.
"We looked at page views and favorites on Redfin.com in markets where our 16 million unique visitors were searching for homes online, "he says.
"Our goal was to generate a list of places where it doesn't cost you an arm and a leg to live. The resulting list had places with amenities like a high Walk Score, quick access to transit, and plenty of green space."
Homebuying tips: how to choose your neighborhood
Whitely says the list serves as a projection and conversation starter about markets Redfin thinks will be popular in 2018. It's hard to deny the appeal of inexpensive homes and area amenities that these neighborhoods offer, he adds.
"Affordability is becoming a greater issue nowadays. That's especially true for first-time buyers and millennials. But the price isn't the only factor they are considering. They also desire a place where you can take a train or bus to work quickly and send your kids to a highly rated school," says Whitely.
Reading between the research
The fact that this list's rankings are based on Redfin user searches of those areas is telling.
"It shows that buyers are doing their homework more today. They are researching price points along with neighborhood features carefully," he notes. "And our Redfin agents have vetted this list, too. They can vouch for the value of living in these areas."
Small house, smaller down payment: how to get the home you want faster
The list also meshes with a trend that Redfin has traced recently.
"We're seeing a trend away from larger homes or dream homes," says Whitely. "Instead, buyers are leaning more toward living in a comfortable urban or suburban area with better access to transit, restaurants and grocery stores."
What you can learn from this list
Whether you take a closer look at these 10 towns or not, there's a moral to this story: Think about lifestyle and livability as well as price before choosing a location.
"Amenities, like parks, recreation centers, community services, and highly regarded public schools should be important considerations," says Tamara Dorris, adjunct real estate professor at American River College in Sacramento.
Starter home alternatives: niche properties with less competition
"Do you have children? Pets? Do you exercise regularly? A neighborhood that offers green space to walk your dog or let your kids play may be preferable. A community that includes a nearby gym can be desirable," Dorris says. "Remember – you're not just buying sticks and stucco, you're buying the neighborhood, too."
The graphic below shows the results of research from the National Association of Home Builders (NAHB), indicating what most people are willing to sacrifice for home affordability.  You need to sort out your own list and determine before you shop for a home what could be an acceptable compromise and what makes a deal-breaker.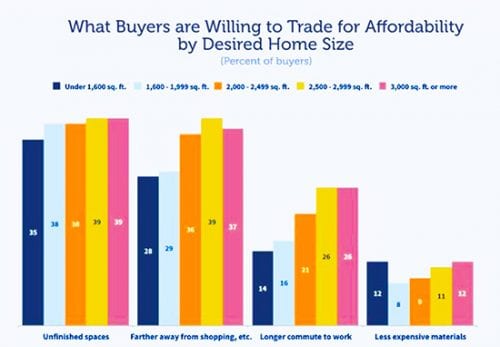 Taking action
To help you narrow down a list of neighborhoods and afford a mortgage there, try these tips:
Make a top 10 list of your own. "Write down the 10 things that are most important to you during your home search. This can range from wanting a master bedroom with a walk-in closet to having a grocery store on the block," says Whitely. "Then, commit to three of these things and stick to those goals. We've found that these people are happier with their home-buying decision. That's because they didn't sacrifice something that was sacred to them before making their decision on location."
Continue to do research. "Use sites like Redfin to learn more about neighborhoods and to check for-sale listings there – opportunities that can pop up quickly," he adds.
Take ownership for a test drive. "You may have to set a tighter budget after you buy a home," says Whitely. "Why not see if you can live within that budget for a couple of months before committing to a purchase?"
What are today's mortgage rates?
One factor that determines how affordable your home is, regardless of your neighborhood, is how much you pay for financing. Late;y, mortgage rates have increased to their highest point in four years. However, you can offset much of this by making yourself as desirable a borrower as possible, shopping for your loan, and choosing the right product.
Verify your new rate (May 31st, 2020)