Rising Mortgage Rates Affect Home Affordability, But Less Than You Think
Rising Mortgage Rates & Home Affordability
Rising mortgage rates do affect home affordability. If you're shopping for real estate, the recent interest rate increases might be a concern.
However, the relationship between home affordability and interest rates is more complicated than that, and the news may not be as bad as you think.
Whether you're buying or refinancing, now is a great time to shop for a home loan.
Verify your new rate (Oct 30th, 2020)
Lower Rates Mean Lower Payments… And More
For good reason, everyone wants to get the lowest rate possible. Lower interest rates have several implications for home buyers:
Ability to purchase more house (you can qualify for a larger loan)
Lower monthly mortgage payment
Competition for homes as would-be buyers jump on cheap financing
Consumers: Maybe Mortgage rates Won't Rise After All
The mortgage rate you secure not only impacts your monthly housing budget, it also affects your purchasing power — the amount of home you can buy with the budget you have.
Naturally, the question today for most homebuyers is this – if rates go up, how much house can I afford on my salary?
Mortgage Rates Forecast
As we officially hit the halfway mark in 2017, against analyst's predictions, mortgage rates have not climbed to 4.5 percent or higher.
On the contrary; according to a report released by Freddie Mac last week, 30-year mortgage rates fell two basis points to 3.88 percent. And many experts now think rates will remain below five percent for some time.
How Rising Mortgage Rates Affect Your Payment
However, because rates are trending higher over time, it's important to understand the effect rising rates has on your affordability.
If the house you want is at the top end of what you can afford to buy, incremental rate increases can derail your purchase.
With each quarter percent increase in interest rate, the amount you can finance drops by roughly 2.5 percent.
Better Deals On New Homes Because Of This Emerging Trend
For example, let's say that you and your lender determine that you can comfortably afford a principal and interest payment of $1,500 per month. The chart below shows how the interest rate for your loan program determines your maximum loan amount.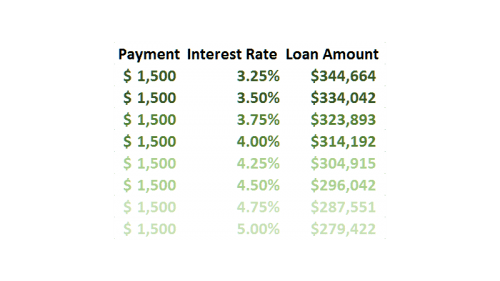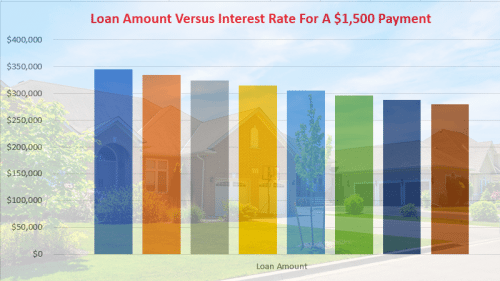 However, here's an interesting fact that many homebuyers are pleasantly surprised to find out.
Your Payment May Not Increase By Much 
Contrary to popular belief, a 1/4th percent higher interest rate doesn't necessarily mean you are now way over budget, or that you can no longer qualify for that dream home.
Using today's median U.S. home is valued at $199,200 as an example, let's say you're buying a $200,000 home and putting 10 percent down – per the National Association of Realtors, homebuyers financed 90 percent on average in 2016.
Using that average down payment of 10 percent, that means you would be financing $180,000. Let's say your mortgage is 3.875%. Using these factors, that means your principle and interest payment would be $846 per month.
Now, let's say rates go up by 1/4th of a point to 4.125%. Using the same scenario, your new principle and interest payment would then be $872 per month.
The increase to your payment is less than $26 per month for that one quarter percent rate increase. Not to say this increase doesn't add up over the years, but most homebuyers are pleasantly surprised to find out they can still afford that dream home even with the slightly higher rate increase.
Higher Rates May Be Offset By Lower Prices
While mortgage interest rates will always have a major influence on the ability to purchase a home, there's another substantial factor to consider. This factor may even be bigger than mortgage rates – inventory.
Harvard Research: The Future of Home Prices In 2017 And 2018
Largely due to the laws of supply and demand, the lack of available inventory tends to push home prices up, making your ability to buy a home more challenging. This is especially true for first time home buyers.
However, in areas where inventory is balanced with demand, increasing mortgage rates tend to push home prices down. In a CNBC article,  real estate consultant John Burns analyzed the relationship between mortgage rates and home prices, assuming the rate for a 30-year fixed mortgage would eventually increase to six percent, from recent levels of about four percent.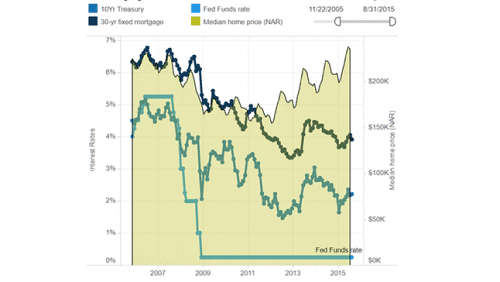 The result is that some overcooked markets like San Francisco, Silicon Valley, and Miami, could be overvalued by over 20 percent.
But in markets where housing prices are more normal, prices are still undervalued. And that's even if mortgage rates move back up to six percent. Those undervalued markets include Chicago, Atlanta and Detroit.
Mr. Burn's chart shows the historical relationship between rates and prices in the US.
What Are Today's Mortgage Rates?
Current mortgage rates are lower than experts predicted they would be. Beware though, as most analysts expect them to creep up as the year goes on.
Even if the experts are wrong, fortunately slight rate increases don't necessarily mean you can no longer buy a home.
There are few upsides to waiting, though. Your home is too big of an investment with which to gamble. Now is a great time to take advantage of the lower than expected mortgage rates.
Verify your new rate (Oct 30th, 2020)