Housing starts fall in July. When will home inventory catch up with demand?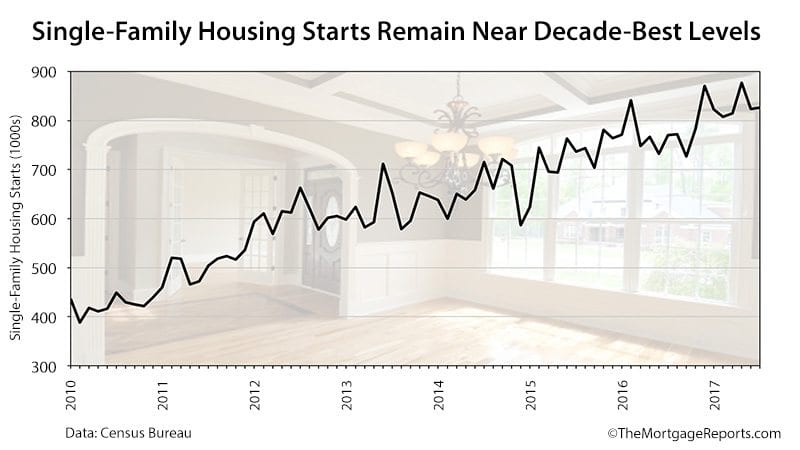 Construction remains elevated despite drop, but sorely lags relentless demand
Buyers can't seem to catch a break when it comes to housing inventory.
Housing starts for new construction fell 4.8 percent to nearly 1.16 million units in July, down from 1.21 million units in June, according to a joint release from the U.S. Census Bureau and the U.S. Department of Housing and Urban Development.
Declines in multifamily housing construction were mostly to blame for the overall drop in July's housing starts.
Meanwhile, starts for single-family homes fell minimally (0.5 percent) from June to July, Census and HUD reported. Also, building permits and new-home completions slowed.
Looking at the bigger picture, however, year-to-date single-family starts as of June were 9 percent higher compared to the same period in 2016.
New construction is getting a boost by low mortgage rates, an ongoing shortage in existing homes for sale, and solid builder confidence, says Robert Dietz, chief economist with the National Association of Home Builders.
Related: Why are mortgage rates still so low?
"The three-month moving average of single-family starts reached a post-recession high in April, and NAHB is forecasting continued growth for the sector as the year progresses," Dietz says.
Click to see today's rates (Sep 23rd, 2017)
Hope floats for new-home market
Despite a slowdown in new housing starts, building permits and completions in July, home builders continue to be optimistic about the market.
In fact, builder confidence rose four points in August to a reading of 68 on the NAHB/Wells Fargo Housing Market Index, or HMI.
Anchored by gains in job creation and economic growth, builder sentiment is returning to healthy levels. And with few existing homes to choose from, buyers are thinking more seriously about new construction to get the home they want.
In other words, there's still promising signs that the new-home market is holding its own. NAHB predicts a "gradual strengthening in the housing market" this year, Dietz points out.
Builders are hopeful, but some obstacles could threaten their progress, such as shortages of lots and skilled construction workers, and rising material costs, Dietz says.
Low mortgage rates help, but buyers still hesitant
With 30-year fixed mortgage rates staying below 4 percent in recent weeks, borrowers have loan affordability on their side.
And while home prices are soaring because of fewer homes on the market, data suggest many American families are in a prime position to qualify for and afford a mortgage.
The National Association of Realtors' Housing Affordability Index, or HAI, is at near-record highs. The index measures whether the typical family earns enough income to qualify for a mortgage on a median-priced home.
So what's holding people back aside from inventory and higher home prices? The belief that they won't qualify for a mortgage, says Sean Becketti, vice president and chief economist with Freddie Mac.
Related: 6 in 10 consumers believe it's "easy" to qualify for a mortgage
For many borrowers, the mortgage process can feel daunting.
Even if they have enough income to afford a mortgage, potential homebuyers might assume they won't qualify for a loan because they don't have enough saved for a down payment, have too much debt, or less-than-ideal credit, Becketti says.
"It's easy to see why homeownership feels unaffordable to so many people," Becketti says. "But the HAI isn't kidding — mortgage payments are more affordable today than at almost any time in history."
Get today's mortgage rates
Tired of striking out with existing homes? Now might be a great time to consider new construction, and a low mortgage rate can help offset the higher costs of buying new.
Today's interest rates are some of the lowest in months. Ask builders if they're offering any special financing incentives, and take time to shop lenders to get the most competitive rates and terms.
Click to see today's rates (Sep 23rd, 2017)
Sources:
https://www.nar.realtor/sites/default/files/reports/2017/embargoes/hai-08-17/hai-q2-2017-quarterly-housing-affordability-2017-08-16.pdf
http://www.freddiemac.com/perspectives/sean_becketti/20170814_if_housing_is_affordable.html
The information contained on The Mortgage Reports website is for informational purposes only and is not an advertisement for products offered by Full Beaker. The views and opinions expressed herein are those of the author and do not reflect the policy or position of Full Beaker, its officers, parent, or affiliates.
Try the Mortgage Calculator