Home Sellers Strangely Pessimistic In A Raging Seller's Market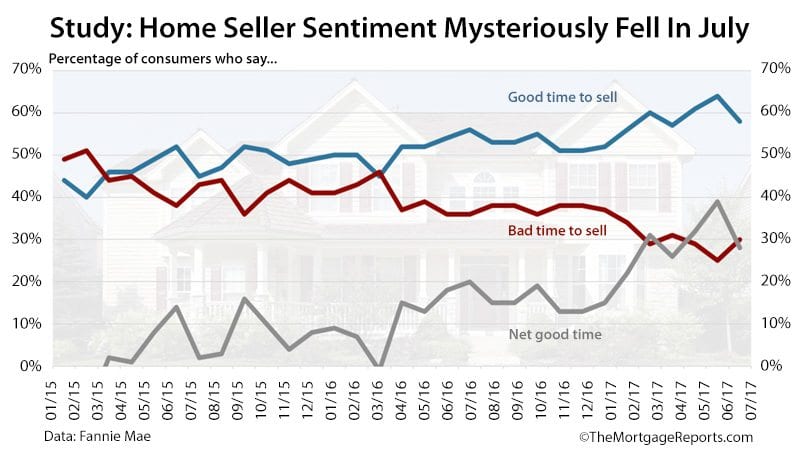 Why Are Home Sellers Discouraged?
Sellers have been in a position of power this year, but consumer sentiment about this being a good time to sell is actually declining.
And that's dragging overall perceptions about the housing market down.
Overall, Americans' optimism about housing fell 1.5 percentage points in July to 86.8 on the Fannie Mae Home Purchase Sentiment Index (HPSI). That's a reversal from the survey high of 88.3 in June.
The main drag? The net share of consumers who said now is a good time to sell a home fell significantly by 11 percentage points to 28% in July, down from a survey high of 39% in June.
How Do Buyers Feel?
Meanwhile, consumer sentiment about now being the ideal time to buy a home stayed on trend, falling (again) by 7 percentage points to a new survey low.
But it's the sharp decline in consumer optimism about selling that's baffling industry analysts.
Normally, the indices for buying and selling are on opposite ends of the spectrum, indicating whether we're in a buyer's market versus one that favors sellers.
A negative perception about now being a good time to sell could signal a shift in momentum for the housing market.
"It's clear that high home prices are a growing challenge helping to send buying sentiment to a record low," said Doug Duncan, senior vice president and chief economist at Fannie Mae, in a news release. "However, we find the notable decline in selling sentiment surprising.
"If it persists, this month's decrease in optimism regarding the direction of the economy, which appears to coincide with rising uncertainty regarding the outlook for pro-growth legislation this year, could weigh on overall housing sentiment in the second half of the year."
Check your home buying or refinance eligibility here (Aug 19th, 2017)
Sentiments Low Despite Improved Outlook On Job Security
Consumers' sentiments about the state of U.S. housing has little to do with their own financial health.
Americans expressed a greater sense of job security in Fannie Mae's survey, with the net share who say they aren't worried about losing their job increasing by 9 percentage points.
That said, wages aren't keeping pace with the rising cost of, well, everything (especially homes).
The HPSI found that more consumers say their current household income isn't much higher than it was in July 2016.
Americans' average hourly earnings inched up by 9 cents to $26.36 in July, according to the July Employment Situation Report from the U.S. Bureau of Labor Statistics, or BLS.
In the past year, average hourly earnings have risen by 65 cents, or 2.5%, the report found.
With home prices expected to climb the rest of this year and into next, stagnant household incomes might make it harder for potential buyers (both repeat and first-timers) to wade into the market.
Related: 50 Cities where you can Buy a Home Without a Large Income
But, Wait, Isn't the Jobs Market Improving?
The short answer: Yes.
However, wages aren't necessarily keeping pace with rising home prices, especially in higher-cost areas on the East and West coasts.
In July, the U.S. economy added 209,000 jobs, and the unemployment rate held steady at 4.3%, according to the BLS.
But most of the jobs added were low-paying service jobs at restaurants and bars, which rose by 53,000 in July. Overall, the restaurant industry has added 313,000 jobs to the economy in the past year.
The jobs report was widely regarded as solid progress for the economy.
Fannie Mae's survey, however, indicates that consumers aren't seeing the fruits of their labor reflected in higher paychecks.
A continued shortage of inventory will continue to push prices up and, most likely, continue to sideline skittish buyers.
It might also give potential sellers pause -- especially aging Baby Boomers. Their ability to score a decent deal on their next home might force them to stay put.
The result? The housing inventory shortage will persist.
How To Check Your Mortgage Eligibility
The home market is competitive, so it pays to get a pre-approval. The first step is checking your home buying eligibility.
Many low-down-payment loan types are available -- VA loans, USDA mortgages, and more -- and you might be surprised at what you can qualify for.
Check your home buying eligibility here (Aug 19th, 2017)
The information contained on The Mortgage Reports website is for informational purposes only and is not an advertisement for products offered by Full Beaker. The views and opinions expressed herein are those of the author and do not reflect the policy or position of Full Beaker, its officers, parent, or affiliates.
Try the Mortgage Calculator