Report: Home Buyers Make Up 68% Of Mortgage Market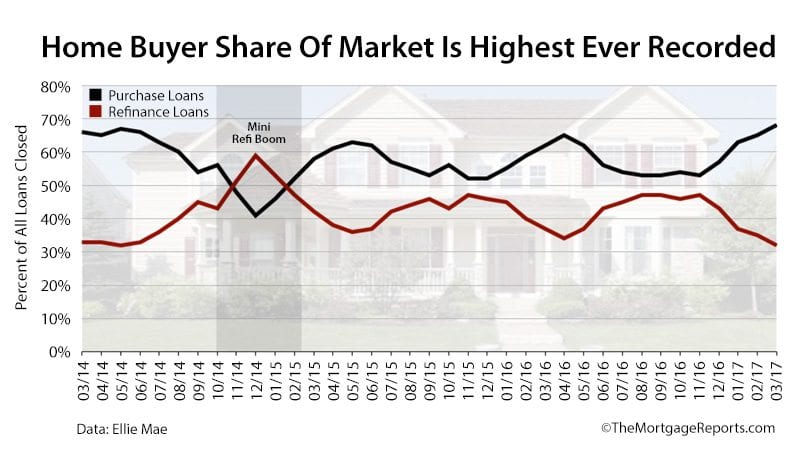 Home Buyers Outnumber Refinancing Homeowners 2-1
Home buyers make up the highest share of the mortgage market since at least 2011, a new report shows.
It's easy to see why.
Homes are still a good value. Deals can be found from home builders and home sellers alike.
And, current mortgage rates are still low.
The National Association of REALTORS® (NAR) expects home prices to rise another four percent in 2017, after a healthy 6 percent increase last year.
That's getting home buyers' attention.
There's still "upside" in today's market, and renters are deciding to enter before home appreciation levels off.
2017 will be the year of the home buyer.
Click to see today's rates (Sep 23rd, 2017)
Purchase Loans Rule Mortgage Market 26 Months Straight
According to mortgage origination software firm Ellie Mae, which handles approximately 3.7 million mortgage applications per year, home purchase mortgage loans accounted for 68% of all loans closed in May 2017.
That's the highest share Ellie Mae has ever recorded.
It's also the 26th straight month in which more mortgage applicants were buying a home than were refinancing one.
The shift is significant.
Between mid-2011 and mid-2013, refinances dominated the mortgage world. In January 2013, seventy-three percent of mortgage applicants were refinancing.
Now, "refis" make up just 32% of the market.
Homes are again viewed as a good long-term investment. Even those paying private mortgage insurance yield a 500%+ return on their PMI cost due to massive home appreciation.
The average home buyer is "making" $13,000 per year, but that's based on nationwide average values. Homeowners in many areas are making much, much more.
For example, a Portland, Oregon resident has an average home value of $358,500, and prices rose nearly 13% in 2016, according to NAR.
A homeowner in this metro, then, made over $46,000 in home appreciation last year alone.
The word is out: buying a home is again a great investment and renters are getting inspired to act.
Click to see today's rates (Sep 23rd, 2017)
Applicants Getting Mortgage-Approved At Record Levels
The most recent Ellie Mae Origination Insight Report provides a good look at today's typical loan approval, and the makeup of today's mortgage applicants.
One of the more encouraging parts of the study is regarding FHA mortgage applicants.
In May, more than sixty percent of FHA loans were for applicants with FICO scores below 700. Only about 17 percent of approved conventional loan borrowers had credit scores in the same range.
FHA remains the go-to choice for home buyers with less-than-perfect credit.
Other data from the Ellie Mae report included:
FICOs averaged 753 on closed conventional purchases
FHA mortgages accounted for 23% of all loans; VA loans accounted for 10 percent
The typical mortgage took 42 days to approve
However, the most noteworthy statistic from the Ellie Mae report was the one which showed more mortgage applicants getting approved than during most of this decade.
In May, 75.3% of purchase loan applications got "closed", which marks a huge increase 2014's average rate of 63 percent.
This statistic refutes the general belief that "mortgages are tough to get". According to a recent report, most mortgage applicants believe getting a mortgage is easy.
The Ellie Mae report shows that mortgages are easier to get than they've been in years. Lenders are loosening requirements and a variety of new low- and no-downpayment loans have reduced the hurdles to homeownership.
What Are Today's Mortgage Rates?
With mortgage rates low, demand for mortgage loans is high. And, with lenders approving a growing percentage of loans, the time to apply is today.
Get today's live mortgage rates now. Your social security number is not required to get started, and all quotes come with access to your live mortgage credit scores.
Click to see today's rates (Sep 23rd, 2017)
The information contained on The Mortgage Reports website is for informational purposes only and is not an advertisement for products offered by Full Beaker. The views and opinions expressed herein are those of the author and do not reflect the policy or position of Full Beaker, its officers, parent, or affiliates.
Try the Mortgage Calculator