These Numbers Suggest New Home Market Is Strong, Growing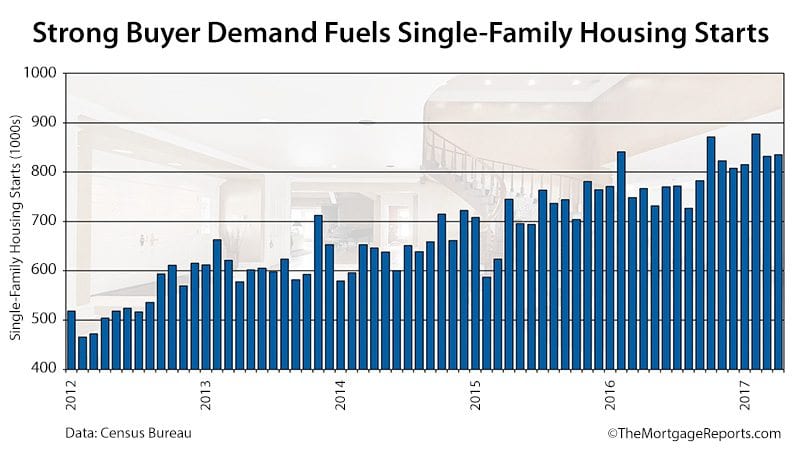 Housing Starts Fell In April -- Or Did They?
For the second month in a row, new-home construction fell in April to the lowest level in five months.
U.S. housing starts dipped 2.6% to a seasonally adjusted annual rate of 1.17 million units, according to a joint release from the U.S. Census Bureau and the U.S. Department of Housing and Urban Development (HUD). That's down from the revised March estimate of 1.2 million units and is the lowest level since November 2016.
But the lackluster numbers can be deceptive.
The slowdown in new-home building in April reflects a notable lag multifamily housing construction (apartment buildings), which fell sharply by 9.6% to a rate of 328,000 units. Fortunately, the typical consumer is not concerned with the apartment building market.
Single-family building, on the other hand, edged up by 0.4% from a very strong March, to a rate of 835,000 units, the Census and HUD reported.
Apparently, home buyers are out in force and builders are trying to keep up.
Click to see today's rates (Sep 25th, 2017)
Builder Sentiment Still Bullish
A strong indicator of new construction's growth relies on home builders' confidence in the immediate future of their industry.
The good news: they're optimistic about the rest of 2017.
The National Association of Home Builders' Housing Market Index (HMI), which measures builder sentiment on a scale of 0 to 100, hit 70 in May — the 35th month in a row the confidence score has stayed above 50. Home builders' persistently high confidence in the market bodes well for new-home sales and consumer interest.
The index, more so than housing start data and building permits, provides an inside look at how builders feel about the new-home construction market's health based on real-time foot traffic and signed contracts.
The more traffic they see, the more likely they are to build more homes.
The market could certainly use the extra inventory. In many housing markets, home buyers are facing a lack of affordable existing homes for sale (not to mention bidding wars and stiff competition from buyers willing to offer over asking price). As a result, they're more likely to look at new construction more closely.
Click to see today's rates (Sep 25th, 2017)
What It All Means for Home Buyers
Right now, home buyers have several factors working in their favor with near-historic low mortgage rates, continued low unemployment rates, and economic growth moving along (albeit slower than forecasted).
For the first quarter of 2017, for instance, the economy grew at a tepid rate of 0.7%, according to the Bureau of Economic Analysis. As the Trump administration begins rolling back financial regulations, more lenders will be more likely to extend mortgage credit to borrowers who've been sidelined because of tightened lending standards since the housing downturn.
While housing continues to be a bright spot in the U.S. economy, affordability still poses an inescapable barrier for many would-be homeowners, particularly first-time buyers or those with low or moderate incomes.
Considering how fast home prices have appreciated since the housing downturn, some buyers who are struggling to save up for a down payment might be left behind if home prices of new and existing homes continue their upward march.
That said, however, many mortgage lenders now offer low down payment loans and less stringent credit requirements to help cash-strapped borrowers get their foot in homeownership door.
In other words, a drop in housing starts and permits isn't cause for alarm with builder confidence being so high. There's no telling how much higher prices might go so it might make sense for buyers to speak to a lender to find out what they can afford and figure out a financial plan of attack to qualify for a home — no matter its age.
What Are Today's Mortgage Rates?
New homes can appeal to many home buyers who want the latest amenities, technology and a clean slate to work with. Also, because interest rates are still historically low, new homes can be affordable, too.
Get today's live mortgage rates now. Your social security number is not required to get started, and all quotes come with access to your live mortgage credit scores.
Click to see today's rates (Sep 25th, 2017)
The information contained on The Mortgage Reports website is for informational purposes only and is not an advertisement for products offered by Full Beaker. The views and opinions expressed herein are those of the author and do not reflect the policy or position of Full Beaker, its officers, parent, or affiliates.
Try the Mortgage Calculator