Single Family Housing Starts Jump Above Sky-High 2016 Levels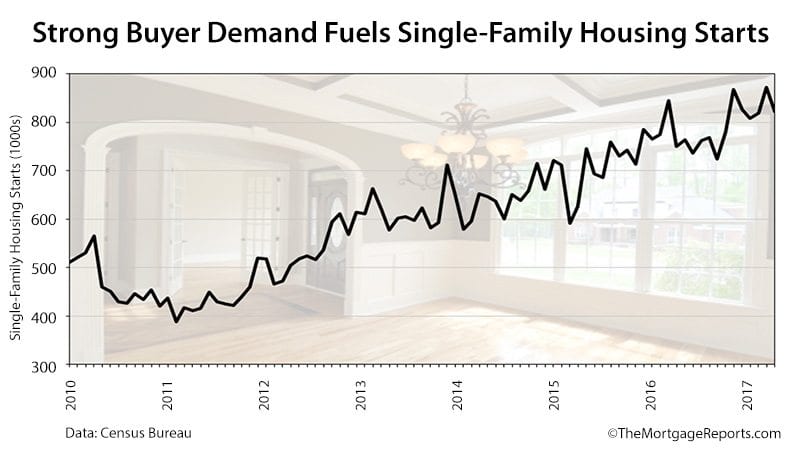 Builder Optimism Turns Into New Home Construction
Low mortgage rates and high buyer demand are keeping single-family housing starts in the stratosphere.
In March, construction started on single-family homes at an impressive annual rate of 821,000.
That's up 9% since last year.
Home builder optimism is turning into action. A recent report shows home builders are confident about the future. The result: more applications for permits and more home construction started.
Housing starts have been fueled by rising rents, cheap mortgage rates, and an abundance of low- and no-downpayment mortgages.
FHA loans are gaining in popularity, as are other government-backed loans like the USDA home loan and VA.
The math for "Should I rent or should I buy?" has shifted and builders are scrambling to respond.
It's an excellent time to shop for a home.
Click to see today's rates (Apr 29th, 2017)
What Is A "Housing Start"?
Each month, the U.S. Census Bureau and HUD co-publish the Housing Starts report.
A housing start is a home on which ground has been broken. In other words, construction has started.
It's valuable to track the trajectory of housing starts. If they are dropping over time, it could signal weakness in the housing market. That's because of how builders do business.
It costs money to build a home, but builders get that money back if they sell it. If not, they are left "holding the bag."
The massive increase in housing starts of late means that builders are ultra-confident about the future.
A recent report from the National Association of Home Builders (NAHB) supports that premise. A survey of builders produced a confidence "score" of 68 out of 100. It's one of the highest readings this decade.
Builders are seeing heightened foot traffic through model units, and buyers are making offers while mortgage rates are still low.
If there's anyone with a pulse on the market, it's home builders. They see buyer enthusiasm (and competition) daily.
At a pace of over 800,000 homes annually, builders are trying to keep up with strong demand.
Click to see today's rates (Apr 29th, 2017)
Northeast Region Leads Nation In Housing Starts Growth
Housing starts as a whole are posting good numbers. But the reading combines results from four regions nationwide.
Each region performs differently each month. For example, the South region could outperform while housing starts in the Northeast lag.
This month, standout performance came from an unexpected place: the Northeast Region. This area traditionally falls short in housing growth.
Northeast Region: +19.0% from one year ago
Midwest Region: -8.6% from one year ago
South Region: +14.5% from one year ago
West Region: +6.2% from one year ago
The numbers suggest builders are trying to keep up with demand.
It seems the biggest concern for builders at the moment is not finding buyers, but buildable lots, and hiring workers to construct homes. If home builders could build more, they would.
Production is not meeting demand. That could mean higher prices in 2017, plus fewer free upgrades from builders, and more competition from other buyers.
The best deals in real estate could be the ones available right now.
Click to see today's rates (Apr 29th, 2017)
Mortgage Loans For New Homes
The 2016 housing market was a good one. 2017 is shaping up to be even better.
Mortgage rates started 2016 in a downward spiral, then ticked up in November. But, rising rates could make home buying easier in 2017: mortgage lenders will be less busy with refinance business, and eager for home purchases.
As is stands, homes to buy are getting harder to find.
If you've been in the market for a home, no doubt you've noticed. It's a competitive market and putting your best foot forward is essential if you want to "get the house".
The good news is that mortgage approvals are getting simpler.
In addition to reducing their loan approval standards, mortgage lenders have recently lowered minimum credit score requirements, made concessions for self-employed income, and granted leniency on loans which "make sense".
Furthermore, there are more low- and no-down payment loans available than during any period this decade.
In addition to the¬†Conventional 97 program and HomeReady'ĄĘ programs, which are backed by Fannie Mae and require just 3% down, demand for the FHA 96.5% LTV program is high, as are requests for "piggyback loans".
There are also the VA and USDA loan programs -- both of which allow 100% financing.
VA loans are available to eligible active-duty military personnel, veterans of the armed services, members of the national guard and reserves, and surviving spouses. They are optionally no money down and require no mortgage insurance.
USDA loans are also no money down, backed by the U.S. Department of Agriculture. Also known as Rural Development or RD loans, USDA can be used in many rural and suburban areas nationwide.
All low- and no-downpayment mortgages can be used for newly built homes, just as they can for previously owned ones.
Today's mortgage programs make new homes more affordable and accessible to first-time home buyers.
What Are Today's Mortgage Rates?
The housing market appears to be growing and mortgage rates remain low. If you're planning to buy new construction, the best opportunities may be the ones you find now.
Get today's live mortgage rates now. Your social security number is not required to get started, and all quotes come with access to your live mortgage credit scores.
Click to see today's rates (Apr 29th, 2017)
The information contained on The Mortgage Reports website is for informational purposes only and is not an advertisement for products offered by Full Beaker. The views and opinions expressed herein are those of the author and do not reflect the policy or position of Full Beaker, its officers, parent, or affiliates.
Try the Mortgage Calculator