U.S. Consumers Low-Ball Home Price Growth…Again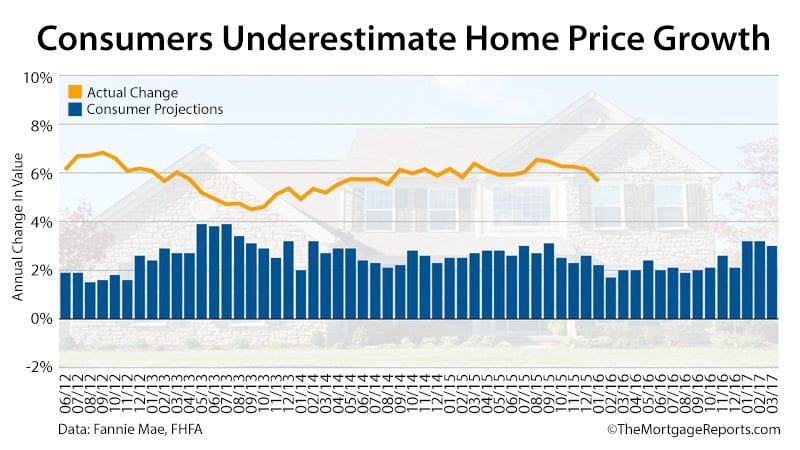 Consumers: Home Prices Won't Rise Very Fast In 2017
U.S. consumers have seriously undershot their prospects as future homeowners or refinancing homeowners.
According to Fannie Mae's monthly National Housing Survey, 51% of surveyed consumers think home prices will rise in the next 12 months.
On that point, the slight majority is probably right.
But the survey also shows that consumers may be severely underestimating how much home prices will rise over the next year.
That could make them think that they can delay buying a home. Prices won't be "that much different" next year, after all.
But looking at historical data, consumers have low-balled home appreciation by as much as five percent annually. In other words, they said a $300,000 home would appreciate $15,000 less than it actually did.
The forecasting abilities of today's consumer aren't looking much better, and that could cost them.
Want to be on the winning side of high home appreciation? Consider buying in 2017.
Click to see today's rates (Jul 24th, 2017)
Home Values Climbing More Than Consumers Expected
Each month, Fannie Mae conducts a survey of 1,000 U.S. households, measuring how consumer opinion has changed on housing, mortgages, and the economy; and, which asks consumers to predict what market will look like in one year's time.
Not surprisingly, consumer expectations are rarely in line with reality. What may be surprising, though, is how "wrong" consumers can be.
As an example, one year ago, consumers told Fannie Mae that home prices would rise 2.0% over the next twelve months. Values gained about three times that, as it happened.
And, only 44% of consumer predicted rising home prices at all.
Predicting the future is difficult.
And, according to Fannie Mae's March 2017 National Housing Survey, U.S. consumers now expect home values to rise just 3.0% between this year and next.
It's a highly unlikely scenario.
Fannie Mae, the publisher of this consumer survey, makes its own predictions for 2017, as do other housing heavyweights.
Fannie Mae: +5.2%
Freddie Mac: +5.2%
National Association of REALTORS®: +3.9%
Kiplinger: +5%
Mortgage Bankers Association: +5.1%
The consensus of around five percent, outstrips consumer expectations of 3% appreciation in 2017.
Click to see today's rates (Jul 24th, 2017)
Mortgage Rates Will Rise In 2017, Consumers Say
In addition to asking about future home prices, Fannie Mae's survey also asks consumers to forecast the future of U.S. mortgage rates.
Just 5% of those surveyed expect mortgage rates to be lower next year. Not surprisingly, this is similar to what consumers have said since 2011.
In most years, they've been wrong.
Aside from a spike from May-September 2013, and a recent run-up following the 2016 election, mortgage rates have been on a slow, steady decline going back eight years.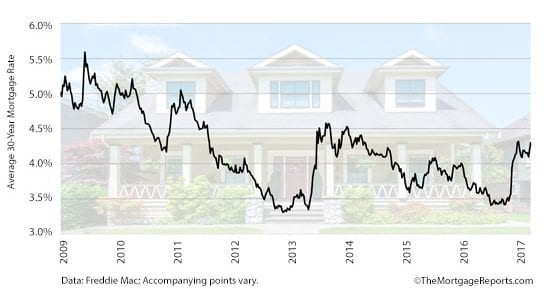 Current 30-year mortgage rates are still near four percent for buyers paying discount points; and zero-closing cost mortgage rates are only slightly higher.
There are a host of refinance opportunities, too. With mortgage rates low:
HARP refinance homeowners still have about six months to take advantage of this program
FHA homeowners meet Net Tangible Savings for the FHA Streamline Refinance
The VA Streamline Refinance is more accessible because payments have dropped
Conventional refinances now offer easier qualification
If you've been exploring the idea of a refinance, get competing quotes -- especially if your loan is backed by the FHA. Rates are low, and the popular FHA streamline refinance program requires hardly any documentation for approval.
What Are Today's Mortgage Rates?
The Fannie Mae Housing Market Survey shows consumers expecting modest home price growth in the next 12 months, along with an increase in today's mortgage interest rates.
Get today's live mortgage rates now. Your social security number is not required to get started, and all quotes come with access to your live mortgage credit scores.
Click to see today's rates (Jul 24th, 2017)
The information contained on The Mortgage Reports website is for informational purposes only and is not an advertisement for products offered by Full Beaker. The views and opinions expressed herein are those of the author and do not reflect the policy or position of Full Beaker, its officers, parent, or affiliates.
Try the Mortgage Calculator