Consumers Overwhelmingly Predict Rising Mortgage Rates For 2017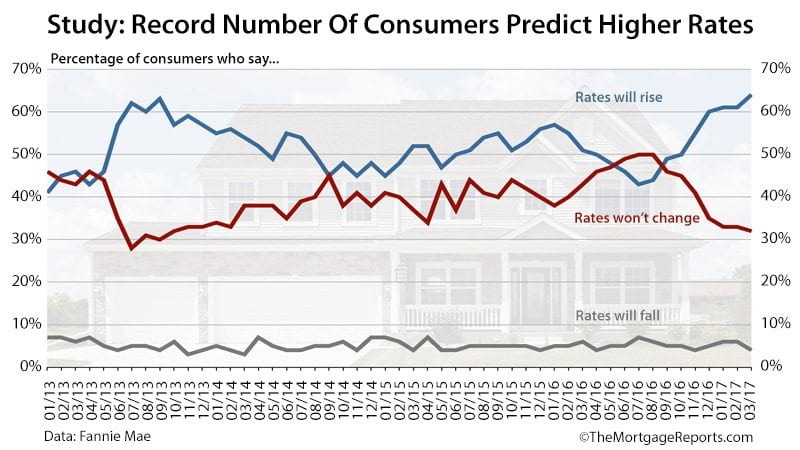 Almost No One Expects Rates To Drop In 2017
A new study reveals how pessimistic consumers are about mortgage rates.
In its monthly National Housing Survey, Fannie Mae reports that 64% of consumers -- a record high -- believe mortgage rates will rise in the next twelve months.
Of course, consumers are notoriously wrong about these things.
In July 2015, only five percent of consumers predicted lower rates within a year. Exactly 52 weeks later, some fixed mortgage rates dropped into the high 2s. No one saw that coming.
While the chances of super-low rates are slim, don't count out steady-to-lower rates for the remainder of 2017.
The market may have overcompensated after the election. Rates rose "too fast", which has led to a downward drift for rates so far this year.
What's clear, though, is that mortgage rates still present value for today's mortgage shopper. Interest rates stand at about half their historical average -- which tops 8% -- and are historically still in the basement.
What will rates do in the next twelve months? No one can forecast. But good mortgage rates are available today, and they're worth looking at.
Click to see today's rates (Apr 30th, 2017)
Consumers Expect Rent Hikes To Outstrip Home Prices
The average consumer is forecasting higher rates this year, but that's not keeping them from buying homes.
Rising rental prices -- and fees to move into a rental unit -- are making the relative cost of ownership lower each day.
According to Fannie Mae, 51 percent of consumers think home prices will rise this year.
But higher prices are not distinguishing renters' desire to buy. Quite the opposite. Consumers expect values to rise at least 3% over the next twelve months. A $300,000 home will be worth an additional nine thousand dollars one year from now, say survey respondents.
That's one incentive to buy now. The other is the amount consumers expect rent to increase: 4.1% over the next year.
Renters can either be on the winning or losing side of rising costs. According to Fannie Mae's survey, they are choosing to win.
Sixty-five percent of consumers say they would buy instead of rent, if they had to move today.
That could be a wise choice. Home sales remain near their strongest levels in eight years and home supply is scarce. Mortgage rates are still at historical lows, and demand is expected to remain strong.
Click to see today's rates (Apr 30th, 2017)
Eight Programs With Sub-20% Down Payment Requirements
Home buyers are getting into homes for less money per month than they pay for rent. Low rates are increasing home affordability for first-time home buyers.
Maybe you've been thinking about buying a home, too. After all, the market looks ripe.
Low- and no-down-payment home loans fill the lending landscape. Astonishingly, the 20%-down myth still prevails among consumers. That belief stems from a single loan program -- the conventional loan -- and a single option for that program.
But even conventional lending allows down payments well below the twenty percent mark.
In all, there are no less than eight major loan types that require less than twenty percent down (review them here), plus many more via smaller programs from banks and credit unions across the U.S.
One widely available favorite for younger home buyers is the FHA loan. The mortgage gets a lot of bad press because it requires mortgage insurance for life. But what other program offers homeowners to buyers with little money, dinged credit, and student loans?
Plus, FHA mortgage insurance can be canceled at a later date using a conventional loan. Often, in just a few years, the owner reaches 20% equity in the property. At that point, a no-PMI conventional refinance is available.
Not to be outdone, Fannie Mae -- purveyor of conventional/conforming loans -- offers HomeReady'ĄĘ. This 3% down loan allows all sorts of "outside-the-box" income types. Rental income from a mother-in-law unit is allowed, as is non-borrowing household member income, and even boarder (roommate) income.
Talk about flexibility.
There are many more home loans out there, and, down payment assistance is available for many of them. It's a new day for the home buyer who wants to escape rising rent, and get on the winning side of home appreciation.
What Are Today's Mortgage Rates?
At least half of consumers think mortgage rates will rise in 2017. No one can predict what will actually happen, but today's mortgage rate market is still ripe with deals.
Get today's live mortgage rates now. Your social security number is not required to get started, and all quotes come with access to your live mortgage credit scores.
Click to see today's rates (Apr 30th, 2017)
The information contained on The Mortgage Reports website is for informational purposes only and is not an advertisement for products offered by Full Beaker. The views and opinions expressed herein are those of the author and do not reflect the policy or position of Full Beaker, its officers, parent, or affiliates.
Try the Mortgage Calculator