Survey: Pull The Refinance Trigger Before It's Too Late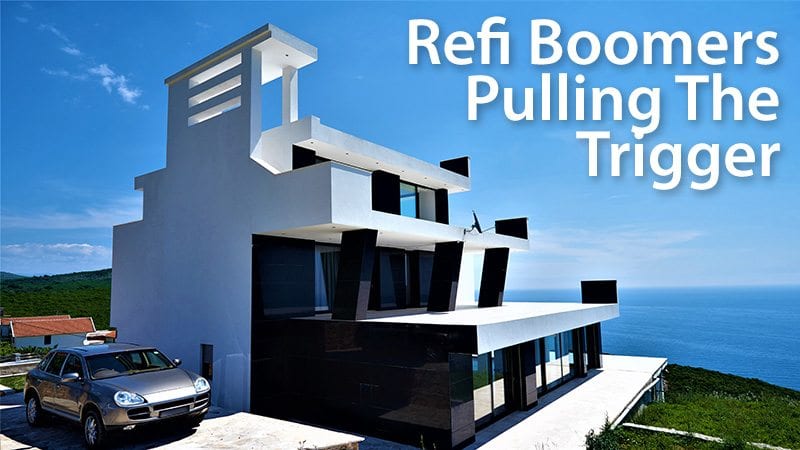 Your Refinance Window Hasn't Closed Yet
If you currently have a mortgage loan, it's normal to worry that you may be paying too much interest. And you may still be able to reduce that number with a refinance now.
Recently, however, mortgage rates climbed slightly. What's more, the Federal Reserve just announced an interest rate hike, probably the first of three this year.
In a climate with rising rates, many borrowers choose to put refinancing plans on hold. But despite rates ticking up, experts say now remains a good time to consider a refi and lower your mortgage payment.
Click to see today's rates (Sep 25th, 2017)
There's Strength In Numbers
Contrary to rumors, refis remain popular. Per a fresh report by ATTOM Data Solutions, more than 7.3 million refinance loans were originated last year. That marks a two percent increase from 2015, and the highest total observed since 2015.
In fact, the report reveals that U.S. residential properties secured 883,836 refinance loans in the fourth quarter of 2016—up 20 percent from a year ago. This was the second consecutive quarter with a year-over-year increase.
Parsing The Data
What's behind this recent refi wave? Borrowers are trying to beat the clock before rates creep further north, says Daren Blomquist, senior vice president for ATTOM Data Solutions.
"I was surprised that refinance originations continued their strong showing, given the rise in mortgage rates in the fourth quarter," he says. "This may be due to that fact that homeowners who haven't yet refinanced into a rate near four percent rushed to lock that in before rates rose more in 2017."
With the increasing likelihood that mortgage refinance rates will be rising this year, "it was probably a good decision for those homeowners to do so," Blomquist adds.
And it can still be a good decision now and in the near future -- provided you can lower the interest rate compared to your current loan.
What The Findings Mean 
Make no mistake: rates are trending upward. Freddie Mac data for the average 30-year fixed rate mortgage show that rates started out in 2016 at 3.87 percent, slipped down to 3.44 by mid-year but hit 4.20 percent in December 2016.
"Interest rates may be rising," Blomquist says, "but people will still have the mentality to refi now before rates get higher. So we actually may see an uptick in refi loans in early 2017 before the refi market eventually cools off."
Just because you may not be able to claim a fixed rate in the 3 percent range these days doesn't mean a refi isn't worth it.
"Interest rates are still relatively low when put into historical context," says Blomquist. He referenced the early 1980s, for example, when fixed mortgage rates hit higher than 18 percent.
"Homeowners who have not yet locked into an interest rate lower than their current mortgage could still do so and possibly save hundreds of dollars a month on their mortgage payment. This is true even if they aren't getting the absolute bottom in interest rates."
The current real estate climate is also favorable to those itching to refi.
"Rising home prices mean more homeowners have plenty of equity to work with. And that can help them qualify for a refinance today, even if they didn't qualify a year or two ago," says Blomquist.
Click to see today's rates (Sep 25th, 2017)
Who Should Refinance Now?
Blomquist says there are two good candidates for a refinance nowadays. The first is any homeowner who has a fixed rate loan with an interest rate above 4.5 percent.
The second is a homeowner with an adjustable rate mortgage who wants to lock in a fixed rate before interest rates rise higher -- particularly if that borrower plans to stay in the home for at least a couple more years.
"Homeowners planning to sell in the near future probably are not good candidates for refinancing," he says.
AÂ refi may not work for homeowners who already have locked in a fixed rate loan of 4.25 percent or lower, notes Blomquist.
Cashing In On A Cash-Out Refi
Many refi hopefuls pursue a cash-out refinance. This option allows you to borrow extra money, pocketed at closing, to pay for a major purchase like a car, college or home improvement project.
It can be a tempting tactic, because you're financing that extra cash at the same relatively low interest rate as your mortgage. But you're also paying back that extra money borrowed and the interest charged over a long period—up to 30 years, depending on your term.
"Homeowners with ample equity may consider a cash-out refinance to leverage some of that equity. But be very cautious you're not treating that home equity like an ATM machine," Blomquist says.
If you're investing back into your home or into something that will appreciate in value over the long term, "that is probably a wise decision," he adds. "If you are investing in something that depreciates in value—like a car or boat—it likely is not a wise long-term wealth building strategy."
What Are Today's Refinance Rates?
Current mortgage rates are pretty volatile right now -- moving up and down in sudden bursts. If you're on the fence about a refinance, it makes sense to get pre-approved for your loan and watch rates carefully. When they drop onto your target range, lock and close.
Click to see today's rates (Sep 25th, 2017)
The information contained on The Mortgage Reports website is for informational purposes only and is not an advertisement for products offered by Full Beaker. The views and opinions expressed herein are those of the author and do not reflect the policy or position of Full Beaker, its officers, parent, or affiliates.
Try the Mortgage Calculator