"Real" Home Price Gains Might Be Much Lower Than You Think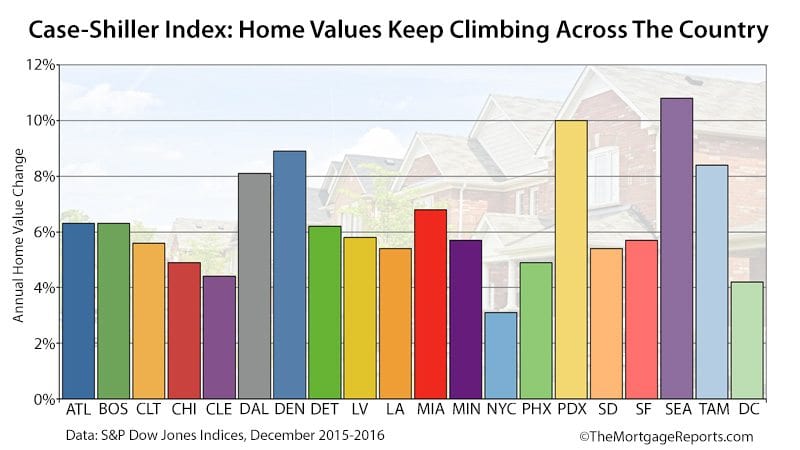 Home Prices Still Clocking Five Percent Gains
Home values continue to rise nationwide.
According to Standard & Poor's Case-Shiller Index, home values hit their highest levels ever recorded in the report's 27-year history.
On a national level, values eclipsed their 2006 peak by one-half of one percent, and the 20-city and 10-city composites are not far behind.
Of course, that's not considering "real" home price appreciation, which might be much lower. More on that below. But, in any case, it's a red-hot housing market.
What's driving such high demand?
Lack of supply. Home buyers are out in force, but are finding it tough to secure a quality home. Competition is fierce.
It's not uncommon for a home to receive 15 to 20 offers in some locales, according to a recent report from Mortgage News Daily.
If you're shopping for a home, no doubt you've noticed the slim selection out there. It pays, then, to be prepared with a pre-approval letter in hand, ready to make an offer.
Chances are, the buyer that gets the home will be the one that is ready to act.
Click to see today's rates (Jul 21st, 2017)
Yearly Home Price Gains Hit Double Digits
Standard & Poor's recently released its December 2016 Case-Shiller Index.
The index measures home values on a national level, plus "cherry picks" individual metros for its 10-city and 20-city composites.
The cities within the indices never change, though, which is meant to give long-term insight into housing. By tracking a mixed basket of cities, the logic goes, you can gauge home prices nationwide.
Analysts follow the 20-city index the closest and put a lot of weight into its outcome.
Cities included are Portland, Oregon, Las Vegas, and San Diego. New York is included as well as smaller metros like Cleveland and Detroit.
The most recent report showed the top three annual gainers for December.
Seattle: +10.8% from one year ago
Portland: +10.0% from one year ago
Denver: +8.9% from one year ago
All twenty cities showed solid gains year-on-year. On average, home prices in the 20-city composite rose 5.6% for the year, up from an annual 5.2% gain the month prior.
Fortunately for home buyers who are still looking, prices aren't up quite that much. The reason: "real" home appreciation.
Click to see today's rates (Jul 21st, 2017)
What Is "Real" Home Appreciation?
Most news reports -- including this one -- talk about home appreciation in absolute, non-relative terms.
For instance, "home prices are up 5%" means that prices rose by a factor of 0.05 compared to a certain point in the past.
But these figures don't consider inflation, which can be a big deal.
According to a cost-of-living calculator from the Bureau of Labor Statistics, $100,000 in 2007 cash is worth just over $85,000 today.
That's a 15% hit.
The principle applies to home values, too. A home worth $100,000 ten years ago would need to appreciate 15% just to match inflation.
In December, home values "increased" 5.6% compared to one year ago. But adjusting for inflation, the "real" home appreciation is equal to 3.8% annually, according to a statement released by Case-Shiller.
That's still higher than the historical average of 1.3% inflation-adjusted appreciation since 1975. But today's home price gains are not "too hot".
Reasonable appreciation rates are good news for both the current homeowner and the shopping home buyer.
The homeowner is beating inflation to the tune of nearly 4% annually.
The home buyer, though, isn't struggling quite as much as he or she thought. Yes, house prices are rising, but so are prices and wages within the economy.
Employers start paying more, thanks to a tight job market. The home buyer can more easily absorb higher home prices, in part due to a depreciating dollar.
Plus, mortgage borrowing costs are still low, running at about half their historic average. Over the past 45 years, middle ground for mortgage rates has been north of 8%.
It's a fantastic time to be shopping for a home purchase loan.
What Are Today's Mortgage Rates?
The Case-Shiller Index hints that the housing market is sustainable and healthy. It's a great time to buy a home.
Take a look at today's real mortgage rates now. Your social security number is not required to get started, and all quotes come with instant access to your live credit scores.
Click to see today's rates (Jul 21st, 2017)
The information contained on The Mortgage Reports website is for informational purposes only and is not an advertisement for products offered by Full Beaker. The views and opinions expressed herein are those of the author and do not reflect the policy or position of Full Beaker, its officers, parent, or affiliates.
Try the Mortgage Calculator