Not Sure About The Future Of Housing? Just Ask Home Builders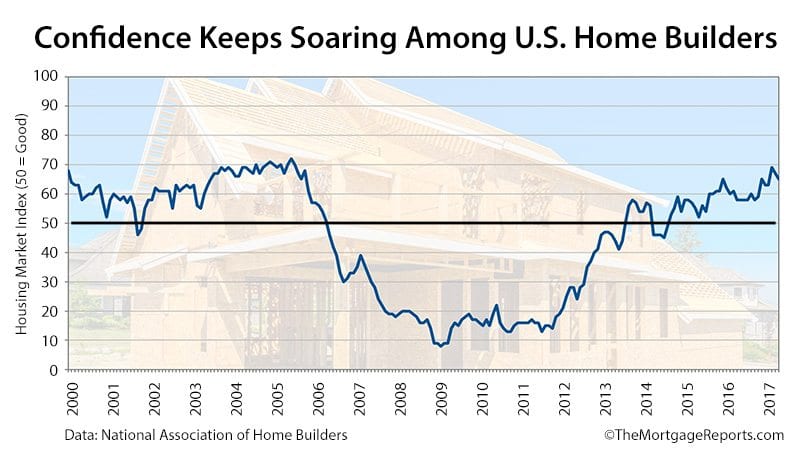 Home Builders Still "Confident" About 2017 Housing Market
Home builders feel great about the future of U.S. housing.
With today's mortgage rates still-low and U.S. rents rising, home builders are planning for a stellar 2017.
Market confidence among the nation's builders is near its highest since 2005.
As measured by the National Association of Home Builders' Housing Market Index (HMI), home builder sentiment reads 65 out of 100, which is a "confident" figure.
After reaching a low of 8 -- yes 8! -- in January 2009, the housing market is back on track with readings in the mid-60s.
February marks the 32nd month in a row with a confidence "score" above 50, the mark which builders are considered optimistic.
It's no surprise.
Rates are still half their historical norm, jobs are plentiful, and consumers have money to spend on new homes.
Not to mention that rents are through the roof.
Home builders plan to sell more than 500,000 new homes this year, and buyers could usher in even higher demand into 2018.
It could be a good ideal for home shoppers to buy before the spring rush.
Click to see today's rates (Apr 29th, 2017)
NAHB Housing Market Index Is A Predicter Of Home Sales
Once monthly, the National Association of Home Builders (NAHB) surveys its members on current housing market conditions; and their outlook for the housing market's future.
The results are compiled into the Housing Market Index.
Informally, the report is called the "home builder sentiment survey" and it reflects home builder attitudes about the nation's single-family, new construction housing market.
The index is one of the most anticipated reports published each month, because it provides clues to housing market health six-to-twelve months in advance.
Home builders gather real-time, "on the ground" data as they observe buyer foot traffic and actual sales in their day-to-day business. They recognize real estate trends long before economists do.
For instance, a home builder sees rising interest in its homes. Potential buyers visit model homes and sign contracts to buy.
In response, the builder obtains new building permits and breaks ground on developments. Conversely, it will hold off on projects if foot traffic wanes.
Without the Housing Market Index, economists may only have access to data for planned or started homes. But that data is a lagging indicator of what happened in the market months prior.
Why Home Buyers Should Watch The Housing Market Index
This forward-looking report is important to economists, but can be valuable to the everyday home buyer, too.
Many buyers today feel they have "missed out" on future home appreciation, now that house values have risen steadily since 2012. They feel the demand for homes will drop and, in turn, prices will cool off.
Home builders would beg to differ.
Today, builder sentiment reads a healthy 65, down just 2 points from a strong 67 in January.
The report signals continued strength in the housing market.
In the NAHB Housing Market Index, 50 is the inflection point in the index between "good" conditions and "poor" ones; and February's reading marks the thirty-second straight month in which the HMI has logged north of 50.
Buoyed by low mortgage rates and big demand from buyers, home builders believe today's housing market is solidly in positive territory.
Home buyers who have been on the sidelines should consider buying before the rush of spring 2017. February's HMI indicates the market will be strong the first half of 2017 and perhaps beyond.
Click to see today's rates (Apr 29th, 2017)
No Signs Of Market Cooling In Next 6 Months
The NAHB Housing Market Index is a composite survey. Its results are based on three distinct questions posed to home builder trade group members.
Each question polls a separate facet of a home builder's business.
The monthly readings, as reported by the home builder trade group are:
Current home sales activity : Reading of 71 (-1 from one month ago)
Home sales activity for the next six months : Reading of 73 (-3 from one month ago)
Buyer foot traffic : Reading of 46 (-5 from one month ago)
The housing market is strong on all fronts. Especially telling is the future sales component of the index.
This figure estimates sales strength in six months' time, or roughly late-summer 2017.
A reading of 73 is nine points above that of one year ago. The spring and summer of 2016 turned out stellar periods for the housing market. Builders are expecting a similar or better market in the latter stages of 2017.
This summer and fall could be one of the strongest home buying seasons in more than a decade.
Builders are calling for fast home sales (meaning higher prices) next year. Home buyers should consider the effect of higher prices -- and potential mortgage rate increases -- on their plans. They can be on the winning side of rising values.
Buyers may not know specifically what a mortgage is, they do know that their rents are rising and that buying a home could be better than renting into 2017.
So long as the math buying over renting, builders will continue to have optimism for the future of U.S. housing.
Northeast Lags; West Continues To Lead
February's Housing Market Index demonstrates disparity between two regions of the U.S.
The Northeast Region has fared worse than others historically. The West has outperformed the region every month since July 2012.
Confidence in the northeastern U.S. market showed signs of life the past two months, with readings of 57 and 51. In February, it dropped to just 41.
Meanwhile, the West Region logged 75, indicating builders in this region were nearly twice as confident as those in the northeast.
Most of the country, though, is holding well into optimistic ranges.
Northeast: HMI reading of 41 (-10 from one month ago)
Midwest: HMI reading of 64 (-2 from one month ago)
South: HMI reading of 64 (-4 from one month ago)
West: HMI reading of 75 (unchanged from one month ago)
If sales are as strong as builders predict, home buyers could face challenges. Bidding wars and above-list-price offers could be the rule, not the exception.
And free home upgrades will be all but off the table.
Still, purchasing a new home could be worth the effort. Homes that are newly built often come with warranties that protect the homeowner against expensive defects. New homes occasionally need repairs, just like older ones, and it's rarely a "bad" idea to receive a warranty if one is offered.
Home buyers in western states can still find value in new homes, despite high competition. As rents rise, buyers are locking in housing costs by purchasing new and used homes in every region of the country.
What Are Today's Mortgage Rates?
To today's buyers, new construction homes can be appealing. New homes are often built with the latest amenities and technology and, because of low interest rates, they're often affordable, too.
Get today's live mortgage rates now. Your social security number is not required to get started, and all quotes come with access to your live mortgage credit scores.
Click to see today's rates (Apr 29th, 2017)
The information contained on The Mortgage Reports website is for informational purposes only and is not an advertisement for products offered by Full Beaker. The views and opinions expressed herein are those of the author and do not reflect the policy or position of Full Beaker, its officers, parent, or affiliates.
Try the Mortgage Calculator