17th Worst Week For Mortgage Rates In History; Biggest Jump In 41 Months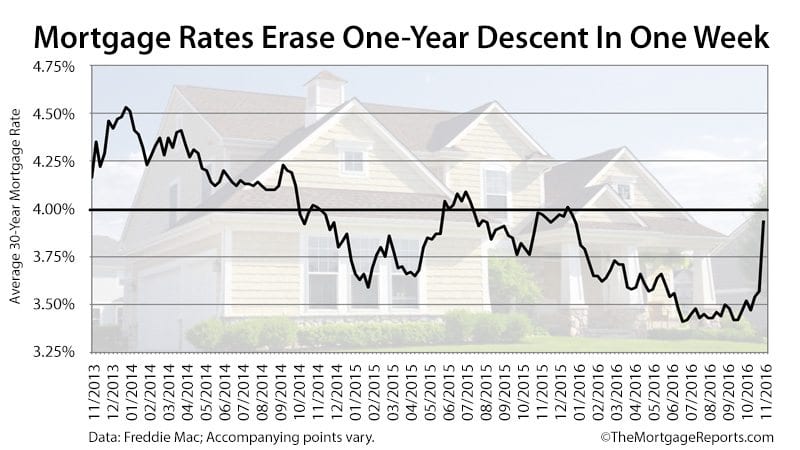 It's Been A Terrible, No Good, Very Bad Week For Mortgage Rates
Mortgage rates had their worst week in more than 3 years.
A Republican victory for the presidency was supposed to usher in better mortgage rates. Instead, the opposite happened.
This week, Freddie Mac's weekly survey of more than 100 mortgage lenders reveals that rates are way, way higher after the historic election cycle. Conventional 30-year fixed rate mortgages increased 37 basis points (0.37%) from last week's reading. Rates rose to 3.94% nationwide, on average.
It's the 17th worst week in history for rates, with data going all the way back to 1971 -- forty-five years ago.
It's also the biggest single-week jump since June 2013, when the Federal Reserve announced it would slow its purchases of mortgage-backed securities. Lower demand on these bonds caused rates to spike.
History is repeating itself. Rates are suddenly at their highest levels since January 2016.
As a consumer, you might consider locking in before mortgage rates go even higher.
Click to see today's rates (Jul 24th, 2017)
Freddie Mac: Mortgage Rates Hit 3.94%
Each week, mortgage agency Freddie Mac surveys 125 lenders nationwide for its Primary Mortgage Market Survey (PMMS), a snapshot of current mortgage interest rates.
It asks mortgage companies, banks, and credit unions, and other lenders their current rate for a well-qualified borrower putting 20% down, and paying "discount points," or extra fees that directly reduce the rate.
In many ways, Freddie Mac's weekly average is not a very good indicator of your rate.
First, the agency's average rate is based on lender quotes for "A+" borrowers. That means the applicant has a large downpayment, stellar credit, and high income.
Not everyone fits in that box.
Second, the rate is based on the conventional/conforming loan program, which is not the best one for many first-time home buyers, U.S. military veterans, or suburban home buyers.
For instance, a VA home loan is exclusively for veterans, requires zero downpayment, and requires no mortgage insurance whatsoever. For eligible home buyers and homeowners, getting a conventional loan could be a mistake.
Likewise, convention programs may not be suitable for borrowers with damaged credit. The FHA program is lenient about credit scores, and even bankruptcies and foreclosures in the applicant's past.
The most accurate rate is one you get from a mortgage lender who has your complete "story".
But the most troublesome aspect of Freddie Mac's survey is its delay.
The agency polls lenders Monday through Wednesday, with the majority of the survey taking place early in the week.
Rates actually rose a week ago, the day after the most surprising election result in recent memory. Freddie Mac did not pick up those increases in its survey until it started polling again early this week.
Election Ushers In New Era For Mortgage Rates
It seems everyone, everywhere had been predicting higher rates.
Their timing was off, though.
Mortgage rates were supposed to rise in 2015. That didn't happen. Rates were supposed to go up at the start of 2016, too. Another inaccurate prediction.
Instead, mortgage rates touched all-time lows this summer, when Britain voted to leave the European Union.
Analysts wondered what would finally push up stubbornly low rates.
Now, it appears we have found out.
The past half-month, rates had been in relative calm, awaiting results of Decision 2016.
Rates had all but disregarded an important Federal Reserve meeting last week. And the October Non-farm Payrolls report, which hinted at rising inflation, barely moved rates either.
These events would have been market movers in almost any other month during the past 4 years.
Mortgage rates were storing energy, it appears, for a big move.
Rates started rising early -- on Election Day + 1 -- as investors looked ahead to the Republican candidate's administration. The forecast was this: a candidate focused on defense and infrastructure spending -- plus tax cuts -- could increase government bond sales.
A market flooded with bonds is bad for mortgage rates, the logic went. Mortgage rates are directly tied to the value of mortgage-backed securities (MBS), a type of bond.
If supply goes up, value goes down. Falling MBS value equals higher rates.
The surprising thing is, though, that mortgage rate movement was supposed to be in the exact opposite direction.
The forecast went like this: A candidate with so markedly different ideals than the current administration would introduce uncertainty into markets. Investors would not know what to expect in future policy.
Uncertainty causes a flight to "safe" assets like MBS. That increases demand, and reduces mortgage rates.
Instead, rates are much higher. So, what should a mortgage consumer do?
It may be wise to lock now. It appears we are in a new era for mortgage rates that contains a "new normal" of near-4% rates.
But rates are still good -- lower than at the start of 2016.
It's still a great time to be shopping for a mortgage.
Click to see today's rates (Jul 24th, 2017)
Loan Options That "Beat" Freddie Mac's Average
Freddie Mac polls more than 100 lenders to arrive at a national average rate.
But the agency requests conventional/conforming loan rates only. It leaves out mortgage rates for government-sponsored programs that could come with even lower costs.
In today's rising rate environment, a non-conforming loan could be the right decision for some homeowners.
FHA loans only require a 3.5% downpayment, yet come with mortgage rates often lower than 20% down conventional loans.
According to loan software company Ellie Mae, FHA rates were 6 basis points (0.06%) lower than conventional ones in August 2016.
Likewise, the zero-down VA home loan program comes with lower-than-conventional rates, according to Ellie Mae, undercutting conventional loan rates by an impressive 25 basis points (0.25%).
The least-known major mortgage product, the USDA loan, comes with very low rates, too, on par with the VA mortgage. The USDA home loan program requires nothing down, a credit score as low as 640, and very little money in reserves after closing in order to qualify.
For first-time home buyers, non-conventional loans could provide an easier path to homeownership.
What Are Today's Mortgage Rates?
Today's interest rates are still low, despite the dramatic jump. Historically any rate in the 4% range was considered "too good to be true." But those rates are still available.
Get today's live mortgage rates now. Your social security number is not required to get started, and all quotes come with access to your live mortgage credit scores.
Click to see today's rates (Jul 24th, 2017)
The information contained on The Mortgage Reports website is for informational purposes only and is not an advertisement for products offered by Full Beaker. The views and opinions expressed herein are those of the author and do not reflect the policy or position of Full Beaker, its officers, parent, or affiliates.
Try the Mortgage Calculator