Today's Best Mortgage Refinance Candidates: August 23, 2016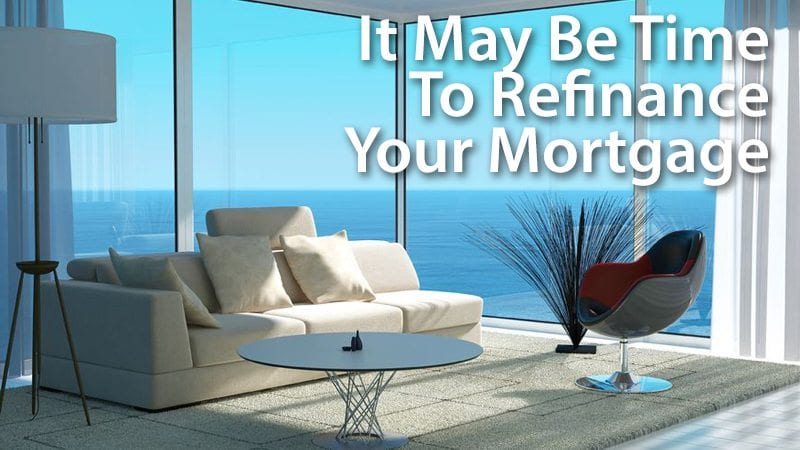 Should You Refinance Your Mortgage?
Current mortgage rates are cheap. Are you missing your chance to refinance?
Different from last decade, when bragging on your low refinance rate was sport, today's homeowners are mostly tight-lipped about the deals they've been getting from banks.
Wouldn't you know it, though, that refinance volume is near its highest point in a decade.
As rates have dropped, loans of all type are getting refinanced -- conventional loans backed by Fannie Mae and Freddie Mac; FHA loans via the Federal Housing Administration; and VA loans for military borrowers under the G.I. Bill; and, even USDA loans under the USDA Streamline Refinance.
It's an excellent time to consider a mortgage refinance.
Current mortgage rates and APRs are the lowest in history, and banks are now loose on loan approval standards. More mortgage application are getting approved in today's improving market than during any period in 10 years.
If you've been turned down in the past for a refi, it may be time to re-apply. Rates are great and the market is ripe.
Click to see today's rates (Jul 24th, 2017)
The Best Mortgage Refinance Candidates: August 23, 2016
Because of low mortgage rates, more than 8.7 million U.S. homeowners are potential eligible for a refinance loan today.
And, because of rising home valuations and an uptick in home renovations, there are millions of others who should consider a mortgage refinance, too.
There are plenty of reasons for a U.S. homeowner to refinance beyond just "low rates". All of the following homeowner types should be exploring their options.
Homeowners who purchased a home more than 4 months ago, when rates were higher
Homeowners who currently pay private mortgage insurance (PMI)
Homeowners with an FHA loan who want to cancel FHA MIP
Homeowners who carry a credit card balance from month-to-month
Homeowners who want to use home equity to pay for home improvements
And, as a special class of refinance, all homeowners with an existing FHA loan or VA loan should look to refinance today.
FHA and VA loans get special status with the nation's mortgage lenders because the programs' respective refinance programs -- the FHA Streamline Refinance and VA Streamline Refinance -- provide reduced eligibility standards for homeowners while waiving the need for a home appraisal.
It's also easier to get qualified with mortgage rates in the low-3s.
Both the FHA and the VA enforce a "minimum savings" requirement on their streamline programs, known as a Net Tangible Benefit. Meeting this requirement is easier as mortgage rates move south.
Cheap rates make for cheap payments.
Click to see today's rates (Jul 24th, 2017)
Don't "Time The Market" For Low Rates
When mortgage rates drop, homeowners gave a tendency to get "cute" about locking the lowest possible mortgage rate.
In an attempt to "buy low", they delay and delay until mortgage rates have reached a bottom. It's a strategy which becomes a game for some people. Unfortunately, it's also a game which people tend to lose.
Timing the market is a losing battle.
It seems sensible to try to time the market for the lowest possible rates in order to lock the largest savings. However, mortgage rates change far too frequently for you to know when the market has truly reached its bottom.
Moreover, "the bottom" of a market can't be identified until it's already passed.
Rather than trying to time the market for low mortgage rates, then, consider an alternate approach; one that limits your risk and your exposure to changing mortgage rates.
Consider the zero-closing cost refinance.
A zero-closing cost refinance is exactly what it sounds like -- it's a refinance in which zero closing costs get charged to the borrower.
Instead, with a zero-closing cost refi, costs are paid by the lender. The lender pays these costs as part of deal in which you, the borrower, agrees to accept a slightly higher mortgage rate than for which you'd otherwise qualify.
As an example, if your quoted mortgage rate with closing costs is 3.25%, your mortgage rate without closing costs may be 3.375%.
Zero-closing cost mortgages are a terrific way to refinance within a falling mortgage rate environment. You get all the benefits of a refinance but without the benefit-limiting costs.
Plus, because you put none of your own money into a zero-closing cost refinance, you can refinance again should rates fall again later.
With a zero-closing cost refinance, you're not trying to time the market's bottom -- you're only trying to exploit it. And it's a strategy you can execute again and again and again.
Mortgage rates may continue to fall over the next six months. If they do, do another no-cost refinance.
What Are Today's Mortgage Rates?
Mortgage rates are cheap and well-below historical averages. If you're a homeowner waiting to refinance, take a look at today's rates and see for what you'll qualify.
Get today's live mortgage rates now. Your social security number is not required to get started, and all quotes come with access to your live mortgage credit scores.
Click to see today's rates (Jul 24th, 2017)
The information contained on The Mortgage Reports website is for informational purposes only and is not an advertisement for products offered by Full Beaker. The views and opinions expressed herein are those of the author and do not reflect the policy or position of Full Beaker, its officers, parent, or affiliates.
Try the Mortgage Calculator