Mortgage Rates At Cheapest Levels Since 3 Years Ago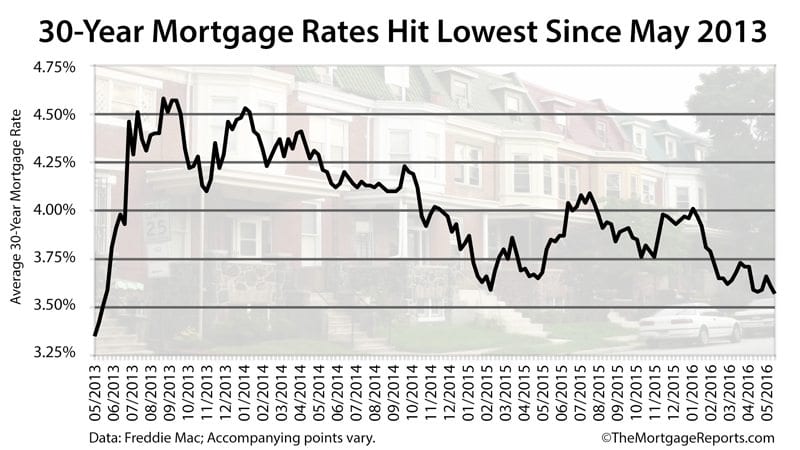 Mortgage Rates Just Keep On Dropping
Today's mortgage rates are falling.
Continuing this year's extend rally, conventional 30-year fixed-rate mortgage rates dropped 4 basis points (0.04%) last week to reach 3.57% nationwide, on average.
Mortgage rates are now at their lowest point since 3 years ago.
All of this is unexpected.
Mortgage rates had been forecast to reach five percent this year, at least. Now, with the right set of circumstances, it appears as if 30-year fixed-rate mortgage rates could quickly reach the 2s.
With mortgage rates down, home buyers -- especially first-time home buyers -- are finding themselves able to purchase "larger" homes; and, more than seven million U.S. households are now potentially eligible to refinance.
If you've been wondering whether it's a good time to lock a mortgage rate or to start that mortgage refi, the answer is "yes". Mortgage rates may continue to drop in the future, but what if they don't?
Click to see today's rates (Sep 25th, 2017)
Freddie Mac: 30-Year Rates Average 3.57%
According to Freddie Mac's weekly survey of 125 banks nationwide, conventional 30-year fixed rate mortgage rates now average 3.57%.
Rates are available to prime borrowers willing to pay an accompanying 0.5 discount points at closing, where one discount point comes at a cost of one percent of your loan size.
In Seattle, Washington, where the local conforming loan limit is $567,500, paying 0.5 discount points to get this week's 30-year rate of 3.59% costs $2,838.
Points, though, are treated by the IRS as "prepaid mortgage interest". Check with your tax preparer. You may be able to deduct a portion, or all, of the discount points you pay at closing.
Mortgage rates are at their best levels since May 2013.
Click to see today's rates (Sep 25th, 2017)
Could 30-Year Mortgage Rates Fall Into The 2s?
As last year came to a close, the near-unanimous consensus among analysts on Wall Street was that 2016 mortgage rates would rise toward 5 percent, and likely even surpass it.
Today, though, already five months into the New Year, those calls look overblown.
Mortgage rates have dropped through 14 of the first nineteen calendar weeks of the year; and, rates have shed more to start 2016 than during any year since the 1990s.
This isn't how mortgage markets were supposed to go.
As 2015 came to a close, the jobs market showed improvement, consumer spending looked strong, and the Federal Reserve (finally) raised the Fed Funds Rate from its range near zero percent, where it had been since late-2008.
Mortgage rates climbed on the news.
Then, China's equities market sank. And, oil prices tanked. And, fear set in. And, inflation rates fell short. Safe-haven buying picked up.
Now, mortgage rates are at their lowest levels in 157 weeks and pricing is likely to improve in the weeks ahead, too.
Markets not only question whether the Fed will raise the Fed Funds Rate two more times this year, as had been forecast; but, they question whether the economy could even withstand it.
So long as there are doubts about the future of the U.S. economy, mortgage rates are expected to stay low. The larger those doubts, the more that rates could drop.
If you haven't compared mortgage rates lately, today's a good day to take a look.
Click to see today's rates (Sep 25th, 2017)
Refinance Openings For VA Loans & FHA Loans, Specifically
With mortgage rates down, there are new purchase and refinance opportunities for U.S. consumers. Lower rates means lower payments.
But, it's not just Freddie Mac mortgages for which mortgage rates are down. Rates on FHA and VA loans are down, too; and, for borrowers with loans of these types, refinancing can be downright simple.
VA loans are loans guaranteed by the Department of Veterans Affairs, made possible by the G.I. Bill. VA loans are available as fixed-rate or adjustable-rate; and, allow for up to 100% financing.
One of the biggest advantages of the VA loan program, though, is its built-in refinance program -- the Interest Rate Reduction Refinance Loan (IRRRL).
Commonly called the VA Streamline Refinance, IRRRL loans waive the standard verifications of a mortgage loan. With an IRRRL, there's no income verification required; nor is there a required check of your credit score or employment.
There's not even a need to do an appraisal.
In order to qualify for an IRRRL, all you have to do is show a history of on-time payment, and proof that you'll save money with your new VA mortgage rate and loan payment.
When mortgage rates drop, meeting this "must save money" requirement becomes a lot easier.
FHA loans, which are loans insured by the Federal Housing administration, carry similar benefits as VA loans, including access to an FHA-backed streamlined, no-verification refinance program called the FHA Streamline Refinance.
The FHA Streamline Refinance waives income, credit, and employment documentation for borrowers; and, also waives the need for a home appraisal.
Qualifying for the FHA Streamline Refinance is similarly simple as meeting IRRRL requirements.
Homeowners must only show that they've paid on their home as agreed, and that the refinance results in a reduction in principal + interest payments of at least five percent.
Also like the VA loan, when mortgage rates drop, meeting this minimum savings requirement can be a breeze. FHA-backed homeowners who purchased prior to 2015 likely meet this "Net Tangible Benefit" requirement.
What Are Today's Mortgage Rates?
Mortgage rates remain low and are expected to hold in the mid-3s for at least the next few weeks. However, as Wall Street forecasts show, predictions are never a guarantee.
Take a look at today's mortgage rates now. Your social security number is not required to get started, and all quotes come with instant access to your live credit scores.
Click to see today's rates (Sep 25th, 2017)
The information contained on The Mortgage Reports website is for informational purposes only and is not an advertisement for products offered by Full Beaker. The views and opinions expressed herein are those of the author and do not reflect the policy or position of Full Beaker, its officers, parent, or affiliates.
Try the Mortgage Calculator