The Falling Cost Of U.S. Homeownership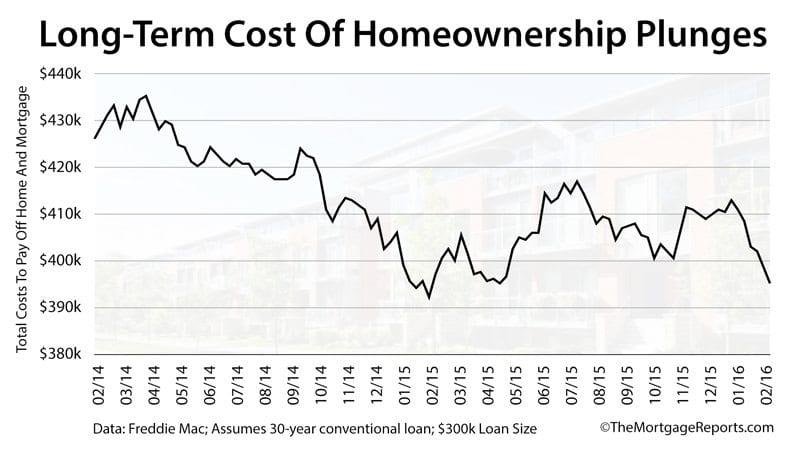 Falling Mortgage Rates Reduce Homeownership Costs
It's getting cheaper to own a home.
According to Freddie Mac's weekly survey of more than 100 U.S. banks, the average conforming 30-year fixed rate mortgage rate hit 3.65% this week, the lowest in more than a year; and the 15-year fixed-rate (2.95%) reached similar lows.
Since the New Year, mortgage rates have been in steady decline. Current mortgage rates are now lower through six straight weeks.
The shift has been nothing short of spectacular. With mortgage rates dropping, home refinance volume is spiking and the math of "Should I rent or should I buy?" has changed.
You'll pay 16% less mortgage interest on your loan today as compared to just six weeks ago, which can save you tens of thousands of dollars on your long-term mortgage costs.
It's an excellent time to purchase a home or refinance one.
Click to see today's rates (Jul 24th, 2017)
Build Your Wealth Via Low Mortgage Rates
When you make a mortgage payment to the bank each month, it's comprised of four parts -- principal, interest, taxes, and insurance.
This is also known as your PITI (pronounced: pee-eye-TEE-eye).
Within your payment, your (real estate) taxes and (hazard) insurance are unaffected by today's mortgage rates. Your tax bill is what it is; and your hazard insurance is set by your homeowner's insurance agent.
Your principal and interest, however, are based on your rate.
The principal portion of your payment is the amount of your original mortgage loan which is repaid to the bank. The interest portion is the fee you pay for borrowing those monies.
When mortgage rates drop, the amount of principal versus interest you pay increases; and, the difference can be substantial.
Jan 2016: Mortgage payment comprised of 30% principal, 70% interest
Feb 2016: Mortgage payment comprised of 34% principal, 66% interest
This difference means that, at lower mortgage rates, you pay down your principal balance faster, which increases your home equity.
Building home equity means building personal wealth, so today's low rates actually help you build your net worth.
Furthermore, when you're building home equity, you accelerate your eligibility to cancel your private mortgage insurance (PMI). If your loan requires PMI, refinancing to a lower mortgage rates can help you get rid of it more quickly.
Click to see today's rates (Jul 24th, 2017)
Millions Of U.S. Homeowners Eligible To Refinance
With mortgage rates low and home values up, literally, there are millions of U.S. homeowners eligible to refinance.
With even modest credit scores, there are programs you can use.
For example, the following streamlined refinance programs are sponsored by the federal government and allow for refinancing with no verifications, no credit checks, and no home appraisal.
In order to qualify for these program, you must show a history of on-time payments and a true benefit from the refinance (e.g.; your monthly payment is reducing; you're switching from an ARM to a fixed-rate mortgage).
The HARP 2 mortgage can also be streamlined, depending on your lender. HARP requires that your home have less than twenty percent equity; and, that your mortgage be backed by Fannie Mae or Freddie Mac.
For everyone else, "standard" refinance programs give access to great, low rates, too. You can refinance for cash-out, or to change your mortgage rate or term -- just be sure to avoid big closing costs.
Where possible, ask your lender for a low- or no-closing cost mortgage quote.
In general, doing a mortgage loan with no closing costs will raise your rate 25 basis points (0.25%), so you'll end up with a slightly higher mortgage payment than if you chose to pay "normal costs".
However, in a falling mortgage rate environment such as this, you may get more chances to refinance in the future. Therefore, it's better to take a slightly higher rate today while limiting your sunk costs to zero.
Mortgage closing costs can eat into your savings in a hurry.
What Are Today's Mortgage Rates?
Mortgage rates are especially low, which has driven down the long-term costs of homeownership. It's an excellent time to comparison shop for mortgage rates.
Get today's live mortgage rates now. Your social security number is not required to get started, and all quotes come with access to your live mortgage credit scores.
Click to see today's rates (Jul 24th, 2017)
The information contained on The Mortgage Reports website is for informational purposes only and is not an advertisement for products offered by Full Beaker. The views and opinions expressed herein are those of the author and do not reflect the policy or position of Full Beaker, its officers, parent, or affiliates.
Try the Mortgage Calculator