Fed Minutes: Raising The Fed Funds Rate Was Not A No-Brainer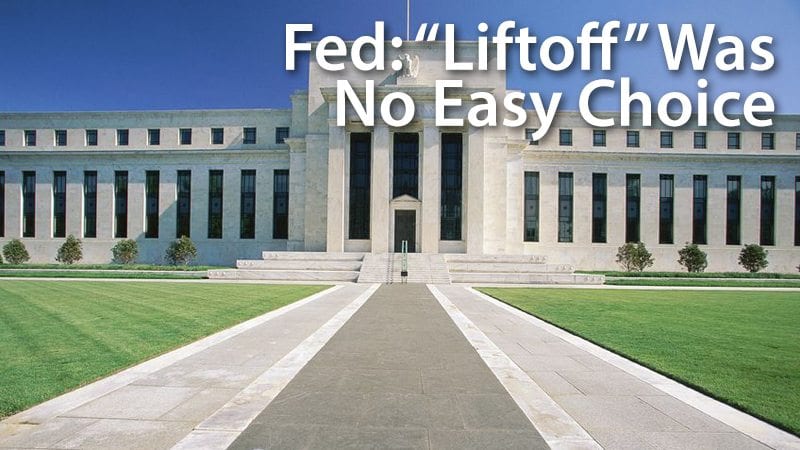 Fed Does Not Control Mortgage Rates
The Federal Reserve does not control mortgage interest rates, but it can exert an influence over them. The group's influence was on full display earlier this week.
Wednesday, in its release of the minutes of its last FOMC meeting, the nation's central banker revealed that its decision to raise the Fed Funds Rate was not an easy one.
Labor markets have improved substantially since 2010, however, inflation rates remain well below Fed targets.
With the Fed raising the Fed Funds Rate for the first time in 8 years, it made it harder for inflation to take hold nationwide.
Mortgage rates improved after the minutes of the FOMC meeting were released, pushing rates to about 1/8 percentage point lower as compared to the day prior. Conventional rates are now below 4% for borrowers using a conventional mortgage; and, have moved to as low as 3.50% for some VA and FHA home loans.
Click to see today's rates (Oct 23rd, 2017)
Mortgage Rates Drop After Fed Minutes Releases
The most recent Federal Open Market Committee (FOMC) meeting was three weeks ago and, as is customary, the Federal Reserve released its meeting minutes on the meeting's three-week anniversary.
Known as the Fed Minutes, the report is a complete summary of the FOMC meeting, detailing the conversations and debates which transpired among attending Federal Reserve members.
Similar to minutes published after a condo association meets or when corporate shareholders gather, the Fed Minutes highlight key discussion points among attending parties; and key resolutions reached, if any.
Not surprisingly, the Fed Minutes is lengthy.
The report, which covers two days of Fed meetings, is nearly 10 times lengthier than the Fed's post-meeting statement which it issued to markets December 16, 2015.
The extra words detail the Fed's decision-making process; and, what led to the group's decision to raise the Fed Funds Rate from its floor of zero percent, where it's been since December 2008; and the group's choice  to continue to suppress mortgage rates for buyers and refinancing households.
Despite the group's vote to increase the Fed Funds Rate to a target range near 0.25%, however, members of the Federal Reserve remain divided about the strength of the U.S. economy, and the nation's ability to handle outside pressures, including the forces of a rising dollar and falling energy costs.
The Fed is also concerned that inflation rates are running too low.
Click to see today's rates (Oct 23rd, 2017)
Will The Fed Have To Reverse Course?
Since the Federal Reserve's last meeting of 2015, when it raised the Fed Funds Rate to 0.25%, there's been little evidence that the U.S. economy is on solid ground.
Housing data has shown softness, consumer spending has been weak, and the stock market has started 2016 with its worst 4-day start to a year in all of recorded history.
Furthermore, conflicts in the Middle East and worries about China's slowing economy have Wall Street worried for global contagion.
None of this was predicted, however, last December, when Federal Reserve Chairwoman Janet Yellen corralled a consensus among voting FOMC members to make a change to the Fed Funds Rate.
The decision, the Fed has said, was a "close call".
Among the biggest concerns to the voting Fed members? Inflation. Or, more precisely, the lack thereof.
Inflation rates remain stubbornly below the Fed's target rate of 2% despite seven years of a zero-bound interest rate policy and trillions of dollars invested in mortgage-backed bonds.
Now, with energy prices dropping plus a possible global economic slowdown led by China, the Fed may find it tough to bring inflation rates back up.
This is a mixed bag for mortgage rate shoppers.
On one side, inflation is the enemy of mortgage rates; as inflation rates drop, mortgage rates fall.
However, on the other side, when inflation rates get too low, it can be harmful to the broader economy and cause a disinvestment in mortgage-backed securities. This would cause mortgage rates to rise.
The Fed's next meeting is January 26-27, 2016. Between now and that date, Fed members will keep a watch on the economies of our nation's trading partners; and on labor market growth within our domestic economy.
The group is not expected to change the Fed Funds Rate when it meets next, but should global markets continue to show the same weakness they've shown so far this ywar, the Fed may change its forward guidance to Wall Street.
What Are Today's Mortgage Rates?
The Federal Reserve doesn't make U.S. mortgage rates but it can influence them. Fed policy has helped to hold mortgage rates down, and buyers can take advantage.
Get today's live mortgage rates now. Your social security number is not required to get started, and all quotes come with access to your live mortgage credit scores.
Click to see today's rates (Oct 23rd, 2017)
The information contained on The Mortgage Reports website is for informational purposes only and is not an advertisement for products offered by Full Beaker. The views and opinions expressed herein are those of the author and do not reflect the policy or position of Full Beaker, its officers, parent, or affiliates.
Try the Mortgage Calculator