HARP For Homeowners : Which States Are Doing The Most HARP Loans Per Capita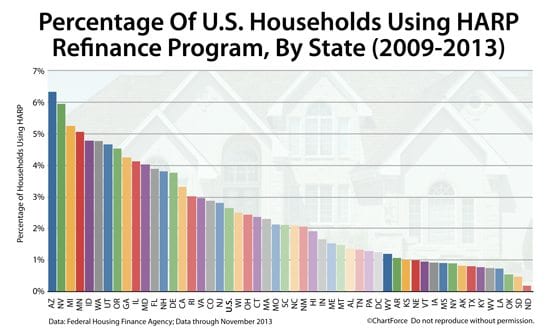 The Home Affordable Refinance Program (HARP) is a refinance loan for homeowners whose homes have lost value since purchase. It launched in March 2009 and has been used more than 3 million times since its inception.
However, HARP is more popular in some states than others. In Arizona, for example, HARP has been used on more than 6% of all homes whereas in New York, fewer than one percent of homes have.
Meanwhile, there is talk of a new, revamped HARP program which, if launched, may lessen this state-by-state disparity. The new program -- HARP 3 -- might include support for homeowners with non-Fannie Mae or Freddie Mac mortgages.
Want today's live HARP mortgage rates? Click here (May 29th, 2017).
HARP : "A Better Bargain For U.S. Homeowners"
HARP is an acronym, short for the Home Affordable Refinance Program. Part of the housing stimulus program launched in 2009, HARP is rolled under the government's Making Home Affordable program.
It's sometimes called "The Obama Refi".
When HARP was first launched, the United States was in a post-financial crisis world. Merrill Lynch had been absorbed by Bank of America; Fannie Mae and Freddie Mac had been placed into conservatorship; and, homeowners were losing their home equity rapidly.
Meanwhile, in part because the economy was sagging, mortgage rates began to drop. Actually, "drop" is too soft of a word.
Between August 2008 and March 2009, the average conforming 30-year fixed rate mortgage plunged 148 basis points, moving from 6.48% before the crash to 5.00% after it, and with no bottom in sight.
It would have been a terrific time for U.S. homeowners to refinance -- except that many had lost too much of their home equity to qualify.
This was the value of HARP.
Via the Home Affordable Refinance Program, homeowners whose homes had lost equity, and whose homes were backed by Fannie Mae or Freddie Mac, were granted access to refinance at the day's low mortgage rates. Private Mortgage Insurance (PMI) was not required for loans which originally had 20% down; and no new PMI was required for homes were which underwater.
Click here for today's HARP mortgage rates (May 29th, 2017).
HARP 2.0 Extends HARP To "Be Better"
After its launch, HARP 1.0 was a hit. It gave homeowners with Fannie Mae- and Freddie Mac-backed mortgages access to a streamline refinance program similar to the FHA Streamline Refinance and the VA Streamline Refinance.
In HARP's first three years, close to one million U.S. households used the program. The government decided that this was too few. It wanted the underwater mortgage program to reach even more households; to offer even more relief to struggling homeowners.
From this desire to "do more", HARP 2.0 was born.
HARP 2 didn't make many changes to the HARP 1.0 guidelines. It just made the program simpler.
For example, under HARP 2, lenders were no longer held responsible for the underwriting errors made by a loan's original bank. This meant that Chase Mortgage could HARP-refinance a Bank of America/Countrywide loan without worrying about whether Bank of America did its job. Wells Fargo could refinance a CitiMortgage without similar concern.
This waiver of liability made refinancing with a new lender possible. Homeowners no longer had to refinance with their current bank or lender, and could shop for the lowest rates and fees available.
Another big change was to allow unlimited loan-to-value (LTV) for all HARP 2 loans.
Unlimited LTV was an especially important provision for underwater homeowners in cities such as Las Vegas, Nevada; Phoenix, Arizona; and, Miami, Florida where home values had dropped faster and farther as compared to other U.S. cities.
In its first month of widespread availability, loans above 125% LTV accounted for 42 percent of all closed HARP transactions. Three times as many loans have closed under HARP 2.0 as compared to HARP 1.
Click here for HARP mortgage rates (May 29th, 2017).
Arizona : Highest HARP Loans Per Capita
Since the launch of "The Obama Refi", more than 3.0 million U.S. homeowners have used the Home Affordable Refinance Program. Not surprisingly, these closings are concentrated in states where home values fell the most last decade.
California, for example, has closed 412,000 Home Affordable Refinance Programs loans since 2009. This is almost as many as the next two states combined, which are Florida and Michigan.
However, the number of closings do little to show the pervasiveness of the Home Affordable Refinance Program in certain states.  A better measure of the program's reach is HARP Closings Per Household.
On per household basis, Arizona is number one. California is number fifteen.
The Top 10 List of Home Affordable Refinance Program Closings Per Capita, By State :
Arizona : 1 HARP closing for every 15.8 households
Nevada : 1 HARP closing for every 16.8 households
Michigan : 1 HARP closing for every 19.0 households
Minnesota : 1 HARP closing for every 19.8 households
Idaho : 1 HARP closing for every 20.9 households
Washington : 1 HARP closing for every 21.0 households
Utah : 1 HARP closing for every 21.4 households
Oregon : 1 HARP closing for every 22.0 households
Georgia : 1 HARP closing for every 23.5 households
Illinois : 1 HARP closing for every 24.2 households
The national average is 1 HARP closing for every 37.8 households.
Meanwhile, at other end of the spectrum, the two "bottom" states for HARP queries on a per capita basis are South Dakota, and North Dakota. Each averages fewer than 1 HARP closing per 200 state-wide households.
Check Today's HARP Mortgage Rates
Through November 2013, the Home Affordable Refinance Program had been used more than 3 million times. It could have been used more. There are literally millions of U.S. homeowners which are HARP-eligible but have yet to refinance. Maybe you are one of them.
Don't want for your lender to call you. Get pro-active about HARP and determine your eligibility today. Get started with a mortgage rate and see what today's low rates can do for your cash flow.
Click here to get started with HARP mortgage rates (May 29th, 2017).
The information contained on The Mortgage Reports website is for informational purposes only and is not an advertisement for products offered by Full Beaker. The views and opinions expressed herein are those of the author and do not reflect the policy or position of Full Beaker, its officers, parent, or affiliates.
Try the Mortgage Calculator