The End Of The Buyer's Market : Home Supply Hits 11-Year Low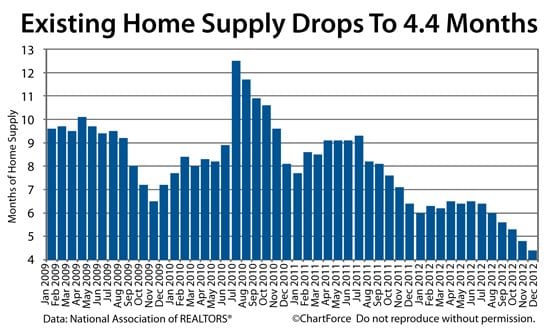 The housing market's price recovery may only be beginning. The supply of homes nationwide has dropped to its lowest point since May 2005, and low mortgage rates continue to fuel demand.
For this year's home buyers, the best "deals" may be the ones from these winter months.
Click here to get today's mortgage rates (Jul 22nd, 2017).
Homes For Sale Hits 11-Year Low
According to the National Association of REALTORS®, the number of "existing" homes sold in December on a seasonally-adjusted, annualized basis slipped to 4.94 million in December 2012 -- a one percent drop as compared to the month prior.
An "existing home" is one that cannot be classified as new construction.
Despite the retreat, though, December's tally was still the second-highest reading in more than 3 years; a 13 percent climb versus one year ago and the last month of a year-long rally that pushed annual home sales to their highest point in 5 years.
The housing market is going strong, and appears poised for a breakout 2013. Sales are remaining strong even as home supplies shrink.
At the end of December, there were just 1.82 million homes for sale nationwide, a 22% reduction from one year ago and the lowest level of raw, unsold inventory in more than 11 years. 
At the current sales pace, the nation's supply of home resales would be sold out in just 4.4 months. Analysts believe that housing supplies of 6.0 months or less signifies a "seller's market".
It's been a seller's market since August, then. No wonder home prices are rising in so many U.S. markets.
Click here to get today's mortgage rates (Jul 22nd, 2017).
First-Time Home Buyers : 30% Of Housing Market
The National Association of REALTORS® Existing Home Sales report for December 2012 revealed other interesting data about today's housing market.
For example, despite falling home supplies, the median number of days for which a home was on the market rose three days to 73 in December. However, 31% of all homes sold last month were listed for less than one month.
Foreclosures typically sold in 45 days. Short sales sold in 117 days.
Other interesting data points from the Existing Home Sales report include :
First-time home buyers accounted for 30% of all home resales
Mortgage financing was used in 71% of all home resales; the rest were bought with cash
Foreclosures accounted for 12% of all December resales; Short sales were also 12%.
In addition, the real estate trade group showed why distressed homes -- foreclosures and short sales -- can be so popular. In December, foreclosures and short sales sold at average discounts of 17 percent and 16 percent, respectively, as compared to non-distressed homes.
Click here to get today's mortgage rates (Jul 22nd, 2017).
How Much Home Can You Afford?
For today's home buyers -- from San Francisco, California to Chicago, Illinois to New York City, New York -- the housing market story is the same. Rising home prices and rising mortgage rates are positioned to ruin the biggest surge in purchasing power in all of housing history.
If you're planning to buy a home, therefore, be active about planning your budget and decide how much home you can afford. Then, when you're ready to plug mortgage rates into your formulas to get "real payments", just get a rate online.
It's fast, and it's free.
Click here to get today's mortgage rates (Jul 22nd, 2017).
The information contained on The Mortgage Reports website is for informational purposes only and is not an advertisement for products offered by Full Beaker. The views and opinions expressed herein are those of the author and do not reflect the policy or position of Full Beaker, its officers, parent, or affiliates.
Try the Mortgage Calculator