Lock Your FHA Mortgage Today : New FHA Mortgage Insurance Premiums Approved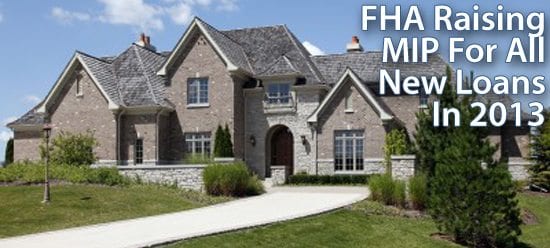 FHA lending will be different -- and more costly -- in 2013.
If you're a home buyer expecting to use the FHA's 3.5% downpayment mortgage program or an existing FHA homeowners planning to refinance via the FHA Streamline Refinance, consider moving up your timeframe.
The longer you wait to lock your FHA rate, the more you stand to lose.
FHA mortgage (Oct 23rd, 2017) rates"].
Surging Defaults Overwhelm FHA "Insurance Fund"
In its annual report to Congress, the Department of Housing And Urban Development (HUD) reported that the FHA Mutual Mortgage Insurance Fund (MMI) fell to a negative balance in 2012.
The FHA's reserves are currently negative $16.3 billion -- a capital ratio of -1.44%.
In English, this means that for every $100 of mortgages insured by the FHA, the agency's reserves contain negative $1.44.  By congressional mandate, at minimum, the FHA must maintain $2 per $100 insured in reserves.
Despite the deficit, the FHA is not "broke". This is for two reasons. First, capital reserves aren't part of the FHA's operating budget. The FHA doesn't need them for purposes of paying default claims to U.S. lenders. Second, the FHA forecasts $11 billion in capital accumulation between now and the end of 2013.
These funds will be paid via existing annual and upfront mortgage insurance premiums.
Click here for today's FHA mortgage rates (Oct 23rd, 2017).
New FHA Rules Increase Loan Costs To New Borrowers
In looking at its portfolio of insured loans, the FHA has identified loans made prior to 2010 as a "prime source" of stress to the Mutual Mortgage Insurance fund, with potential claims of up to $70 billion possible. It also notes the high-performance of loans made since 2010, and the subsequent high profitability of said loans.
However, to improve the MMI fund and bring its capital reserve ratio above zero, HUD used its annual report to Congress to announce a handful of FHA policy changes.
The first set of changes addresses delinquent loans and the processes through which the FHA disposes of foreclosed homes. A few of the announced changes include :
The FHA will sell at least 10,000 distressed loans per quarter via the Distressed Asset Stabilization Program
The FHA will expand its use of short sales as a means to assist delinquent borrowers
The FHA will streamline foreclosure sales processes to reduce costs and losses
And then, there is a second set of changes which will impact FHA mortgage applicants today, and in the future.
First, the FHA is increasing its annual mortgage insurance premiums by 0.1 percentage point per year. Currently, FHA-insured homeowners using 30-year fixed rate mortgages pay between 1.2 and 1.5% annually.
Second, the FHA is changing its FHA MIP cancellation terms.
Currently, for 30-year fixed rate FHA mortgages, the FHA requires annual mortgage insurance to be paid until the home's loan-to-value is 78% or lower, but not before 60 MIP payments have been made. For 15-year fixed rate FHA mortgages, MIP is required until the 78% LTV threshold is reached. There is no "months paid" requirement.
Under its new rules, the FHA is expected to change its "minimum MIP duration", requiring that FHA mortgage insurance to be paid so long as the loan is in effect.  FHA-backed homeowners would pay FHA MIP for a full 30 years with no means of cancellation.
The FHA is expected to announce the rule changes shortly.
Click here for today's FHA mortgage rates (Oct 23rd, 2017).
Beat The Change : Lock FHA Mortgage Rates Now
FHA mortgages are an important part of the U.S. housing market.
In 2006, the FHA insured roughly 4 percent of the overall market. Today, that figure is 15 percent with nearly half of first-time home buyers financing via the FHA.
Only "new" FHA mortgages will pay the new FHA mortgage insurance rates. If you're shopping for a home loan, therefore, there are advantages to locking sooner rather than later. Get started with a rate quote now.
Click here for today's FHA mortgage rates (Oct 23rd, 2017).
The information contained on The Mortgage Reports website is for informational purposes only and is not an advertisement for products offered by Full Beaker. The views and opinions expressed herein are those of the author and do not reflect the policy or position of Full Beaker, its officers, parent, or affiliates.
Try the Mortgage Calculator