Selling too quickly can be costly
Very few houses turn into "forever" homes. Fact is, most people who buy a home move on to another residence after a certain time.
Ready to shop for a new home? Discover rates with today's top lenders.
Per the National Association of Realtors, 10 years is the average length of time a homeowner remains in a house. But that begs a question: What the minimum amount of time you should stay put before moving? How long before you should consider selling a home?
The answer will depend on several factors. A new job opportunity, growing family situation, sudden divorce or another major life event can be a compelling reason to sell your home and move elsewhere. But selling too quickly after buying can be costly. If not timed right, you could wind up losing money overall instead of making a profit on the sale.
It could be wise to hold that house a bit longer.
Staying put can pay off
Ask real estate attorney Mel Black how long before you should move and he'll tell you that "buying a home is not a decision to be taken lightly. You should take a number of factors into consideration before purchasing. This includes how long you plan to live in the home."
Find your best mortgage rate. Start here
Realtor and real estate attorney Bruce Ailion agrees.
"As a general rule, a buyer should plan on staying five or more years in a home," says Ailion. "A big reason for this is the transaction costs of selling your home and buying another are high."
By transaction costs, Ailion means:
Your selling agent's commission (typically 6 percent of the home's sale price)
Closing costs (which can range between 2 and 6 percent of your home's value)
Expenses to prep your home for sale and move
Closing costs involved with buying your next home (commonly 3 to 6 percent of that home's price).
"You can expect transaction costs to add up to 10 to 15 percent of your home's sale price," says Ailion. "Assuming a three to five percent annual home value appreciation over the long term, it is going to take time to have the increased value of the property to cover the transaction costs."
Ailion says these transaction costs should come from the proceeds of the sale and are not otherwise recoverable.
"If the proceeds of sale do not cover all these costs, you must pay the remainder out of pocket," Ailion warns.
The bottom line on how long before you should sell? "Homeownership should be viewed as a long-term investment," adds Ailion.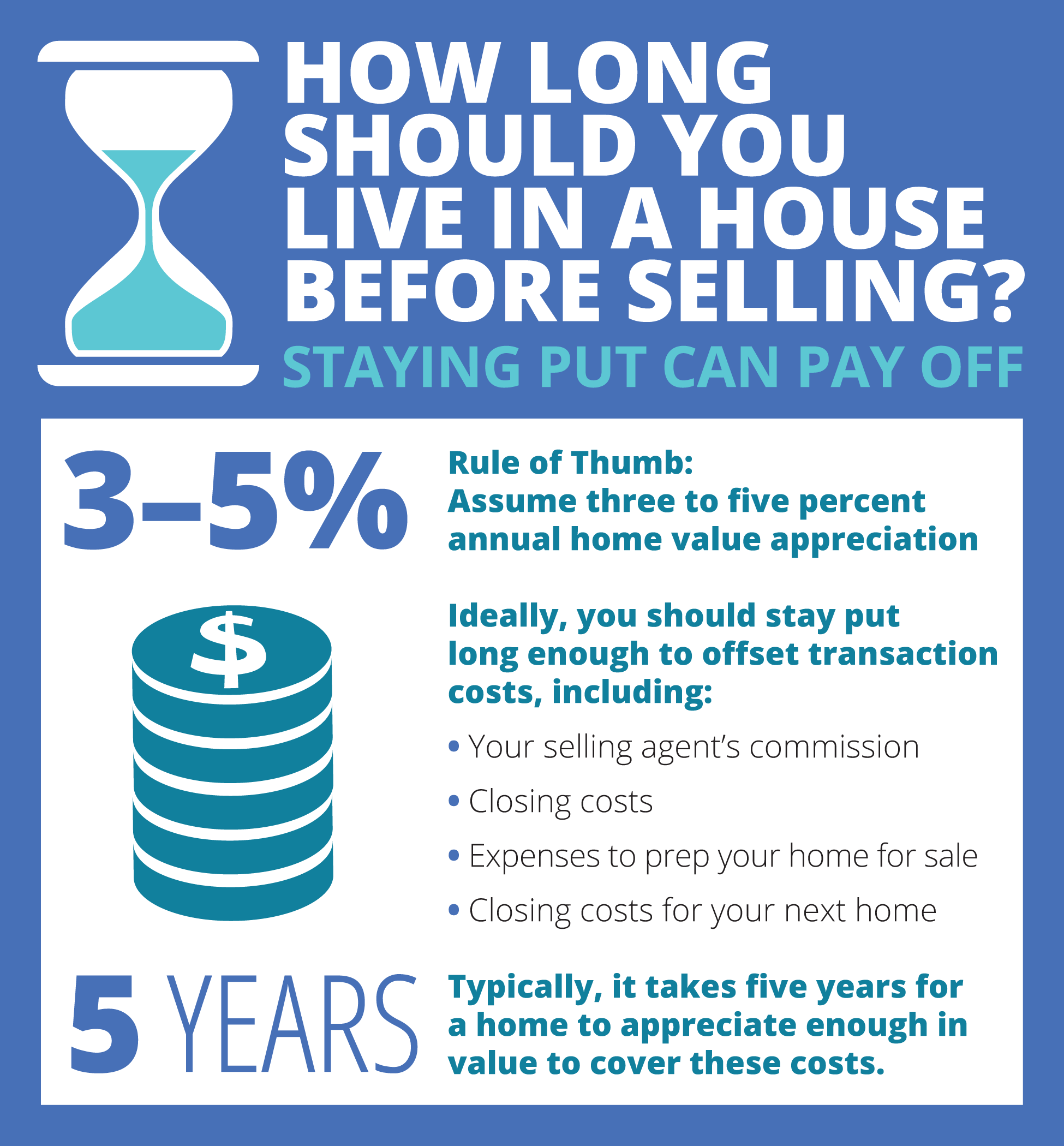 Equity considerations
Truth is, you'll pay these transaction costs regardless of when you move. But there's a benefit to waiting to sell for at least three to five years after buying: accrued equity.
Find your best mortgage rate. Start here
Your equity is the difference between the home's market value and what you owe your mortgage lender.
Simply put, your equity is the portion of your home you own outright. It's the difference between the home's market value and what you owe your mortgage lender. The portion you paid as a down payment counts toward your equity.
You also build equity when your home appreciates in value due to a strong local real estate market and home improvements you make. You further build equity as you pay down the principal on your mortgage.
Problem is, during the first several years of your mortgage payments, you pay more toward the interest owed than the principal. Sell too soon after getting a mortgage loan and it's possible that you'll pay more to the lender than you'll earn on the home's sale.
For instance:
Original purchase price: $260,000
Mortgage owed: $250,000
Home value: $270,000
Closing costs, real estate commissions, house prep: $27,000 (10% of current home value)
Sale proceeds: $243,000
Amount owed out-of-pocket to lender: $7,000
Wait it out to avoid taxes
How long before you should sell? The tax man will tell you to stay put for at least a couple years. That's because you'll pay capital gains taxes (at a rate that depends on your income) if you sell your home less than two years after buying.
Find your lowest mortgage rate. Start here
To avoid capital gains tax, the home must be your primary residence for two of the five years prior to the sale.
To avoid this, the home must be your primary residence that you live in for a minimum of two of the five years prior to the sale. Meet this criterion and you can exclude $250,000 ($500,000 for married couples) of your sale's profit from capital gains tax.
Local market conditions
Regardless of when you're eager to sell, the condition of your local market can make a big difference, too. If you want to sell now and your market currently favors buyers, you'll probably not get as high a sales price as you'd like.
Find your best mortgage rate. Start here
Waiting for a stronger seller's market would be wise. But it may take a long time for the market to swing in your favor. Of course, if you need to buy a different home at the same time you sell one, the lower price pay on the new home could offset your home sale loss.
"There are better times than others to make a real estate transaction. Smart consumers time their real estate transactions to market conditions," notes Ailion. "You should buy when the market is soft and you can make a good purchase. You should sell when the market is strong."
For all these reasons, Black says a house purchase should ideally mean a long-term commitment to a particular geographic area.
"Have plans to head out of town for a new job in a year? Don't know if you want to stay put if you happen to lose your job? Then buying a home probably isn't for you," says Black. "Homeownership needs to make sense for where you are right now and in the near- to long-term future."
When waiting isn't an option
For some, the answer to how long before you should sell is immediately. Sometimes it can't be helped: You simply have to move soon due to an important life event, even if it means you could lose money on the sale.
Time to make a move? Let us find the right mortgage for you
"In this case, it's a good idea to engage a top Realtor with a strong marketing plan in order to get top value. This professional can provide tips to prepare your home for maximum value," suggests Ailion.
But here's a tip: "If you are going to lose money or are facing a hardship, ask your agent for a discount on their commission. Top Realtors are not without a heart," Ailion notes. "I've reduced my commission to help clients in their time of need."
Get pre-approved for your next home purchase
If you plan to sell your home, make sure you can buy another if that's your plan.
Get pre-approved at the link below so you can confidently shop for your next home.