Buyer and seller confidence is up: Is it time for you to become a homeowner?
How do you know if the time is right?
Feeling eager to buy a home, but not sure if now is the right time to become a homeowner? It's easy to dream about owning and making your purchase desire come true. But it's not always easy to have the faith and self-assurance that your timing is good.
Verify your new rate (Jul 8th, 2020)
You're not the only one
New data shows rising confidence from buyers and sellers alike. More players on both sides of the market feel that the time to act is now. Knowing that many want to pull the trigger on a home purchase or sale can inspire others to do the same.
Harvard University research: the future of home prices in 2017 and 2018
It's important to trust your gut. But it's just as important to learn the facts about what you can afford and the mortgages available to you. This knowledge can also boost your confidence.
Now IS the time, say 77 percent of Americans
A recent survey by the National Association of Realtors (NAR) yielded some fascinating results:
77 percent of people feel that right now is a good time to buy a home; 48 percent believe this strongly
62 percent of renters believe that now is a good time to purchase a home. That's up from 52 percent tallied last quarter and 60 percent one year ago
Tired of low housing supply? Try these surprising strategies to get what you want
80 percent of respondents who currently own a home, those older than age 55, those with incomes in excess of $100,000, those who live in rural areas, and those in the South and Midwest think that now is a good time to buy a home
78 percent think it's currently a good time to sell a home. That's up from 63 percent measured one year ago
Those owning in the West (83 percent) are most likely to believe that now is a good time to sell a home
That's great research: But should you take it seriously?
Jessica Lautz, NAR's managing director of survey research and communications, says she's encouraged by many of these findings.
"The fact that 77 and 78 percent, respectively, feel that now is a good time to buy or sell a home is significant. These are the highest scores we've seen since we've been keeping track," she says.
How do I know that I'll be approved for a mortgage?
Lautz says increased confidence matters.
"Seeing that others have confidence in the market and that buyers have had successful transactions could push that momentum forward further. This can be especially true of prospective buyers or sellers who may be on the fence and waiting things out," she says.
Other reasons why confidence is up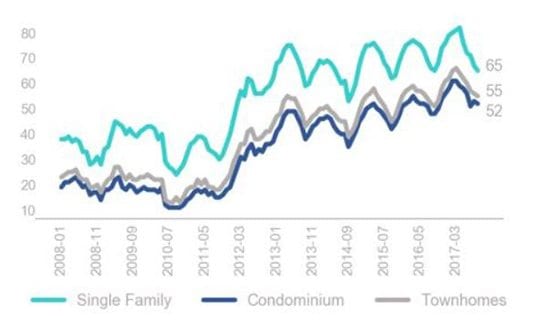 Image source: NAR
Robert Johnson, president/CEO of The American College of Financial Services, says there's another reason people feel more confident about buying or selling today.
"They feel wealthier because the stock market has gone up over the past 10 years," he says. "This gives them confidence that makes them believe now is a good time to buy or sell."
Also, "recency bias" could be having an effect.
"This means we tend to overvalue the most recent time period. And the most recent time period has been good for both financial assets and the robust real estate market," adds Johnson.
How to shop for the lowest mortgage rates
Another factor is at play, too.
"Perhaps most significant for buyers is that interest rates have been near historically low levels for an extended period of time," Johnson notes. "Many buyers fear that rates are likely to rise in the future. Thus, they believe that now is a good time to buy. They want to make a purchase before rates rise."
Parsing the data: Should you become a homeowner?
The news that more owners think now is a good time to sell should be music to the ears of would-be buyers.
"This could help loosen up inventory. It's another reason to be optimistic, as housing supply continues to be tight in many markets," says Lautz.
She notes that many sellers will need to become buyers themselves after unloading their home. The fact that buyer confidence is up can make them feel more secure about selling and then purchasing.
Generation Z is ready for homeownership
The finding that more people in the Midwest and South believe it's currently an ideal time to purchase should also interest buyers.
"We see that there is more affordable inventory in the Midwest than in coastal regions. Prices aren't rising in the Midwest quite as steeply," she says. "And in the South, there is more supply available and more new construction. That can lead to greater opportunities for buying."
What you can do now
To improve your chances of buying a home sooner, Lautz suggests a few tips.
"You want to get your DTI  — debt to income ratio — down," she says. DTI is a your total amount of recurring monthly debt payments, including credit cards, student loans, auto loans and mortgages, versus your gross monthly income.
"Many lenders prefer a DTI lower than 43 percent. You can lower your DTI by increasing your income and reducing outstanding debt.
Free money! The lowdown on down payment grants
"Also, check your credit report and make sure there are no surprises there. Correct any errors you see," says Lautz.
Save as much as you can toward your down payment, as well. Many lenders require a 20 percent down payment; some programs demand less, such as only 3.5 percent needed for an FHA loan.
"Be sure to consult with experts you can trust. Ask your Realtor and mortgage professional about affordable loan programs in your local community you may be able to qualify for," she adds.
Final to-dos
In addition, be patient and realistic.
"Don't rush into any decision you're not sure of," cautions Lautz. "Buying a home takes time. Make sure you look at prospective neighborhoods carefully and expect to have competition for that perfect home."
How long does it take to close on a mortgage?
Lastly, be prepared to make sacrifices and compromises.
"We often find that recent successful home buyers have to compromise on one or more things, including location, price or size of the home," she says.
What are today's mortgage rates?
While they have nudged slightly higher as of this writing, 30-year mortgages are still averaging under 4 percent. That's a great deal by almost any standards. And it's lower than they were six months ago. Check with at least four lenders to feel confident about getting a good deal on your financing.
Verify your new rate (Jul 8th, 2020)