Mortgage approval: Who gets it, and who doesn't?
Figuring out whether you will be approved for a mortgage is a curious process. It turns out that a big bank account and even a high credit score may not be enough to seal the deal.
Most mortgage applicants do get loan approval
At first this seems backwards, because more money in the bank sounds like a sure path to mortgage approval. And when it comes to credit scores, higher is always better, right?
Not quite.
Lenders are concerned about the balance of risk and reward. In an ideal situation, lenders like to see no risk, but in practice they have to deal with the real world. As this is written that means interest rates around 4 percent and borrowers who finance with little down.
How long does it take to get pre-approved for a mortgage?
According to Ellie Mae, as of July 2017, mortgage lenders approved 70.6 percent of loan applications started during the previous 90 days. This does not mean 29.4 percent of all the remaining applications failed. Some may have begun late in the cycle, and are still being processed. Other borrowers started with one lender and switched to another.
However, this also means loan approvals are not automatic.
Does money actually talk?
But what about big money and high credit scores? Don't they always mean instant mortgage approvals?
With big money, the issue is often big expenses. If you make $75,000 a year, but have $25,000 in credit card balances, $60,000 in student loans, and $30,000 in auto loans, you'll make lenders wince.
Your debt-to-income (DTI) ratio can tell you how much home to buy
If a lender allows as much as 43 percent of your gross monthly income for debts (this is your debt-to-income ratio or DTI), it means you can spend $2,687 on credit card bills, car payments, student debts, and housing costs.
The chart below shows the average DTI of approved loans according to Ellie Mae: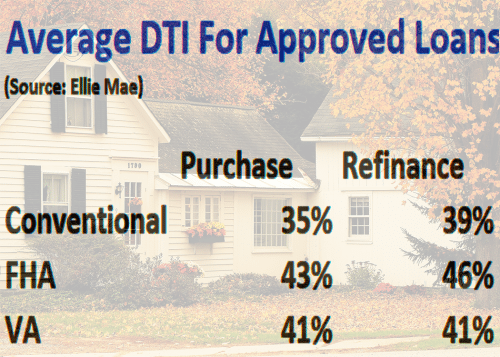 With $25,000 in credit card balances, you might be required to repay two percent of the outstanding debt, a total of $500 a month. Add in one percent for student debt ($600 a month) and a $475 monthly cost for an SUV, and that leaves $1,112 for housing– a number that won't work for many borrowers.
Do you get credit for good credit?
With high credit scores – say 740 or above – borrowers are surely attractive to lenders. And yet, some mortgage applicants with solid credit cannot get financing. The problems here can include insufficient down-payment money, low appraisals, and inadequate monthly income.
What's the real credit score needed to get approved for a mortgage?
(In other words, it's possible to have a strong credit score with a small income, and that income may not be enough to support a mortgage application.)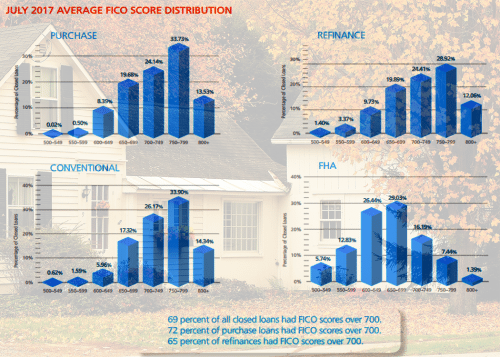 The illustration below shows the average FICO scores for those who got mortgages in July 2017, according to Ellie Mae. You can see that while it's possible to get approved with very low FICO scores, it doesn't happen that often.

Down payment: How much do you need?
Many loans allow low-to-no down payments, including FHA (3.5 percent), VA (zero), USDA (zero) and conforming (3-5 percent).
You don't need 20 percent down to buy a home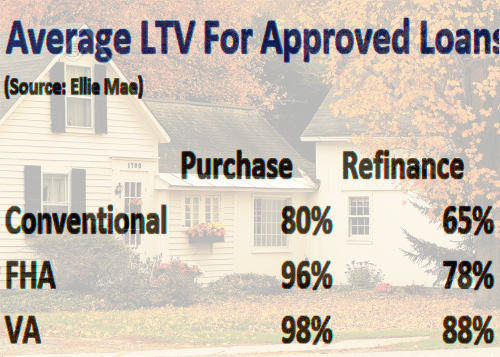 However, to get a loan with a low down payment that is not government-backed or with income limits for eligibility, you'll need to offset that risk with good credit or a low DTI.
Fannie Mae, for example, requires either a 680 FICO and a DTI of 36 percent or lower, or a 700 FICO an a DTI of 45 percent or lower.
How to get approved for a mortgage
You don't have to be a financial home-run hitter to get a mortgage. However, you do have to fit within the system. Here are five steps you can take to successfully navigate the lending landscape.
1. Save
"As average wage hikes across the U.S. continue to lag increases in spending," reports USA Today, "Americans are saving less or dipping into bank accounts to fuel their outlays."
The lowdown on down payment grants
Beat the crowd and save. More money in the bank gives you the opportunity to have a larger down payment and bigger cash reserves, measures lenders like to see.
2. Cut spending
Harvard economist Juliet B. Shor in The Overspent American argues that America possesses "a culture where spending has become the ultimate social art." For lenders, too much spending is an instant no-no, a way to violate debt-to-income ratios that cannot be overcome.
Too much debt? Here's your plan
Cutting spending prior to your home purchase allows you to do one of two things:
direct more of your monthly income to savings for your down payment, closing costs and reserves
direct more of your monthly income to paying down your debts
Either of those things will increase your chances of mortgage approval, and will improve your finances as well.
3. Assemble your papers
Since the end of the housing crisis, lenders have been careful to fully document loan applications. The reason is that lenders must compensate investors if a mortgage goes bad because of poor underwriting. They can lose government approval to fund FHA, VA or USDA home loans.
In some cases, lenders are penalized even if a loan file is wrong but the mortgage is not foreclosed. For borrowers, this means you must have in hand such things as tax returns, pay stubs, account statements.
4. Give it a rest
Once you apply for a mortgage, it may seem as though the process is complete. You've done your part. Not so – as your application winds its way through the underwriting process, it's likely that your credit report will be checked and re-checked.
The result is that a big purchase it can suddenly reduce your our ability to get a loan. At the very least, your application will go back into underwriting. The lender will recalculate your DTI. Your loan terms may change, and you may miss your closing date.
8 ways to get a mortgage approved (and not mess it up)
Until the loan closes, it's best to maintain a quiet period where you hold spending to the minimum and don't open any new credit accounts. According to a 2013 study by Equifax, "almost one-fifth of all mortgage borrowers, including those with solid credit scores and debt-to income (DTI) ratios, apply for at least one new trade line during this period. Many borrowers simply don't realize how this new 'undisclosed debt' impacts their ability to qualify for their mortgage."
5. Stay in contact
You want to stay in touch with your loan officer to assure no papers are missing, and that the application is proceeding on schedule. Any time you send or fax documents, follow up to make sure they got to the right person.
What are today's mortgage rates?
Today's mortgage rates are seriously low. Lower rates can help with your loan approval by making your home more affordable. To get the lowest rate to which you're entitled, plan on shopping and comparing offers from several competing mortgage lenders. That's easy to do right here.