What Will Home Prices Do In 2017 And Beyond?
Harvard University's Joint Center for Housing Studies just published its 2017 report on the State of the Nation's Housing. Its home prices and home building numbers highlight new trends that may affect you.
In 2016, housing values in the US finally exceeded the record-setting home prices achieved almost ten years ago. However, the recovery has been spread pretty unevenly throughout the US. In general, poorer areas have not recovered as well as affluent areas. The East and West Coasts have bounced back more successfully than the South and Midwest.
Verify your new rate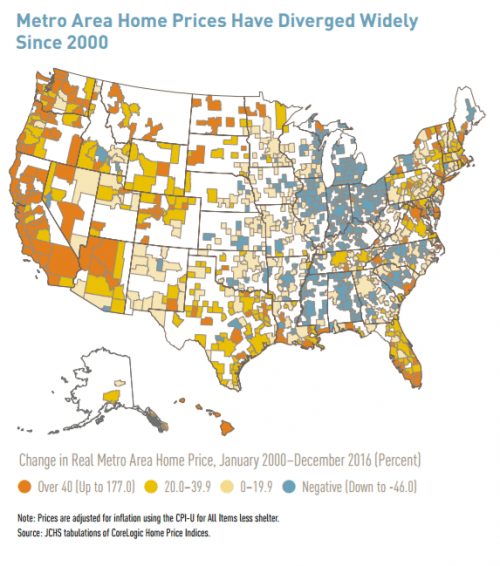 That's where we are now. But where are we going?
Inventory Shortage Pushing Home Prices Up
There's some good news for those who already own homes in less-expensive neighborhoods. Builders are completing more homes at the higher end, leaving a pronounced shortage at the lower end. This should cause values of starter homes to go up.
Think Home Prices Are Too High? Affordability Is Still At All-Time Bests
The study says, "Between 2004 and 2015, completions of smaller single-family homes (under 1,800 square feet) fell from nearly 500,000 units to only 136,000. Similarly, the number of townhouses started in 2016 (98,000) was less than half the number started in 2005."
That's not great news for those looking for an entry level home, however.
The Rich Get Richer
Builders have focused on the most profitable aspects of home construction — single family dwellings for move-up and luxury buyers. Multifamily buildings, condos, town homes and smaller residences all went to the back burner.
For example, houses under 1800 square feet comprise just 21 percent of building, down from 37 percent in 1999. Meanwhile, the market share of large homes over 3,000 square feet nearly doubled from 17 percent to 31 percent of home completions.
Priced Out Of The City? Consider Suburban Living
The supply of houses is becoming very tight. Analysts consider a market "balanced" if there is a six month supply of houses on the market. That is, if 1,000 houses change hands monthly in a given metro, it would take 6,000 listings to create balance between buyers and sellers.
In the hottest metros, the supply of moderately-priced houses is less than half that — just under three months. Nationwide, home price gains are rising at a four-to-five percent clip, with pockets like Seattle (11 percent appreciation) posting much higher increases.
The report claims, "With so few units on the market, homes listed for sale sell quickly, and often above the asking price."
Renting Won't Help
People who do not purchase homes will face increasingly tight rental markets. Vacancy rates are the lowest since 2000, which can only push rents higher.
Buy Or Rent: Why It Could Be Better To Buy In 2024
The cause of this is mainly that builders have not completed enough new units to meet demand. They face labor shortages — many workers who lost construction jobs during the downturn found other ways to earn a living, and have not returned to the field.
In many areas, there is simply not enough vacant land to start new projects. Increasing demand without the ability to expand supply drives prices and rents up.
First Timers Back In The Market
Unlike the years following the Great Recession, in which investors with fistfuls of cash dominated distressed markets, 2016 saw first time buyers making their mark. First-time buyers, according to the National Association of Realtors (NAR), accounted for 35 percent of home sales in 2016.
First Time Home Buyers: Start Here
If you're a first-time buyer, you'll face less competition from investors, as distressed sales continue to drop. The share of investor purchases fell in 2016 from its 2011 high of nearly 40 percent to 26.5 percent, and it's heading back to normal levels of 22 percent.
There's Room For More Price Increases
While home values have hit their pre-recession levels, if you take inflation into account and think in 2024 dollars, there is room to rise. In what economists call "real" terms, prices have another 9 to 16 percent to go to hit their 2006 marks.
Home Affordability Calculator: See How Much House You Can Buy
The report says, "Rising home prices and historically low inventories of homes for sale are barriers to entry for many potential homebuyers, especially those seeking to relocate to the high cost metros where price appreciation is outpacing increases in the rest of the country."
Challenge Creates Opportunity
The conclusions here may be disheartening if you don't already own a home. However, there is good news as well.
Home prices have stabilized, with fewer distressed sales and fewer underwater properties. There is a shortage of housing that will probably not be resolved soon. That means those who buy houses now can be reasonably confident that the values will hold or increase.
How To Get A Mortgage For A Rental Or Investment Property
Mortgage rates are still very low, but most industry insiders believe they are rising slowly.
In other words, it will cost more in the future to buy and finance property than it currently does. You can thwart these price and rate increases by purchasing property as soon as you reasonably can.
What Are Today's Mortgage Rates?
Current mortgage interest rates are holding within a tight range, with well-qualified applicants getting loans under four percent.
To get the lowest rate possible, you should compare offers from several competing lenders. Then, contact a couple of the most competitive lenders and find someone with whom you are comfortable.
Time to make a move? Let us find the right mortgage for you