More are buying property with fewer or no children
If you are dreaming of buying property, you'll need to make a lot of important decisions. You have to choose the right mortgage loan. You need to buy based on what you can afford. And you have to think about location, commute times and neighborhood amenities.
That can lead to mistakes
You should also give thought to the type and size of home that meets your needs now and in the future. New data suggest that people are having smaller families or no kids at all. That means that you may not require a larger single-family house. But if your needs change, you don't want a home that's too small or inflexible, either.
It's important to forecast future plans and life changes prior to settling on a home. You may also want to ponder future resale value of the property you are eyeing. Weigh your options carefully before committing to what could be a long-term investment.
What the research found
A recent Washington Post article suggests an emerging trend: childless buyers are affecting the housing market. Among the data cited in the story:
Per the S. Census Bureau's American Housing Survey, more than seven in 10 households had no children in 2015. That's an increase of three percentage points since 2011.
The National Association of Realtors reports that fewer than eight in 10 childless buyers purchased a detached single-family home between July 2015 and June 2016. While nine of 10 buyers with kids younger than age 18 are buying property with detached houses.
The fertility rate among women 15 to 44 years old was 62 births for every 1,000 women in 2016, based on Centers for Disease Control and Prevention records. That's the lowest level tallied since the CDC started keeping tabs 108 years ago.
The chart below shows that home sizes are trending smaller on average, according to the US Census Bureau.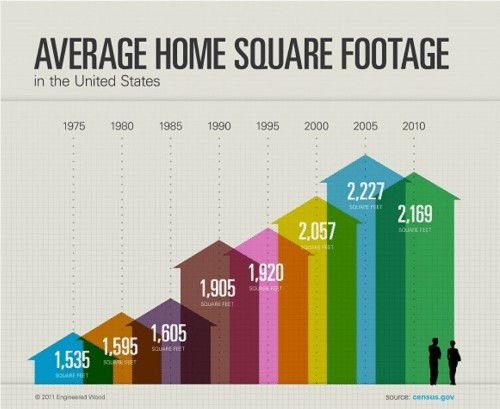 The right pick for your lifestyle
If you are a home shopper without children to worry about, these numbers should give you pause. That's because you may want to think carefully about the type and size of home you choose.
If you don't end up having a large family or any children, it may be smarter to buy a smaller house or an attached home in the form of a condo or townhome. If the possible trend described above gathers steam, it's also likely that other buyers may value smaller/attached homes in the future. Increased demand for these types of homes could amp up your resale value.
Townhomes. condominiums, co-ops and more: how property type affects your mortgage
On the other hand, you may decide to raise a family or have more children down the road. And even if you don't, your future buyers when you sell may need to accommodate kids.
That means you'll likely need extra elbow room and privacy in the form of a detached home with a yard. There will always be a demand for these kinds of homes, depending on the market.
Attached versus detached
Tamara Dorris, adjunct real estate professor at American River College in Sacramento, says she's not surprised by the data mentioned above.
"We're seeing more and more people not having children by choice or purchasing homes as singles. These people tend to live in urban areas and have homes with less maintenance – such as attached homes," she says.
Dorris says attached homes offer many benefits.
Starter home alternatives: niche properties with less competition
"The pros are common areas and less upkeep. Swimming pools and tennis courts, for example, are luxuries not often found in single-family homes that are comparable in pricing. And some attached complexes have the added safety feature of security gates," she says.
But detached homes tend to appreciate faster and hold their value longer, notes Dorris.
"And if the family should grow, common areas become less desirable than having one's own space as well as a yard and garage," she adds. However, Dorris also suggests taking a closer look at your desired lifestyle.
"Ask yourself important questions. Do you like yardwork or hate it? How far do you want to live from where you work? Where do you spend your weekends? What recreational pastimes do you partake in and where?"
Pros and cons of family-oriented communities
Mark Lee Levine, professor at the Burns School of Real Estate and Construction Management, University of Denver, says either housing choice comes with trade-offs.
"It's true that, if others fit the mold of not having children, there could be a decline in buyers who might have an interest in your detached home. But there is no right or wrong answer as to whether it's better to buy attached or not attached," says Levine.
Priced out of the city? Consider suburban living
"Buyers need to consider many issues that will impact the potential interest in their home when they become sellers."
These include the quality of area schools and access to nearby parks, recreation areas, and community support programs, he says.
Follow the money
Most importantly, buyers should select homes they can afford, says Adam Gower, real estate professor in the Orfalea College of Business at California Polytechnic State University, San Luis Obispo.
"The key is to focus on building income streams. That way, if you need something larger later, you can purchase something larger," says Gower.
Why buying a home near your favorite grocery store matters
Or, he says, "If living in an urban area without kids enables you to boost your income, you should deploy that strategy. You can enjoy childless life in the big city. And when the time comes, consider moving to the suburbs and trading up in size, down in price, and slower in lifestyle."
In other words, "Buy for what you need today – unless you have immediate plans to have a family," Gower adds. "Getting into the market now will preserve your down payment equity as the market rises or falls. This way, you'll be positioned for the transition to family life, should the time come."
What are today's mortgage rates?
Current mortgage rates are still low enough to make buying property affordable in much of the country. To get an even lower interest rate, compare offers from several lenders. Studies show that a few minutes of comparing can save thousands of dollars.