Think real estate and groceries
Buyers need to think about many factors before buying a home. These include price, neighborhood amenities, area schools and commute time.
New data suggests that nearness to your preferred food store should also be pondered. Shopping convenience is one perk. But a bigger one is the effect that grocer can have on your home's value. This nearby store may affect your flipping or renting prospects, too.
Homebuying tips: how to choose your neighborhood
While this probably should not make or break your choice on where to buy, it can better inform your decision. So when scouting a home for sale, take time to learn which food stores are close by. This knowledge could pay dividends in the form of a higher sales price or rental fee in the future.
Verify your new rate
Supermarket secrets revealed
Based on new data by ATTOM Data Solutions, you may be better off buying a home near a Trader Joe's than a Whole Foods or an Aldi. That's because homeowners near a Trader Joe's have enjoyed an average home price appreciation of 67 percent over five years. Compare that to a 52 and 51 percent price appreciation near a Whole Foods or Aldi, respectively.
Those living near a Trader Joe's own, on average, 36 percent equity ($232,439) in their homes. Owners near Whole Foods or Aldi, meanwhile, owned an average of 31 percent ($187,925) and 18 percent ($46,352) equity, respectively.
"New school" house hunting: Buy a house online
But Aldi is the golden goose of grocers when it comes to home flipping. Buying near an Aldi reaped a gross flipping return on investment of 69 percent, on average. The ROI was only 41 percent for Whole Foods and 36 percent for Trader Joe's.
Home near an Aldi also enjoyed a 10 percent average gross rental yield. Compare that to six percent for Whole Foods and five percent for Trader Joe's.
What these findings mean when buying a home
This is certainly food for thought, says Daren Blomquist, senior vice president for ATTOM Data Solutions.
"There's a difference in home values and price appreciation for homes located near each of these three stores. This is a reflection of the types of neighborhoods that each grocery chain is targeting," he says.
"Both Trader Joe's and Whole Foods are, for the most, part targeting neighborhoods with low crime, good schools and high incomes. Aldi is targeting neighborhoods with lower incomes that often come with higher crime and lower school scores."
Priced out of the city? Consider suburban living
Blomquist says ATTOM Data Solutions used its Neighborhood Housing Index to help determine some of these findings.
"The neighborhoods targeted by Trader Joe's and Whole Foods are pretty similar. They're more likely to have bounced back quickly during the housing recovery of the last five years than those targeted by Aldi," he adds.
The good news for areas with an Aldi?
"They are much more affordable. And they provide much better returns for real estate investors who are flipping homes or buying homes as rentals," says Blomquist.
Two chains that stand out from the crowd
Trader Joe's and Whole Foods go above and beyond a typical grocery store, he notes.
"These are stores that bring with them a culture and lifestyle that is important to many people. Therefore, they will only help the resale value of a home," Blomquist says.
Remember, too, that Whole Foods and Trader Joe's are in growth mode. That means they're proactively picking the best areas for placing their stores.
Don't buy that house! Homebuying mistakes to avoid
"Buyers can piggyback on their research to identify great neighborhoods with good investment potential," says Blomquist. "Amazon did its homework before buying Whole Foods. I assume they decided to invest, in part, based on the favorable geographic footprint of those stores."
Here's another sign that these two chains are choice: a listing agent would likely mention a nearby Trader Joe's or Whole Foods in the listing details.
"But I would be hard-pressed to see most listing agents mentioning other grocery stores as a selling feature," he adds.
Study of three stores
ATTOM Data Solutions focused on these three specific chains in its research for a few reasons.
"They stand out from the rest because they each engender strong, mostly positive, feelings. Plus, each have their own cult followings," says Blomquist. "They seem to each reflect a certain American subculture and lifestyle that, in some cases, might be strong enough to make or break a home buying decision."
7 things people overlook when buying a home
Ultimately, these stores are a good barometer of the investment potential of a property you are buying.
"If you are looking to live in a home and use it to build home equity wealth over the long term, you are most likely best off buying near a Trader Joe's. If you are looking to flip homes for a profit or buy rentals that provide good monthly cash flow, your best buy will be in a neighborhood with an Aldi," he says.
Steering toward a favorite food store
The location of a grocery store should be a factor on your priority list to consider when buying a home.
"But, depending on the buyer, it may be further up or further down on that list," says Blomquist.
How to know that you're getting a good house
He says items that should be higher on your list than proximity to a store include:
Affordability of the home
Commute to work
Quality of schools
Crime rate
"The presence of a certain grocer can certainly help when choosing between two or more similar homes. But it should not be the top factor in choosing which home to buy," he notes.
Where might the next "hot" neighborhood be? The chart below shows how consumers ranked grocers in a national survey by Market Force Information. That might be the key to finding up-and-coming neighborhoods.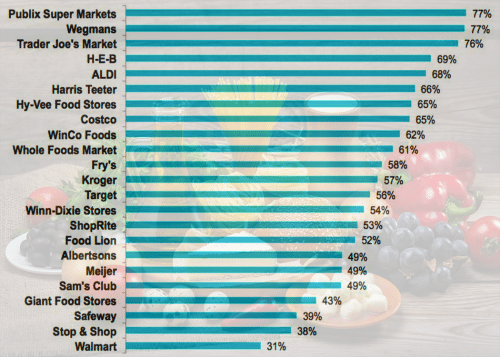 What are today's mortgage rates?
Current mortgage rates make buying a home near your favorite grocery store more affordable. Compare offers from several competing lenders to get the best deal on your next real estate investment.
Time to make a move? Let us find the right mortgage for you