Natural disasters affect real estate and mortgage rates
If you're searching for a modern American nightmare, you don't have to look much further than the damage done by Hurricane Harvey. The late-summer storm tore through Eastern Texas, displaced millions of people, created more than $100 billion in damage — and perhaps increased mortgage rates?
Mortgage rates and Hurricane Harvey
The worldwide supply and demand for money determines what we pay for all kinds of financing, including mortgages. As much as Hurricane Harvey was a huge event, its impact on mortgage rates has been minimal.
How the global economy affects your mortgage rate (and what to do about it)
Freddie Mac reports that prime mortgage rates were 3.86 percent for the week of August 24th just before the storm. They actually fell to 3.82 percent for the week of August 31st.
Today's mortgage rates are remarkably low by historic standards, and did not spike as a result of Harvey. This is good news for mortgage borrowers nationwide, and it's also good news for Harvey victims because it means cheap funding will be available as they re-build.
New home construction
At this early point, it's difficult to know just how many homes Harvey destroyed and damaged. Experts estimate above 100,000 units, but it's likely that the final numbers will be very much higher. Many owners cannot get back to their property as of this writing, and the impacted area extends all the way to Corpus Christi.
How to avoid new construction home problems
Vast numbers of homes will need repair, and many will be torn down. In New Orleans to this day, you can see the impact of the 2005 levee failure, damaged homes and empty lots where homes once stood.
As a result of Harvey, the cost of building supplies is likely to soar nationwide. There is only so much supply, and the East Texas flooding will create enormous demand. Construction delays are likely as builders and remodelers try to find lumber, drywall, flooring, carpeting, shingles, and other supplies.
Flood insurance
While many people will point to Hurricane Katrina and the 2005 damage done in New Orleans and along the Gulf Coast as a model for what we may expect from Harvey, the 2016 floods in Baton Rouge may be more realistic.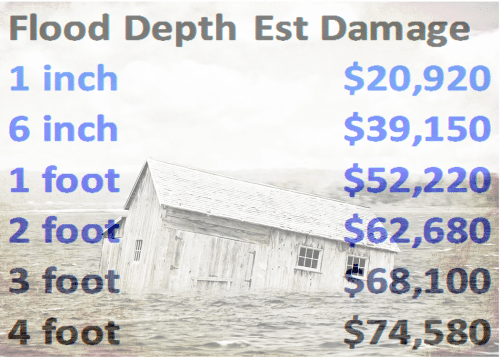 In the case of Baton Rouge, an unnamed rainstorm flooded areas near the city. The result was more than 100,000 damage claims as well as losses worth $8.7 billion. Importantly, most properties were not insured. The National Flood Insurance Program (NFIP) had 21,720 claims worth just over $1.7 billion.
According to the National Association of Realtors, the NFIP program is used in 22,000 communities nationwide. Such insurance is crucial because lenders require coverage when they make loans in flood-prone areas.
Should you buy flood insurance even if your lender doesn't make you?
No flood insurance means either that properties in such locations cannot be financed, or that current borrowers have breached lender requirements in which case the lender has the right to buy "force-placed insurance" for the property. Such insurance can be profoundly expensive.
The NFIP is in huge trouble – and this is not just a problem for East Texas. The program owes the Treasury $24.6 billion. And that's before claims from Hurricane Harvey are resolved. Not only that, but the entire NFIP program is scheduled to end by September 30th unless extended by Congress.
Hurricane Harvey has at least pushed flood insurance to the front burner in Washington. It will have to be extended, most likely with higher premiums and less coverage, especially for the one percent of all properties which according to the American Academy of Actuaries produce 33 percent of all claims.
Did Harvey hit your property?
Most lenders and backers of mortgages have some provision for borrowers caught in a natural disaster.
FHA "disaster-area guidance" prohibits foreclosure
 Fannie Mae, for example, says that eligible homeowners who are having difficulty paying their Fannie Mae mortgage may qualify for:
A forbearance to temporarily suspend or reduce mortgage payments up to six months
Late charges to be waived
A modification solution to cure any delinquency after a forbearance
Possible suspension of legal proceedings (i.e., foreclosure)
If Harvey is causing you hardship, contact your loan servicer (the company you send payments to) as soon as possible.
What are today's mortgage rates?
Current mortgage rates, whether in spite of or because of Hurricane Harvey, are at 2017 lows and very attractive if you're buying a home. Compare offers from several mortgage lenders, then commit to the lender with the best one.