Don't get soaked: Consider flood insurance
Owning a home can be risk. Thankfully, homeowners insurance can help you recover from fire, burglary and vandalism other misfortunes.
However, traditional homeowners insurance excludes damage caused by flooding. To get coverage for flood damage, you have to buy flood insurance.
Data: 9 of 10 homes are naked
Recent data published by CoreLogic show that nearly 233,000 Texas homes are at risk of storm damage from Harvey. The firm estimates that up to $9.5 billion in losses caused by Harvey is covered by NFIP or private insurance.
But there is no insurance covering about 70 percent of the damage, up to $27 billion. Also, approximately nine in 10 homes damaged by major storms lack flood insurance.
A new study by ServiceMaster Restore reveals another surprising fact: fewer than 20 percent of owners review their property insurance policy prior to a weather emergency.
Results of a fresh poll from the Private Risk Management Association should also raise concerns. It found that 56 percent of owners living in a special flood hazard area don't take steps – besides purchasing basic flood insurance – to protect their property.
Why many people lack coverage
Experts say many people who are vulnerable to flooding lack flood insurance for several reasons. These can include neglect, denial of their risk, inability to afford the coverage, and lack of knowledge.
"This is a difficult problem for the average person. They may lack good information about the conditions or misunderstand the information they have," says Mark Stapp, director of the Center for Real Estate Theory and Practice at Arizona State University.
"The average buyer may not understand flooding potential. They may believe they are safe. And they may not be aware that local governments allow development in areas where it shouldn't occur."
What Hurricane Harvey did to real estate and mortgage rates
Many owners also talk themselves out of paying for extra coverage.
"They make decisions based on perceived trade-offs," Stapp says. "They think, 'I have limited income. Flood insurance is expensive. I've seen this place flood before and it didn't affect me. I'll save money by not getting insurance.'"
How much does flood insurance cost?
Matthew Eby, executive director for First Street Foundation, notes that the average cost is $700 per year. However, flood insurance can range from as little as $150 a year to thousands of dollars annually.
If you're not in a designated high-risk area, you're eligible for Preferred Risk Policy (PRP) rates, says Keith Baker, Mortgage Banking Program coordinator and faculty at North Lake College.
"Your property will have to go through a flood loss history review to determine this. But it provides the same maximum NFIP coverages of $250,000 for the building and $100,000 for personal property."
Should you buy flood insurance even if your lender doesn't make you?
These are standard for the amount of coverage you desire and come with a minimum $1,000 deductible.
Those in higher-risk areas (Zones V and A) pay more. Premiums depend on the home size, construction, location, and deductible.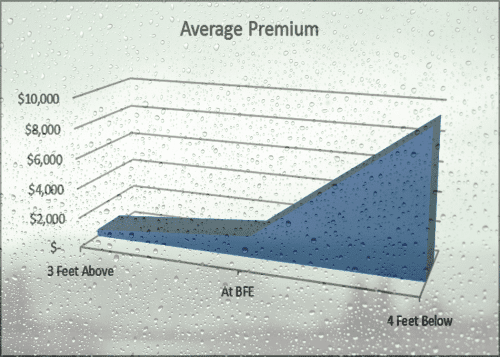 The Base Flood Elevation, or BFE shown on the Flood Insurance Rate Map (FIRM) for high-risk flood zones indicates the water surface elevation resulting from a flood that has a one percent chance of equaling or exceeding that level in any given year.
How flood insurance works
Matthew Eby says owners who live in high-risk areas must purchase flood insurance.
Per the Federal Emergency Management Agency (FEMA), if your home is within an NFIP-participating community, you can purchase an NFIP policy.
"Typical flood insurance covers up to $250,000 for the house itself and an additional $100,000 for items inside the house," says Eby. "You can buy extra coverage from private insurers to cover damage above these limits."
Your plan of action
Want to shield your home and possessions against flood risks? Follow these tips from the pros:
Do your homework. "Find out as much info about your desired property and surrounding area from your real estate agent in the town before purchasing," says Eby.
Ask your real estate agent if your state and community participate in the NFIP program. Or look it up online in the Community Status Book.
Consider optional coverage if you are not required to buy flood insurance. If your lender doesn't require flood insurance, think about getting it anyway.
Shop for coverage from private insurers.
Don't wait until it's too late. "Typically, there's a 30-day waiting period between the time that the flood policy is purchased until it goes into effect, with rare exceptions," says Baker.
Take steps to minimize flood losses. Secure windows, doors and roof and trim your trees prior to a major storm. Also, consider raising and building barriers around HVAC and other important equipment and systems.
A cautionary tale
Tom Larsen, principal of industry solutions for CoreLogic, says Hurricane Harvey should be a wake-up call for all buyers and owners. The map below, which does not yet include Harvey, shows locations of major flood damage. Looking at it, one might wonder who isn't in a flood zone!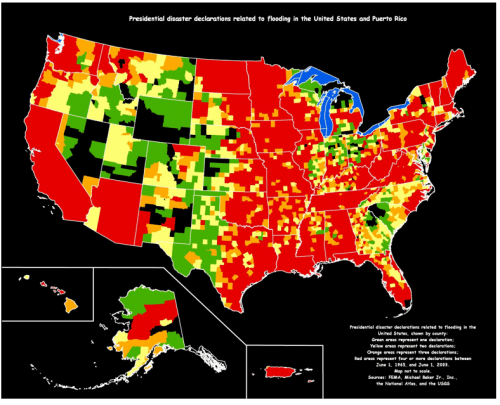 "It's a reminder that we all have some level of risk. A single weather event is nondiscriminatory in the damage it can cause," Larsen says.
"Being located outside of a designated flood zone is not a vaccine that prevents you from getting damaged by flooding."
Eby agrees.
"The destruction teaches us that we must do more to protect ourselves and our communities.
"We need to understand that flood maps change over time and so does our risk. A home could be in a low-risk area when purchased. But because of sea level rise matched with development or other initiatives, your area could change to a moderate or high-risk area years later."
How to plan for costs you did not have as a renter
Residents of areas at high risk for floods must purchase flood insurance through the National Flood Insurance Program (NFIP) if they have a mortgage. According to CoreLogic, the NFIP provides over 98 percent of residential flood insurance in America.
New data reveals that many homeowners in Texas and Louisiana affected by Hurricane Harvey were insured by NFIP. But a great many more had no flood insurance in place, leaving financially exposed.
Even if you don't have to buy flood insurance, consider adding it. Know the facts and flood risks in your area, and make a more informed decision.
What are today's mortgage rates?
Today's mortgage rates are very, very attractive for anyone buying a home, in or out of a flood zone. Compare quotes from several competing mortgage lenders to get the best rate and terms.