When you buy a house, it's a jungle out there
Contingencies are magical little contract clauses that can prevent you from losing your shirt when you buy a house. And yet – as home prices have increased and inventory has shrunk – the need for contingencies is increasingly open to question.
Surprising strategies to beat all-cash offers
After all, if you see a nice house at a good price, won't it attract multiple offers in today's hot markets? Doesn't it make sense to dump your contingencies to out-gun other bidders?
To answer this question we first need to take a basic look at the real estate contracting process.
Verify your new rate
Offer, acceptance and counter-offer
Picture a property listed for $400,000. A couple comes along and says, "We'll pay you $400,000 for your house." The seller says, "I accept." Now we have an offer and acceptance. Together they create a contract.
But – as often happens – buyers might offer not offer $400,000. Instead, they could bid $395,000. The seller may accept, decline, or respond to this offer with a counter-offer.
Buying a house in a hot market: safely making a sight-unseen offer
For example, the seller may accept the $395,000 price on the condition that the buyer agrees to a longer-than-usual escrow. or the seller may counter at $400,000, which is what many do to tell you that their price is firm.
Once you have an offer and acceptance, a contract, you can open escrow and begin the legal transfer from seller to buyer.
Contingencies: conditions that must be met
In the example above, we had an offer and a counter-offer, but in many real estate transactions there's a third approach, the contingent offer.
With a contingent offer, each party can spell out conditions which need to be met before the sale can close. For example, a seller might say "I'll accept your $395,000 offer if you can get a pre-approval letter showing within seven days that you have the ability to finance this purchase."
How to avoid making a contingent offer on a home
A buyer might make an offer subject to obtaining financing with three percent down and a rate under four percent.
In the back-and-forth between buyers and sellers, precision counts. How a contingency is written can have substantial implications when you buy a house. Consider some general language with a home inspection in the examples below.
Examples of contingencies
One typical contingency when you buy a house is the right to have a home inspection. Normally, the buyers has to complete the inspection within a certain time. The contract should also state what happens if the inspector finds something.
Buying and selling a home at the same time
Normally, items the inspector finds are not serious enough to void the sale. the contract should state that fixes under a specific dollar amount, like $2,000, won't change anything affecting the sale. Larger fixes usually mean the deal gets re-negotiated, with the seller deciding if he or she will pay for the repair or not. If the seller declines, the buyers get to decide if they still want the house or not.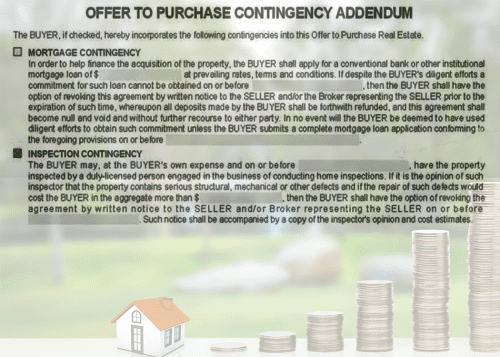 A variation on the first contingency is that the buyers require a home inspection that is "satisfactory" to them. If the inspection is not "satisfactory" to the buyers, the offer is withdrawn and the deposit returned.
Buying a home: How do you know that you're getting a good house?
This sounds pretty good for the buyers, but what about the sellers?
What happens if the inspection comes back, the house is perfect, and the buyers decide the inspection is not "satisfactory" to them? This does not protect the sellers from buyer's remorse, and is a contingency unlikely to get an accepted offer.
Another variation is the inspection in which the buyer demands the right to choose the inspector (not a bad idea, by the way). They also want the seller to cover the first $5,000 in repairs or they get to walk away.
That's also risky for the seller — a sneaky buyer could get Uncle Willie to inspect the property. They might tell him they have worries about the roof. Uncle Willie figures the roof does not have much remaining usable life and that it needs, um, $5,000 in repairs….
Negotiating tools
Contingencies are often used as a negotiating tool. Smith makes an offer to buy a property. In the offer is a financial contingency. The buyer must be able to get four percent financing.
Just after the offer is written, interest rates suddenly surge. The buyer says to the seller, "The property at this price no longer works for us because mortgage rates have gone up. Lower the price by $7,000 and we'll waive the contingency."
How to buy a house: 5 mistakes to avoid
Does the seller say yes? Maybe, maybe not. However, in this situation, the buyer leverage, because it may be difficult to find a replacement buyer plus the interest rate will be higher for any new purchaser.
Waiving contingencies
In some markets, there are relatively few homes for sale, intense competition, and as a result lots of homes that receive multiple offers. With bids above asking prices buyers look for an edge, and one idea is to waive all contingencies.
While waiving all contingencies may seem like a good idea in the heat of the bidding process, the reality is that such an approach has substantial risk.
Buying a home: 3 concessions that are better than a price cut
What if you buy a property and find after closing that the heating system barely works? What if you cannot close because mortgage rates rise and you no longer qualify for financing – will you lose your deposit?
The contracting process is complex, and neither buyers nor sellers are likely to be experts in the field. For that reason, it pays to engage a real estate agent and/or an attorney to help with offers and counteroffers. Be sure to ask about contingencies – and be sure they reflect what you really want to say.
What are today's mortgage rates?
Today's mortgage rates are the lowest of the year and very attractive for home buyers. To get an even better deal, compare rates from several competing mortgage lenders. It's easy to do online and can save you thousands.
Time to make a move? Let us find the right mortgage for you