Buying a home: How do you know that you're getting a good house?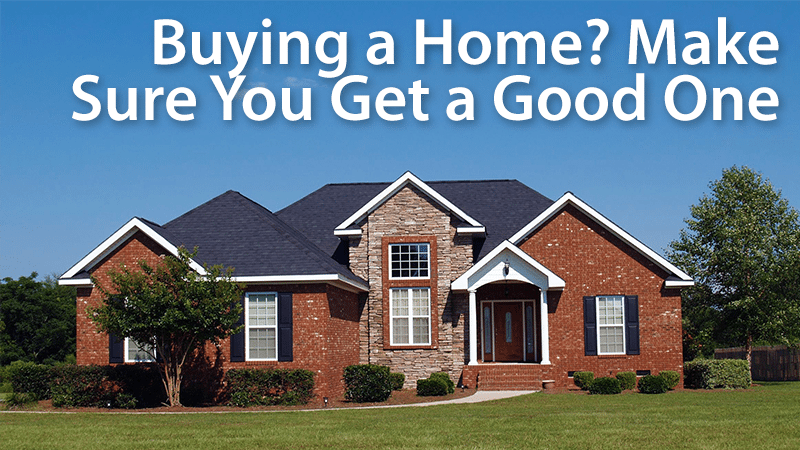 Do your homework before buying
Buying a home, especially the first time, can be tricky. If you want to be sure that you're getting a good house, you'll need to examine several factors.
That means making sure your house is marketable (will hold or increase in value), safe, and functional (without weird quirks, like having to go through the kitchen to get to your bedroom).
You can eliminate many undesirable houses with an online search, but some items must be addressed in person, and others require the help of a professional.
Verify your new rate (Jun 20th, 2018)
Buying a home: online stuff you can take care of yourself
Your first step in eliminating homes you don't want is finding the neighborhoods you do want. An online search can tell you:
Neighborhood appearance, commute times and traffic (Google Maps with Street View)
Crime statistics (Family Watchdog)
Environmental concerns (MyEnvironment by the EPA)
Average household income (Census Explorer)
School quality (SchoolDigger.com)
Real estate sites with pricing data and trends (you probably don't want to choose a neighborhood that's losing value)
Picking the right neighborhood helps you get a house that will hold or increase its value.
No home's perfect: cover yourself when you write your offer
Your house, even if new, is bound to have one or two issues. They will probably be minor, but you want to protect yourself in case they are large.
An inspection helps you avoid buying an unsafe house, or  house that will require extensive and expensive repairs.
How to buy a house: 5 mistakes to avoid
Your agent (if you have one) will probably write some contingencies into the contract for this. For instance, a home inspection contingency gives you (usually) a week or two to have the property inspected.
Items flagged by the inspector may allow you to renegotiate your contract if they require repairs.
Inspection contingencies
To make the contingency less burdensome (and the offer more likely to be approved), buyers often write offers specifying a minimum dollar amount that the repairs must hit before the deal becomes renegotiable.
For example, an offer might state that only findings requiring more than $3,000 of repairs allow additional negotiation.
In that case, the seller may take care of some or all of the repairs, or may refuse to. In that case, the buyers must decide to complete the transaction as agreed, or to cancel the deal.
How to avoid making a contingent offer on a home
Note that you must complete your inspections within the timeframe specified in the contract if you want to be able to back out of the deal without losing your earnest money.
Because time is of the essence, complete your inspections as soon as possible. In some cases, one inspection triggers a more extensive or specific one, and you'll need all the time you can get.
For instance, if an inspector notices low water pressure, he or she may write up a recommendation for a plumbing inspection. The plumber is the one qualified to go deeper into the problem, and that takes time.
In a very hot seller's market, you may have a hard time buying with contingencies in your contract.
How to decode your home appraisal
Your last line of defense when buying a home is the appraisal.
If you're getting a mortgage, your lender will almost certainly require an appraisal before funding your loan. But even if it doesn't, you should order and pay for an appraisal. It's a few hundred dollars to cut the risk of spending thousands more than you should.
Your property appraisal is designed to assess your property — its marketability, functionality, and safety. Any issues the appraiser sees will be noted on the appraisal report.
My home didn't appraise for its purchase price: now what?
The appraisal is not an inspection, however. If an appraiser sees something potentially problematic, like earth-to-wood contact, it will be flagged. But an appraiser does not dig heavily into the home systems.
Instead, the appraiser looks at recently-sold nearby houses (called "comparables" or "comps") and compares them to the subject property — their size, amenities, condition, and construction quality. The properties are listed on the report, and the sales prices of the comps are adjusted up or down.
If an otherwise identical comp sold for $275,000, and the home you're buying has a nicer view, its value might be adjusted to $300,000 to reflect that difference. You'll see how your home compares to your neighbors' in the appraisal report.
Your contract will probably have an appraisal contingency allowing you to void (or renegotiate) the deal if the home fails to appraise for at least the sales price.
What are today's mortgage rates?
Today's mortgage rates are still low, but home prices are rising in many markets. Compare several lenders to get your best financing deal, and buy your good house before things get more expensive.
Verify your new rate (Jun 20th, 2018)
The information contained on The Mortgage Reports website is for informational purposes only and is not an advertisement for products offered by Full Beaker. The views and opinions expressed herein are those of the author and do not reflect the policy or position of Full Beaker, its officers, parent, or affiliates.
Try the Mortgage Calculator