Buying And Selling All At Once
The easiest way to transition from an old property to a new one is to buy the new one, move, and sell the old one. However, buying a home that way is not always possible if you need the profits from the sale for your down payment, or if you can't qualify for a new mortgage as long as your paying the old one.
If you find a property that you must have before your old one sells, you do have some options.
Create A Game Plan
In a perfect world, you would buy a new home, move, and then sell your old home.
How To Rush Your Mortgage To The Closing Table
Unless you are fortunate enough to have the financial ability to pay two mortgages at once, though, this may not be an option.
The first step is to meet with a knowledgeable mortgage lender to determine whether you can buy before you sell. If this isn't an option, you'll need a back-up plan.
The next step is to speak to a real estate professional to review the value of the home you're selling, and the best strategies for selling it.
Begin looking at homes you'd like to buy. Then organize a plan with your lender and your agent on the best way to structure the logistics.
If you get your old home under contract during the escrow of the new home, you may end up closing them both at the same time. But there are other options.
Making A Contingent Offer
If you don't have the financial means to buy a home prior to selling your existing home, you shouldn't commit to buying before selling your current residence. One option is to make an offer subject to the sale of your current home.
This is called a contingent offer. The contingency is an event that must take place before you can complete the sale. In this case, you must sell your old home in order to buy the new one.
How To Avoid Making A Contingent Offer
This may be an effective strategy. However, especially in a hot real estate market, some sellers won't be willing to consider this option.
Extending Your Closing Date
Making an offer with an extended closing date is essentially buying time to sell your home.
Once again, this is easier when you are not in a hot real estate market, where the buyer may be receiving multiple offers with quick closing dates.
Just know you may need to make your offer more attractive to the seller. This can be done with an additional earnest money deposit, or a slight boost to your offering price.
Get A Bridge Loan
Bridge loans can be a great alternative, and are very popular in certain types of real estate markets.
A bridge loan is a temporary loan that literally can "bridge" the gap between the sales price of a new home and home buyer's new mortgage.
Bridge Loans: Financing Your Mortgage Transition
You'll need plenty of equity, as bridge loans are secured by the home buyer's current property.
Buying And Selling Simultaneously
If you need to sell your old house in order to complete a new purchase, you may end up with a simultaneous closing. That means your sale and purchase will close on the same day.
Buying a home this way can be a little tricky, but if you hit your deadlines carefully, you can pull it off.
[caption id="attachment_29824" align="alignleft" width="500"]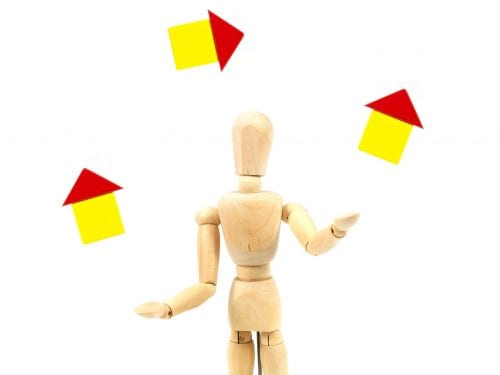 As long as you, your real estate agent and lender are working together and moving in the same direction, buying and selling a home concurrently can happen.
How To Re-approve An "Un-approved" Mortgage
For this, you absolutely want to be pre-approved before you make on offer on the new home. And you want the buyer of your old home to be pre-approved as well. The last thing you need here is a loan falling through.
One way to improve the likelihood for a smooth simultaneous closing is to use the same title company and escrow company, or closing attorney, for both buying and selling.
Using one company keeps all the paperwork in one office. It can minimize wire transfer fees, and opportunities for something to go wrong. You may even be able to negotiate smaller escrow charges and / or a discount on your title insurance.
What Are Today's Mortgage Rates?
Today's mortgage rates are low enough that you might be able to qualify for a new loan while you still have the old one. Talk to a lender and find out.
Although it may seem like a challenge, simultaneously buying a home and selling happens frequently. Your agent and your lender are both experienced with the timelines and requirements of this scenario.
Understanding the process, and selecting the right professionals, will shorten the transition timeline and ease the move to your new home.