Buy A House Online: Pluses & Pitfalls
Some people just love to look at real estate — touring model homes every weekend, "looky-looing" in open houses and making real estate agents drive them around for months. They don't want to buy a house online.
But even if that describes you, there are some things your real estate agent can't disclose — so the Internet can still be your friend. And the amount you can save on your mortgage by shopping online is truly wonderful.
Verify your new rate
Start "Mouse Hunting" Today
With today's technology, you can click your way through almost every step of your home purchase.
Even if you love looking for houses in the back seat of a Realtor's car, tech can help with investigating neighborhoods, parsing prices, checking out your seller and getting pre-approved for your home loan.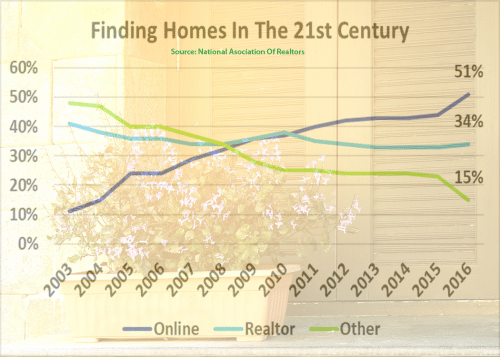 Homebuying Tips: How To Choose Your Neighborhood
And, yes, you can virtually tour houses in your jammies while sipping your favorite beverage. Here's what you need to know to search successfully.
Nose Around Neighborhoods
Online resources can often tell you a lot about a neighborhood, when real estate agents can't legally disclose things like school quality and demographics. Here are some good sources of information:
Other sites like Sperling's Best Places let you search by zip code. You can find critical data and interesting facts like unemployment rates and cost of living. And you can see which locations are the "manliest," "chillest," or "most romantic."
Peek At Properties
Even folks who want to view every property in person often find the ones they want to see by getting a list online. Without the aid of the Internet, you'd either be touring every listing on your area or risk missing the one that's exactly right for you.
Buying A Home In A Seller's Market
Before sellers and agents routinely put listings online, buyers had to find open houses by combing through newspapers or driving around looking for signs. Or they had to trust Realtors to decide which properties were worth seeing.
Today, you can zip through 10 virtual tours in less time than it takes to get in your car and back out of your driveway. This helps you narrow down your search, save time, and keep sellers and agents from wishing you dead.
Compare Home Costs
It's smart to look at actual recent sales and not just list prices. This helps you know a good deal when you spot it, and alerts you when someone tries to talk you into a not-so-good deal.
Pricing trends are a super-important, and it's actual sales that matter, not list prices. Are values overall increasing or decreasing?
Recent sales will tell you which way the wind is blowing, but current listings also yield a wealth of information. Which features seem to be in demand, and what's out of favor? How long do properties stay on the market?
First-Time Home Buyer's Guide: Using A Real Estate Agent
One thing you might want to avoid: some real estate sites have a "Contact Agent" link you can click to (supposedly) get more information about a specific property.
However, unless it says, "Contact Listing Agent" or something similar, you're likely to get someone who bought a lead from the site and who knows nothing about the property.
In fact, you're likely to get a lot of someones. If you click and send a message, indicate that you only desire contact from the actual listing agent, and don't provide your phone number unless you want a great deal of attention from random wannabees.
Read Public Records
Property transactions are publicly-recorded. Many counties list property tax payments, assessed value, ownership and previous sales online. This can tell you if the property value is increasing or decreasing.
You can also discover if owners are not current on their property taxes – and potentially motivated sellers. Public records disclose how long the sellers have owned the property, what they paid for it and what they owe.
How Reliable Are Online Home Value Estimators?
Some assessors' sites even show the property floor plan and zoning. So you can avoid things you don't like from the get-go. If you don't want to be around horses, multi-unit buildings or light industry, you don't have to.
The assessor will usually note the home's construction quality and fair market value (FMV). Understand that values fluctuate, and that the FMV is no substitute for an appraisal.
Manage Your Mortgage
If you like scrounging free coffee from the local bank, by all means visit it and get a mortgage quote. But don't miss out on the savings you can find shopping online while sipping a latte at home.
Should You Use Your Realtor's "Preferred" Lender?
You don't need to give up your social security number to get mortgage quotes online. (To get a meaningful quote, however, you will have to supply an estimated credit score.) Don't allow anyone to pull your credit unless you have decided to do business with him or her.
Today's technology has removed a lot of the doubt and donkey work from the homebuying process. You can make better decisions, save money and drink better coffee when you purchase your next property.
What Are Today's Mortgage Rates?
Current mortgage rates continue to hover within a fairly narrow (low!) range, while home prices have begun to climb. That's two excellent reasons for buying and financing a home now.
Time to make a move? Let us find the right mortgage for you