Low-Down-Payment Home Buying Gets Easier In 2023
In case you haven't noticed, it's getting easier to buy a home.
Interest rates have remained low, dipping below 4% of late according to mortgage agency Freddie Mac.
Also helping: banks are rolling out proprietary mortgage programs that require almost no down payment, and in some cases, no mortgage insurance.
Lending institutions are no doubt competing for home buyer market share. While rates are low historically, they are coming up from generation-long lows in 2016, which dried up much of the refinance activity. Now, lenders are desperate for business.
Home buyers are benefiting.
With as little as 1% down, home buyers can purchase a home anywhere in the country, often without a high credit score.
It's a fantastic time to be a home buyer.
20% Down? That's The Exception
Barely any first-time buyers are putting down 20%.
Interestingly, many new home buyers assume that's the down payment requirement — nearly one in three believe that, according to a recent report.
Just one-in-twenty home buyers thought you could buy a home with less than 5% down.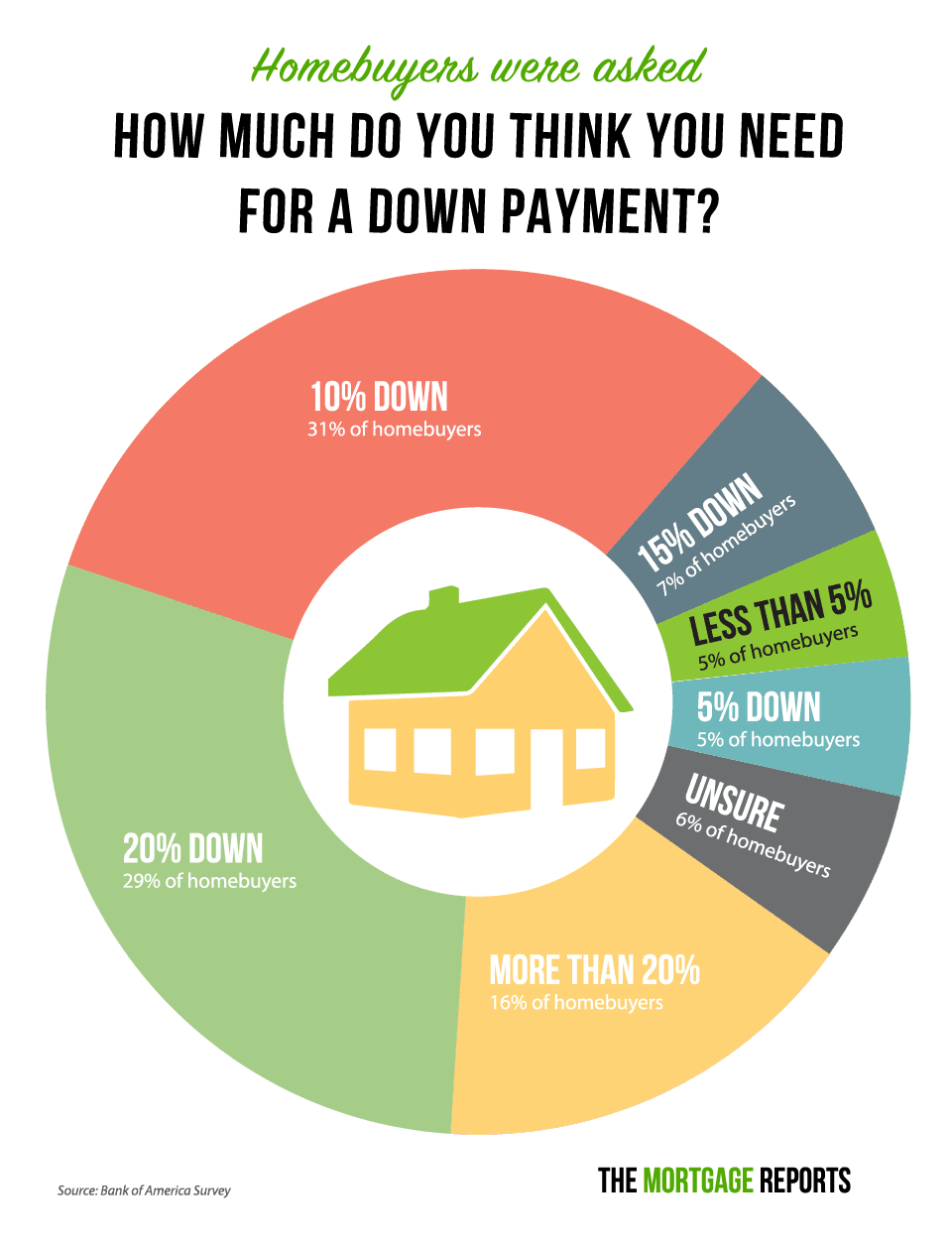 Fortunately, these buyers discover — somewhere along their home-buying journey — that they don't need a "full" twenty percent down. In fact, the average down payment for first-time buyers is just 6%.
Thanks to the rise of niche programs crafted by buyer-hungry lenders, it's easier than any time in a decade to buy a home.
Guaranteed Rate's Double Match Program
Guaranteed Rate is the nation's eight largest lender, plus they lend in all 50 states. That's why it's surprising not many buyers have heard about their 1% down Double Match program.
The Double Match loan offers a 2% down payment grant, "double matching" the applicant's 1% down. The grant does not have to be repaid, even if the buyer sells the home or refinances later.
So, not only does the applicant have a low down payment requirement, but they get 2% of the home price paid for them by Guaranteed Rate. Here's an example:
$200,000 loan amount
$2,000 down from the borrower
$4,000 grant from Guaranteed Rate
$194,000 loan amount
Talk about a deal. It's not very often that a lender will pay 2% of your purchase price for you, but that's exactly what this program does.
"Low-down-payment programs like our 1% down Double Match Grant program are really helpful when down payment funds are limited — or just when the buyer wants to preserve some of their savings to upgrade or update their new home," says Tom Pessemier, Vice President of Mortgage Lending at Guaranteed Rate.
"This program is not just for first-time buyers, or low-income buyers anymore either," adds Pessemier. This is likely one of the most flexible and available products currently on the market. Still, Pessemier advises home buyers to connect with an experienced lender. With the many programs out there, you want to make sure you're getting the right loan for your situation.
The Double Match program requires a 680 credit score to qualify, and debt-to-income requirements apply. Plus, you'll pay mortgage insurance, but only until you have built 20% equity in the home, at which point PMI is cancelable.
The loan works for single-family residences, condos, and townhomes, as long as you plan to live in the property. No second homes or investment properties allowed.
If you want to get into a home with almost nothing down, plus gain instant equity, Guaranteed Rate's loan program might be for you.
Quicken Loans 1% Down Option
Although lacking a branded name, Quicken offers a very similar program to Guaranteed Rate's.
Quicken will kick in a grant in the amount of 2% of the home's price — no repayment needed.
Minimum FICO score is 680, and your debt-to-income (DTI) ratio must be 45% or less. That means your total home payment plus all other monthly debt payments must be below forty-five percent of your income.
For instance, an applicant makes $5,000 per month before taxes.
$1,500: Mortgage principal and interest, taxes, homeowners insurance, and HOA dues
$750: credit card payments, student loans, auto payment
The applicant has exactly a 45% DTI and would qualify for Quicken's program.
Quicken Loans, like Guaranteed Rate, will require mortgage insurance. And, it's unclear what mortgage rates are available. Presumably, rates are higher than for a 20% down loan, but after all, this is a 1% down loan.
Taking a slightly higher rate in the current ultra-low-rate environment is no big deal, especially considering you won't have to save for years for a full 20% down payment.
Both the Quicken and Guaranteed Rate programs, it seems, are modeled after Fannie Mae's HomeReady™ Loan, which is a 3% down program that is also restricted to those below a certain income level.
Both options are technically 3% down. It just doesn't seem like it because the lender is covering two-thirds of the requirement.
But the inner workings of these loans are of little concern to home buyers just trying to find that first house. What matters to them is that these programs work, and are offered nationwide.
Bank Of America Affordable Loan Solution®: No Mortgage Insurance
"B of A" is one of the nation's leading lenders, with a massive presence and nationwide coverage. It, too, offers its own low-down program.
Its proprietary low-down-payment loan goes a different direction than Quicken's or Guaranteed Rate's loans, though. Rather than offering 1% down, it requires 3%. But the big benefit is that there is no private mortgage insurance (PMI) required.
That's a big potential savings.
According to mortgage insurance provide MGIC, an applicant with a 700 score buying a $250,000 home with 3% down would pay around $195 per month in mortgage insurance.
That's a potential savings of more than $2,300 per year.
However, that assumes Bank of America foots the entire PMI bill, which may not be the case. The bank may raise the mortgage rate to offset the cost.
Still, it might be worth comparing B of A's offer to a standard 3%-down program. Compare upfront fees and the all-inclusive monthly payment. You just might come out ahead choosing the Affordable Loan Solution® mortgage.
Another advantage is that borrowers may use a second mortgage to make the down payment. Plus, non-traditional credit is acceptable for those who don't have enough credit history to receive a FICO score.
This loan is subject to income limits according to geographic location of the home, and is only good for one-unit single-family residences you plan to live in.
The maximum loan amount is $, and possibly higher in some high-cost areas.
CitiBank HomeRun: 3% Down, No PMI
A program very similar to Bank of America's is CitiBank's HomeRun loan option.
It requires a 3% down payment, and requires no PMI.
The PMI-free feature is likely to be attractive to those who are averse to paying this cost, although PMI is not evil and it can be a great investment. Still, many avoid it at all costs, so Citi's program might be their preferred ticket to homeownership.
Like all such program's CitiBank's loan comes with a few more requirements than the standard loan.
First, you must make 80% of your area's median income or less. Second, your loan amount must be below $424,100. In some high-cost areas, the loan allows mortgage amounts up to $636,150.
The really interesting thing about this loan, though, is that you can buy a 2-unit home, according to the bank's website. Most other similar loans allow 1-units only.
This loan, then, can be used to buy a home in which you rent out half to help pay the mortgage. This strategy has been used for years by those wanting to dive into real estate investing without buying an entirely separate property.
Buying a rental property with 3% down and no mortgage insurance is impossible, but the program appears to allow you to do just that, as long as you live in one of the units of a 2-unit structure.
Wells Fargo YourFirst MortgageSM: Interest Rate Reduction With Home Buyer Education
Wells Fargo believes in home buyer education. In fact, they've put their own money on it.
Borrowers who put less than 10% down and complete a home buyer education course qualify for a one-eighth-percent reduction in their mortgage interest rate.
For example, if you typically would qualify for 4.25%, that becomes 4.125% after home buyer education.
The idea is that an educated home buyer is less likely to default on their mortgage, and is therefore a better risk for the bank.
This program also makes concessions for the source of the down payment. The bank accepts gift funds and down payment assistance programs in lieu of the borrower's own funds for down payment and closing costs.
If you like lower interest rates and you think learning about homeownership is a good idea anyway, check out Wells Fargo's program.
Smaller Lender Pushes The Limits: 100% Financing, No PMI
BancorpSouth launched a program to help low- to moderate-income earners get into a home with just $500 out of pocket.
Launched in late 2015, the Right@Home Mortgage Program is available to those earning 50-80% of their area's median income.
The program requires absolutely nothing down — it provides 100% financing — plus no mortgage insurance is required.
In addition, they charge no lender fees. The buyer just pays a minimum $500 in third-party closing costs, like title insurance and escrow fees.
While this program can work wonders for new home buyers, availability will be an issue. First, you must be within a lower income bracket. Second, you must live in one of the eight states in which BancorpSouth lends:
Alabama
Arkansas
Florida
Louisiana
Mississippi
Missouri
Tennessee
Texas
If you happen to meet the requirements, this bank's specialized loan is a great way to break into homeownership.
Fifth Third Bank: $3,600 In Down Payment Assistance
Another smaller bank that is pushing the limits is Fifth Third Bank out of Cincinnati, Ohio.
The lender offers to cover the full 3% down payment — up to $3,600 — on the Freddie Mac Home Possible loan for borrowers who meet income limits or are buying in a low-income census tract.
Buyers can combine the loan with state and local down payment assistance programs to fully pay for any portion of the down payment the grant doesn't cover.
The maximum house price to receive full down payment coverage is $120,000. Beyond that, and the borrower must find other funding sources for the remaining down payment.
Additionally, the applicant must purchase a home in Michigan, Indiana, Illinois, Kentucky, Tennessee, Ohio, West Virginia, North Carolina, Georgia, or Florida.
Check Your Home Buying Eligibility
Many renters are watching prices go up and up, and wondering how they can own their own home — and be on the winning side of home appreciation.
With these specialized programs, plus the myriad of standard low-down-payment programs, there's a good chance many could qualify when they thought they couldn't.
Check your home buying eligibility, which comes with no obligation and takes just hours or, at the most, days.
You could be closer to owning a home than you think.