July 2017 Mortgage Rates Forecast (FHA, VA, USDA, Conventional)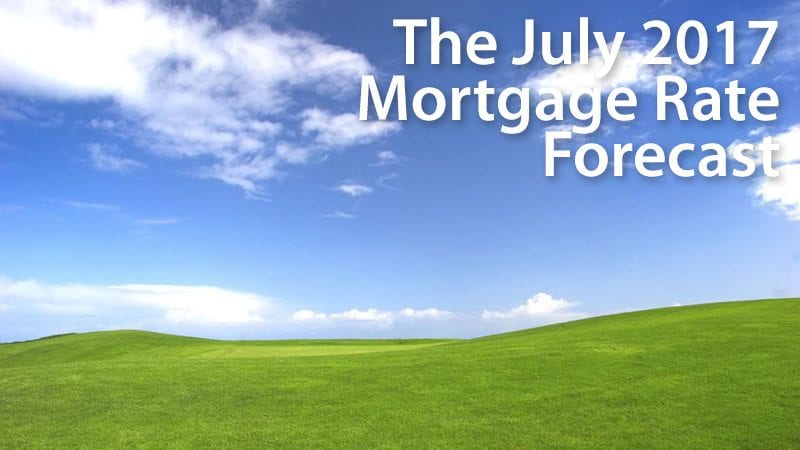 Mortgage Rates Forecast For July 2017
No one expected this to happen.
Halfway into 2017, mortgage rates are dropping.
Analysts predicted rates closer to 4.5% by now; instead, they have dropped below 4% for qualified borrowers, and not that much higher for those with imperfect credit.
It's welcome news.
Home buyers are snatching up homes as soon as they become available. They know rates could creep up at any time, pricing them out of the home they want. Buying power and affordability are both at historically good levels.
Refinancing homeowners are once again checking rates after a run-up following the 2016 election.
It's a very, very good time to be shopping for a mortgage.
Click to see today's rates (Jul 22nd, 2017)
Freddie Mac: 30-Year Mortgage Rate Sinks To 3.89% - Lowest Of 2017
The average conventional 30-year fixed rate mortgage touched 3.89% in June, according to Freddie Mac's Primary Mortgage Market Survey (PMMS).
That's down 12 basis points (0.12%) compared to May's average of 4.01%.
Will falling rates gain momentum in July? Maybe.
Rates are down considerably since January, when the thirty-year rate hit 4.20%. It's an advantageous time to be a mortgage rate shopper because we're now locked in a downward drift.
Home buyers and refinancing homeowners are benefitting.
Buyers are seeing their purchasing power increase by about $10,000 for every quarter-point rate drop. Refinancing homeowners are back in the money for a refinance when it didn't make financial sense just months ago.
Rates are falling for all major loan types. According to loan software firm Ellie Mae, which runs 3 million mortgages through its system per year, rates have fallen across the board between April and May, the most recent data available.
Conventional: -0.10%
FHA loans: -0.07%
VA loans: -0.08%
The word is out. Low rates have reappeared in the marketplace. This time, loan shoppers aren't letting them get away.
Click to see today's rates (Jul 22nd, 2017)
Mortgage Rates For July 2017
Economic events are poised to move markets in July. Here are the two biggest events to watch.
The Federal Reserve meets again in July
The Federal Open Market Committee (FOMC) meeting begins July 25 and adjourns a day later.
After a quarter-point rate hike in June, don't expect movement in the Federal Funds Rate. It should stay put at a range between 1.0-1.25%.
In fact, we could see the group soften its policy, which would help mortgage rates.
The Economist says the June hike was more about the Federal Reserve staying true to its word.
The group had all but guaranteed two or three hikes in 2017. A no-hike decision in June would have put the group on a tight time schedule to squeeze in two more rate hikes in its four remaining meetings this year.
The Fed wants to build credibility with markets. It will continue on the advertised path even if economic data ceases to warrant it.
The central bank's two-fold goal is to keep inflation near 2% and to maximize employment within the economy.
On the employment front, the Fed earns high marks. The unemployment rate is at a 16-year best, hitting 4.3% in May. The job market has been stronger only a few times in history. The late 1940s and early 1950s, the late 1960s, and late 1990s. Those stretches of history boasted unemployment rates in the low 4s and even high 3s.
But wages aren't rising as fast as they should be. In 2007, worker pay was increasing at a rate of around 3.5% per year. The most recent reading shows just 2.5%-per-year growth.
Inflation is stubbornly low, too.
Consumer prices -- removing volatile food and energy prices -- were up just 1.7% year-on-year in May. That's down from a 1.9% yearly increase in April.
The Fed wants that number near 2%, but it didn't get it.
How does all this apply to the mortgage rate shopper? A little peace of mind, mostly.
Mortgage rates shouldn't experience upward pressure from an activist Fed this month. The group has not set expectations for a July hike, and economic conditions certainly don't warrant an "emergency" rate increase.
In fact, mortgages might get cheaper thanks to data that keeps underwhelming markets.
Trump bump in peril
Interest rates jumped last November, thanks to a new president who campaigned on tax reform and infrastructure improvement plans.
The logic went something like this: Lower taxes and bigger spending means a double-whammy for mortgage rates.
First, lower tax income results in more government borrowing. The U.S. borrows by selling Treasury bonds, an asset class that affects consumer interest rates.
A market flooded with bonds would surely cause interest rates to rise. Rates started to rise pre-emptively.
Second, infrastructure spending would spur economic development. Mortgage rates generally rise in a hot economy.
Now, markets are rethinking the potentially premature move.
Trump's plans seem bogged down in controversy. Investors are coming back to earth, realizing that moving huge initiatives through Washington is tough, even without extra layers of opposition.
That could spell relief for mortgage shoppers in July. Rates are falling, and there seems to be little to move them up, barring major advances in the current administration's goals.
Watch for softening mortgage rates as the month plays out.
Click to see today's rates (Jul 22nd, 2017)
Report: Homeowners Leaving $1 Billion On The Table
Rates are falling, but apparently homeowners didn't get the memo.
According to CNBC, reporting on data from Black Knight Financial Services, more than four million homeowners could benefit from a refinance to the tune of a collective $1.1 billion per month.
CNBC cites a lack of awareness for the homeowner pause. The media has portrayed rates as sky-high since the 2016 election.
In reality, rates near 4.25% that we saw earlier this year are still rock-bottom. Rates have averaged more than 8% over the past 45 years. It's just that rates were rising from the mid-3s.
But now rates have dipped under 4% again according to leading rate aggregators like Freddie Mac, which reported a 3.89% thirty-year fixed rate average during one week in June.
The question to ask, though, is how long rates will last.
"I don't think this will be the last opportunity, but I don't have a crystal ball," says Black Knight's senior vice president of data and analytics Ben Graboske. "It leaves us to surmise that the reason is apathy, lack of awareness and education."
Any lack of awareness is little fault of the homeowner, though. The media makes a big deal about quick-rising mortgage rates, but not about gently falling rates.
Then one day, rates are lower than everyone realized, and the news purveyors spin up headlines. This cycle is playing out now.
Homeowners can combat major media apathy by checking in with their preferred mortgage-specific website. Home loan rates and product updates are published sooner, giving the homeowner earlier warning about opportunities in the market.
Click to see today's rates (Jul 22nd, 2017)
This Month's Economic Calendar
The next thirty days hold no shortage of market-moving news.
Lock in to minimize risk of rising rates.
What Are Today's Mortgage Rates?
Mortgage rates are holding below 4 percent. Home buyers have excellent purchasing power; and refinancing households can save more cash with a refinance.
Get today's live mortgage rates now. Your social security number is not required to get started, and all quotes come with access to your live mortgage credit scores.
Click to see today's rates (Jul 22nd, 2017)
Sources:
https://www.bloomberg.com/news/articles/2017-06-15/temperature-of-u-s-economy-running-cooler-than-forecast-j3ytrluj
http://www.livemint.com/Money/Za2w5OiqN9Sql9qEmNghNO/US-Fed-hikes-interest-rate-by-25-bps-unveils-bond-trimming.html
http://www.cnbc.com/2017/06/22/reason-to-refinance-4-million-homeowners-are-leaving-1-billion-on-the-table.html
http://elliemae.com/mortgage-data/origination-insight-reports
The information contained on The Mortgage Reports website is for informational purposes only and is not an advertisement for products offered by Full Beaker. The views and opinions expressed herein are those of the author and do not reflect the policy or position of Full Beaker, its officers, parent, or affiliates.
Try the Mortgage Calculator