Mortgage Rates Break Winning Streak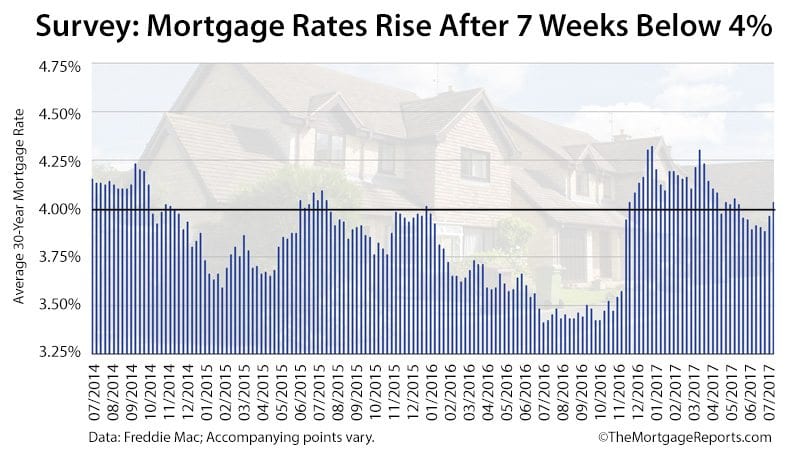 Mortgage Rates Rising: Up Again To 4.03%
After seven weeks below 4%, mortgage rates rose 7 basis points (0.07%) to 4.03% this week, says Freddie Mac.
Rates have been under pressure of late, after Europe's central bank announced tighter monetary policy. The central bank had been expected to continue its easy-money stance for some time.
But it announced that changes are in the wind.
That put pressure on U.S. mortgage rates because it signaled lower demand for bonds worldwide. U.S. mortgage rates are driven by prices of a type of bond -- mortgage-backed securities.
Still, rates near 4% are still considered "very good". Plus, recent developments from the U.S. central bank are bringing rates down.
It continues to be a fantastic time to look for a home mortgage rate.
Click to see today's rates (Sep 23rd, 2017)
Fed Chair Janet Yellen Is Helping Rates
The Fed has incredible power over markets.
The average consumer believes the Federal Reserve -- the central bank of the United States -- directly controls consumer mortgage rates. That's a myth. However, the group can swing markets by the words it says.
We saw that play out Wednesday. Fed Chair Janet Yellen stated the group would not have to raise its Federal Funds Rate much further to get monetary policy in balance.
In other words, the group thinks inflation is not a big concern, and that the economy isn't heating up too much. The Fed won't have to jack up rates as fast or as far as it thought it would have to last year.
In response, mortgage rates improved.
There are two reasons. First, markets are not looking for super-growth in the U.S. economy. It takes the Fed at its word that economic growth should remain tame.
Second, rates won't have to fight a "rising tide" of higher rates that the Fed would trigger. Upward revisions of the Federal Funds Rate tends to trickle down to many types of consumer interest rates.
In short, a Fed that is soft on interest rates is very good for mortgage rate shoppers.
Click to see today's rates (Sep 23rd, 2017)
How Does Freddie Mac Find Its Average Rate?
Freddie Mac has been polling lenders to find its weekly average rate for more than 45 years.
It's one of the longest running rate surveys in the U.S. Due to its longevity, it's also one of the best ways to track historical rate movement.
But it's not a very good way to know your interest rate.
The agency polls 125 lenders each week, asking them their "perfect" rate for 30- and 15-year fixed loans, plus 5-year ARMs. The lenders' rates assume a high credit score, decent down payment, and the payment of points.
The result is an average rate that is often lower than what is available to the average consumer.
For instance, though Freddie Mac's rate remained below 4% for many weeks, other rate surveys report rates closer to 4.25% for the average borrower.
This discrepancy leads many rate shoppers to think they are not getting the best deal. But that might not be the case. Mortgage rates are highly dependent on:
Credit score
Down payment level, or level of equity in the home
Points paid
The type of loan (conventional, FHA, VA, USDA)
Freddie Mac only reports a conventional loan average, so someone getting the highly popular FHA loan might get a very different rate -- often a lower one.
What's your rate going to be? The only way to find that out is to get a quote based on your situation.
No two mortgage borrowers are alike, and no two mortgages are alike. Today's rates depend on your overall borrower profile.
What Are Today's Mortgage Rates?
No matter which kind of mortgage rate you choose, you are likely to capture one of history's lowest interest levels. Thirty-year mortgages have averaged more than 8% over the past 45 years.
Get today's live mortgage rates now. Your social security number is not required to get started, and all quotes come with access to your live mortgage credit scores.
Click to see today's rates (Sep 23rd, 2017)
The information contained on The Mortgage Reports website is for informational purposes only and is not an advertisement for products offered by Full Beaker. The views and opinions expressed herein are those of the author and do not reflect the policy or position of Full Beaker, its officers, parent, or affiliates.
Try the Mortgage Calculator