Mortgage Rates Destined To Rise? Not According To Consumers, Says Study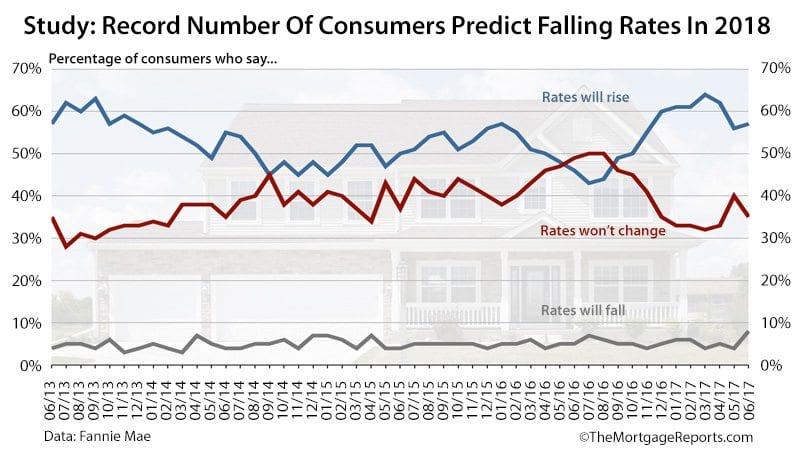 Hope For Dropping Mortgage Rates
Consumers are optimistic about mortgage rates.
Although rates have been going up in recent days, the number of consumers who believe that rates will drop in the next 12 months increased by 4 percentage points, according to a recent study by Fannie Mae.
Now, 8% of consumers say rates will be lower in the summer of 2018.
That might not sound like much, but it is the highest level since December 2012, and matches the all-time high for this survey.
Consumers are eternal pessimists, this survey shows. Over the past four years, only 5% of consumers have predicted lower rates on average.
June's reading, then, is significant. More home buyers and refinancing homeowners are seeing signs that mortgage rates aren't on a rocketship ride to space as many have predicted.
The rest of 2017 could be a very good time to lock in.
Click to see today's rates (Sep 23rd, 2017)
Good News Gets Better For Home Sellers
In June, the percentage of consumers who say it's a good time to sell rose by 2.1 percentage points to 88.3, according to the Fannie Mae Home Purchase Sentiment Index, or HPSI.
That ties with the all-time index high reported in February.
Tight housing inventory and rising prices are tempering buyers' expectations to find the right home in many major metro areas.
The share of Americans who think home prices will rise in the next year continues to climb, to 54% in June, after falling in May.
Mortgage rates are low and lenders are opening access to mortgage credit.  Still, cash-strapped buyers still face an uphill battle in this sellers' market.
"Nevertheless, in the face of very tight housing supply, easing credit standards may fail to have the desired effect and could have the unintended consequence of fueling further house price increases," said Doug Duncan, senior vice president and chief economist at Fannie Mae, in a news release.
Risk-averse home buyers might consider buying now before things get worse.
Americans Less Optimistic About Job Security, Income in June
With stories of massive layoffs and an uncertain economic picture in the year ahead, consumers are feeling less confident about their jobs and household incomes, the HPSI found.
The net share of consumers in June who said they were not worried about losing their job dipped 5 percentage points to 66% from the previous month.
Also, the net share of Americans surveyed in June who said their household income is "significantly higher" than it was a year ago edged down by 1 percentage point to 17%, Fannie Mae reported.
If consumers are iffy about their household income and job stability, buying a home might be even harder as inventory falls, and home prices and mortgage rates head north.
A favorable jobs report in June from the Bureau of Labor Statistics shows the economy added 222,000 jobs — notably higher than the 176,000 jobs analysts had predicted.
With unemployment down to 4.4%, the Fed is more likely to hike rates yet again this year. As a result, mortgage rates will go even higher, possibly pricing out hopeful home buyers who are already reeling from few choices and stiff competition.
Should I Wait The Market Out, or Buy Now?
Timing your home purchase depends on your needs, financial situation and timeline.
While it's true that inventory continues to tighten and prices don't show signs of abating any time soon, there's no guarantee that waiting for the bottom to fall out of the market will yield any better conditions.
Why? Because we really don't know when that might happen.
However, if you have the flexibility (and patience) to wait until late summer or early fall to buy a home, you might find more deals — and more motivated sellers.
According to a Zillow analysis in May, many sellers start lowering prices during these timeframes to get their home sold before school starts or winter sets in. In nearly all large U.S. metros analyzed, Zillow found the highest share of listings with at least one price reduction were on the market in August and September last year.
In the busy spring months when sellers get multiple offers at or near asking price, most real estate agents will advise their buyers against asking for seller concessions.
But if a home lingers on the market into the late fall and even winter, a seller is even more likely to slash prices amid slower buyer traffic and colder weather.
As competition slows to a crawl in the colder winter months, sellers might be even more motivated to negotiate — and meet you halfway.
Check Your Home Buying Eligibility
Mortgage rates are low and lenders are eager to issue loans. Many home buyers qualify for a mortgage, they just don't know it yet.
The best way to find out is to get a rate quote, which comes with a home purchase or refinance eligibility check. You could be a lot closer to getting mortgage-approved than you think.
Click to see today's rates (Sep 23rd, 2017)
The information contained on The Mortgage Reports website is for informational purposes only and is not an advertisement for products offered by Full Beaker. The views and opinions expressed herein are those of the author and do not reflect the policy or position of Full Beaker, its officers, parent, or affiliates.
Try the Mortgage Calculator