Mortgage Rates Today, July 10, Plus Lock Recommendations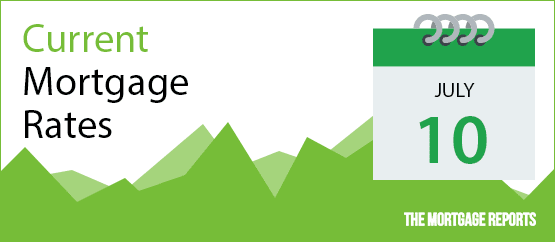 What's Driving Mortgage Interest Rates
Mortgage rates today opened lower than Friday morning's, and will likely operate within a narrow range unless something unexpected and earthshaking occurs. There are no regularly-scheduled economic releases until Wednesday, so markets will look to rumors, remarks and tweets to predict interest rate movements.
Mortgage Rates Today
(As of 10:30 am EDT)
| Program | Rate | APR* | Change |
| --- | --- | --- | --- |
| Conventional 30 yr Fixed | 3.875 | 3.875 | Unchanged |
| Conventional 15 yr Fixed | 3.250 | 3.250 | Unchanged |
| Conventional 5 yr ARM | 3.250 | 3.735 | -0.04% |
| 30 year fixed FHA | 3.500 | 4.447 | Unchanged |
| 15 year fixed FHA | 2.875 | 3.814 | Unchanged |
| 5 year ARM FHA | 3.125 | 4.154 | -0.01% |
| 30 year fixed VA | 3.625 | 3.777 | -0.01% |
| 15 year fixed VA | 3.125 | 3.433 | Unchanged |
| 5 year ARM VA | 3.375 | 3.457 | Unchanged |
Your rate might be different. Click here for a personalized rate quote. See our rate assumptions here.
Today's Data
Today's economic data is mixed, and mortgage rates will likely hang about in a small range until Wednesday, barring unexpected global economic events or surprise policy changes here in the US. It's a jungle out there.
All three major stock indexes are up slightly (slightly bad for mortgage rates).
Oil has fallen $.39 to $44.11 a barrel (good for mortgage rates, because oil prices drive inflation).
Gold has fallen about $5 to $1,209.50 (bad for rates because gold rises when the economy is shaky, and that's when rates fall).
The yield for ten-year Treasuries is at 2.38 percent, down one basis point (1/100th of one percent) from 2.39.
CNNMoney's Fear & Greed Index has fallen four points to a "fearful" 44 (good for rates, because fearful investors prefer bonds to stocks, which causes bond prices to rise and rates to fall – see explanation below).
This Week
There are no pertinent economic releases today or Tuesday. But the latter part of the week is loaded with Fed news and reporting that could spike mortgage rates or cause them to fall sharply. Stay tuned.
Wednesday – Janet Yellen speaks, and the Fed also releases its Beige Book, which contains notes from the previous meeting. This will be watched closely by investors, as it may offers clues about the timing of possible rate increases.
Thursday – Weekly Jobless Claims, expected to fall from last week's 248,000 to 245,000. More is better for rates, and fewer is bad for rates.
Thursday – Producer price Index (PPI), which measures economic strength at the wholesale level. Analyst don't expect this index to move at all, so an increase would be bad for rates, and a decrease would be good.
Friday – Consumer Price Index (CPI), a key measure of inflation, which experts predict will rise .1 percent, and Consumer Sentiment, an important indicator of future consumer willingness to spend, expected to increase by .5 to 95.6. Larger increases are bad for rates, while less expansion would be good.
Friday – Retail Sales, expected to increase by .1 percent. A larger increase could cause rates to rise, while a drop might cause them to fall.
Rate Lock Recommendation
Mortgage rates are trending up, and there is no reason to believe that they will drop back in the near future.
I would probably lock if rates were in my strike zone and I was closing soon. However, your own goals and tolerance for risk may vary. This is only what I would do.
LOCK

if closing in

7

days

LOCK

if closing in

15

days

LOCK

if closing in

30

days

FLOAT

if closing in

45

days

FLOAT

if closing in

60

days
What Causes Rates To Rise And Fall?
Mortgage interest rates depend on a great deal on the expectations of investors. Good economic news tends to be bad for interest rates, because an active economy raises concerns about inflation. Inflation causes fixed-income investments like bonds to lose value, and that causes their yields (another way of saying interest rates) to increase.
For example, suppose that two years ago, you bought a $1,000 bond paying five percent interest ($50) each year. (This is called its "coupon rate.") That's a pretty good rate today, so lots of investors want to buy it from you. You sell your $1,000 bond for $1,200.
When Rates Fall
The buyer gets the same $50 a year in interest that you were getting. However, because he paid more for the bond, his interest rate is not five percent.
Your interest rate: $50 annual interest / $1,000 = 5.0%
Your buyer's interest rate: $50 annual interest / $1,200 = 4.2%
The buyer gets an interest rate, or yield, of only 4.2 percent. And that's why, when demand for bonds increases and bond prices go up, interest rates go down.
When Rates Rise
However, when the economy heats up, the potential for inflation makes bonds less appealing. With fewer people wanting to buy bonds, their prices decrease, and then interest rates go up.
Imagine that you have your $1,000 bond, but you can't sell it for $1,000, because unemployment has dropped and stock prices are soaring. You end up getting $700. The buyer gets the same $50 a year in interest, but the yield looks like this:
$50 annual interest / $700 = 7.1% The buyer's interest rate is now slightly more than seven percent.
Click to see today's rates (Sep 24th, 2017)
The information contained on The Mortgage Reports website is for informational purposes only and is not an advertisement for products offered by Full Beaker. The views and opinions expressed herein are those of the author and do not reflect the policy or position of Full Beaker, its officers, parent, or affiliates.
Try the Mortgage Calculator