Mortgage Rates Take Hiatus From 8-Week Slide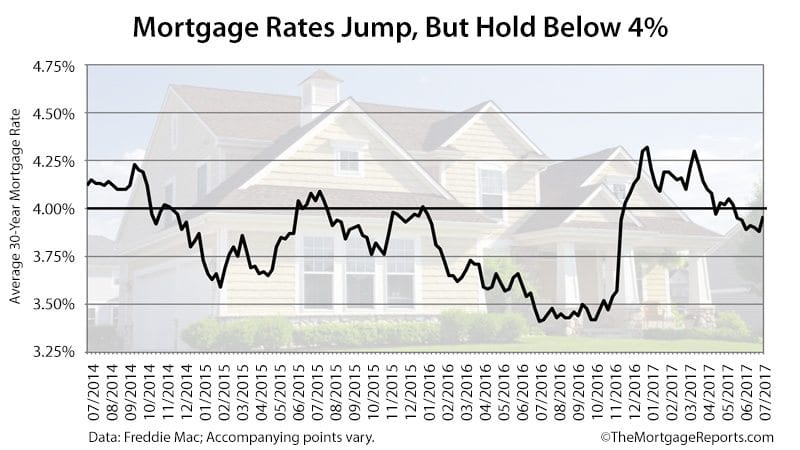 Freddie Mac: Mortgage Rates Bump To 3.96%
After a steadily falling for eight weeks, mortgage rates reversed direction.
Freddie Mac, in its weekly survey of more than 100 lenders nationwide, reported the average thirty-year rate rose 8 basis points (0.08%) to 3.96% this week.
Global pressures mounted last week. Specifically, comments came out of Europe that the economic bloc's central bank could soon wind down its economic stimulus spending.
Still, rates remained relatively low. It's the 7th week in a row in which average rates remained below the psychologically important 4% mark.
That's quite a feat, considering most analysts called for rates between 4.25% and 4.5% by this time in 2017.
It's still a phenomenal time to be shopping for a mortgage rate. Anyone who locks in now has access to better rates than have been available for most of history.
Click to see today's rates (Sep 24th, 2017)
What's Europe Got To Do With It?
In case you haven't noticed, we're living in a worldwide economy.
For example, the U.S. stock market could fall because China is hitting hard times. Likewise, what happens in Europe doesn't stay in Europe.
That played out last week as the European Central Bank (ECB) announced it could pull back on its massive bond-buying program earlier than expected.
ECB President Mario Draghi noted that a healthier economy could be reason enough to reduce its 60-billion-euro-per-month (roughly $68 billion) bond-buying program as early as 2018.
The final decision could come as soon as September.
It came as a surprise to markets, which expected the ECB to maintain its accommodative policy a lot longer.
The announcement hurt U.S. mortgage rates because, worldwide, there would be less demand for bonds. Because mortgage-backed securities (MBS) are a type of bond, demand for those would wane, too.
Low demand for MBS causes rates to rise.
Without news out of Europe, mortgage rates may have improved slightly last week. But the announcement overwhelmed any benefits rates may have experienced.
It proves that overseas events often carry more weight than U.S. news stories when it comes to mortgage rates
Click to see today's rates (Sep 24th, 2017)
The Making Of Freddie Mac's Average Rate
Each month, Freddie Mac polls 125 lenders of various types and in many locations to formulate its national average rate.
It's a good indicator of the general direction of rates, but don't expect to actually get the national average rate yourself.
Mainly because it's assuming the "perfect borrower".
Freddie Mac queries lenders based on loan features that don't apply to everyone: high down payment and credit scores, paying points, plus buying a primary residence instead of a second home or investment property.
And, Freddie Mac only reports conventional mortgage rates.
Luckily, other loan types exist which offer similar or even lower rates, such as the FHA mortgage. It requires just 3.5% down, plus borrowers with lower credit scores can qualify.
Likewise, the VA mortgage -- available to veterans and active service members of the U.S. military -- offer lower-than-conventional rates and don't require a down payment or mortgage insurance.
If you don't qualify -- or if the rate is too high -- on the conventional loan, don't worry. There's a good chance another loan type suits you better. (You can review all home mortgage types here.)
Likewise, refinance shoppers may not be suited for a conventional loan. Those with a VA, FHA, or USDA loan currently might qualify for a streamline refinance that requires very little documentation. Closing time frames on these loans are much faster than for standard "full-doc" refinances.
Refinancing homeowners are encouraged to review all their options.
So, Freddie Mac's rate isn't the end-all in the rate analysis game, but it is helpful. Use it as a general roadmap of where rates are headed so you can lock in your best rate based on your situation.
What Are Today's Mortgage Rates?
No matter which kind of mortgage rate you choose, you are likely to capture one of history's lowest interest levels. Thirty-year mortgages have averaged more than 8% over the past 45 years.
Get today's live mortgage rates now. Your social security number is not required to get started, and all quotes come with access to your live mortgage credit scores.
Click to see today's rates (Sep 24th, 2017)
The information contained on The Mortgage Reports website is for informational purposes only and is not an advertisement for products offered by Full Beaker. The views and opinions expressed herein are those of the author and do not reflect the policy or position of Full Beaker, its officers, parent, or affiliates.
Try the Mortgage Calculator