Buying vs. renting in 2017
With home prices going up and mortgage rates on the rise, the decision-making window for many potential home buyers is closing. "Should I buy a house or rent?" is no longer an academic question. It's a decision many households will want to make before New Year's Eve.
Don't put off your decision
Why the hurry? The answer comes in three forms.
First, home prices have been rising with great consistency. According to the National Association of Realtors (NAR), the median existing-home price reached $236,400 in March. That's up 6.8 percent in a year. It's also the 61st consecutive month of year-over-year gains.
"Home prices have risen by 41 percent and rents have climbed 17 percent over the past five years" —Lawrence Yun, NAR Chief Economist
Second, those rosy price increases – good news for sellers – have not yet been offset by rising wages.
"Home prices have risen by 41 percent and rents have climbed 17 percent over the past five years at a time when the typical worker wage has grown by only 11 percent," according to Lawrence Yun, NAR's Chief Economist.
Third, rising home values and lagging wages are not a good combination. It's low interest rates which have saved the real estate market, rates which might rise.
"In the 1970s," explains Yun, "They averaged 8.9 percent; in the 1980s, 12.7 percent; in the 1990s, 8.1 percent; and in the first decade of the new century they came in at 6.3 percent. The in-and-around 4 percent rate is only a recent phenomenon from the year 2011 to today."
The catch is that even with rates at historic lows – the 3.65 percent annual mortgage rate seen in 2016 is the lowest on record for 30-year prime financing, according to Freddie Mac – affordability could emerge as a significant problem if mortgage rates increase.
Should I buy a house or rent?
We don't know how mortgage rates will move during the next year or two, but some forecasters see higher rates ahead. For instance, the National Association of Home Builders see rates topping five percent in 2018.
The problem is that rental units are also increasingly expensive. A report from the Census Bureau shows that the median asking rent was $1,507 in the third quarter of 2016.
That's up a whopping $161 over a year earlier. In rough terms, 12 percent rental rate increases are outperforming the 7.7 percent home price hikes seen nationwide.
For potential home buyers, the problem is increasingly acute: a January report from ATTOM Data Solutions found that "buying a home is more affordable than renting in 66 percent of U.S. housing markets."
The catch is that marketplace options could change substantially with a rise in mortgage rates.
"While buying continues to be more affordable than renting in the majority of U.S. markets, that equation could change quickly if mortgage rates keep rising in 2017," said Daren Blomquist, senior vice president with ATTOM Data Solutions.
"In that scenario, renters who have not yet made the leap to homeownership will find it even more difficult to make that leap this year. Additionally, renting may end up being the lesser of two housing affordability evils in a growing number of high-priced markets."
Given rising costs for shelter and stagnant wages, what can be done? For many individuals, the choice of higher rents or higher home prices is no choice at all.
Moving for affordability
Instead, they are adjusting their economics by moving from high-cost areas to communities where incomes and expenses are more in balance, especially jurisdictions without a state income tax.
According to CoreLogic, "Home buyers from high-cost states, such as California and New York, moved to more affordable states, such as Florida, Texas, Arizona and the Carolinas in 2016.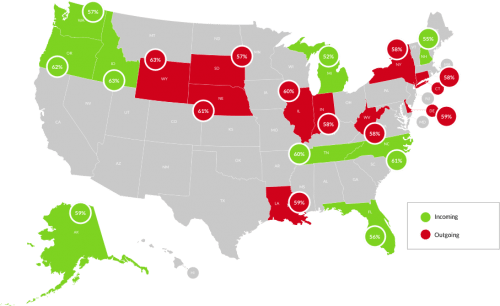 California had the largest number of out-migrants in 2016, followed by New York and Virginia. In contrast, Florida had the largest number of in-migrants in 2016, followed by Texas and North Carolina."
In the end the real question is increasingly not owning versus renting, it's also staying versus migrating, a practical trend which is likely to grow if both home prices and mortgage rates continue to rise faster than wages.
What are today's mortgage rates?
The affordability of home buying depends a great deal on what you pay for your mortgage. With rates ranging from two-ish to five-ish percent, depending on the program, your down payment and other factors, you'll want to get mortgage quotes from several lenders. You'll also want to have a serious discussion about the right program for you.