Buy Or Rent? Purchasing Is Cheaper In Two-Thirds Of U.S. Markets
Seeking a new lease on life? Many renters are often advised to ditch their leased dwellings and become homeowners. But is it really worth it to buy instead of rent? Which is the smarter choice financially?
Folks on the buy vs. rent fence now have fresh facts that can help answer this question. Here's the 411: buying is more affordable than renting in 66 percent of American housing markets, reports ATTOM Data Solutions.
What The Report Found
Using data from the U.S. Department of Housing and Urban Development, Bureau of Labor Statistics, and RealtyTrac, the report shared many key findings.
First, fair market rent on a three-bedroom property is less affordable than monthly payments on a median-priced home in 354 of the 540 counties studied in the report. Those monthly payments include the mortgage, property taxes and insurance.
Second, on average across those 540 counties, monthly rent on a three-bedroom unit in 2017 will gobble up 38.6 percent of average wages. Compare that to only 36.6 percent of average wages required to make a monthly house payment on a median-priced home this year.
Other Renting Revelations
Third, the buy or rent decision has become almost a no-brainer in many big city areas. These include counties representing Chicago, Phoenix, Miami, San Bernardino, Las Vegas, Dallas, and Philadelphia.
Fourth, many other major metro areas are among the most costly places to rent. That list includes greater San Francisco, Washington D.C., Key West, New York City, and San Diego.
Lastly, fair market rents are increasing faster than average wages in 62 percent of the counties studied.
What The Findings Mean To Your Buy Or Rent Calculations
Daren Blomquist, senior vice president for ATTOM Data Solutions, says the report paints a clear picture for many would-be buyers.
"Today's near record low homeownership rate, combined with low inventory of rental property, have combined to push rental rates higher during the housing recovery," he says. "In the majority of markets, home price appreciation has been outpaced by growth in rental rates."
Blomquist says the evidence points to a clear conclusion.
"In the 66 percent of markets we studied, buying a home makes more sense than renting. That's true for almost anyone who plans to live in that market for at least a year and has a steady job," he says. "They will be paying less than they would for rent. And even if they have to move after a year, they can most likely keep that property as a rental and get a positive monthly cash flow from that home as an investment property."
Of course, a big reason it costs less to buy than rent today is that home loans remain cheap. Fixed rates on mortgages currently remain near all-time lows. That gives you more buying power to qualify for a loan and afford a bigger, better property.
More Ownership Advantages
More affordable monthly payments aren't the only reasons renters should consider purchasing. Homeownership offers other perks. One is the ability to deduct your mortgage interest from your taxable income.
"Another primary advantage is the opportunity to build wealth via earned equity that is not available through renting," says Blomquist. "We know that home values do not always go up. But over the long term, they have consistently trended higher."
Remember that you may be able to tap into built-up equity down the road. A home equity loan or line of credit may be the cheapest financing for things like a home remodel or college tuition.
Also, buyers often enjoy more privacy, space, room to grow, and flexibility to make changes to their homes. That's especially true if it's a detached single-family dwelling.
Finally, owning a home and paying a mortgage builds a good credit history. If you want to finance a car or major purchase, or open other lines of credit in the future, being a mortgage borrower helps.
Think Before Signing That Lease
Still can't make up your mind whether to buy or rent? One factor to help you decide is the state of interest rates, warns Blomquist.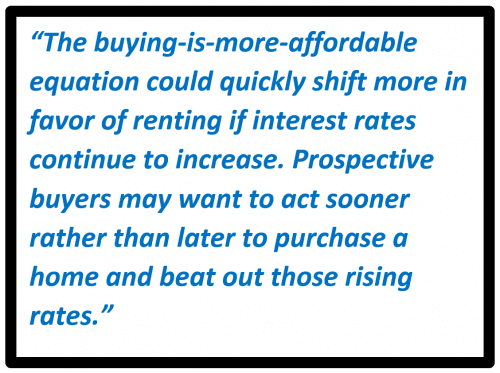 The length of time you expect to own your first home should be pondered, as well.
"Anyone buying a home should have a 5- to 10-year horizon for owning that home, even if they don't occupy it for that long a time," says Blomquist. "That horizon will allow you to more likely reap the full benefits of owning as an investment — both when it comes to potential rise in equity as well as cash flow from the property if it becomes a rental."
What Are Today's Mortgage Rates?
Most recent Freddie Mac surveys show mortgage rates overall have dropped slightly over the last three weeks. However, rates change as financial markets do, and can rise or fall several times a day. Mortgage rates also differ between programs and lenders. Get several quotes before committing to a lender or program.