Mortgage Rates Hold Below 4% For Fourth Straight Week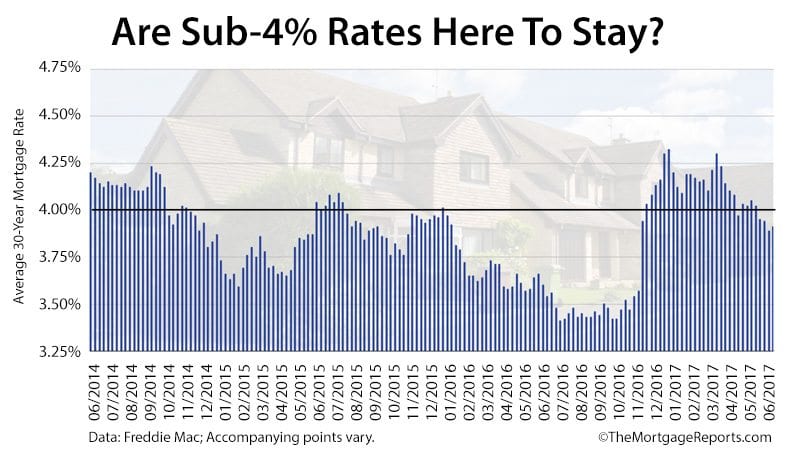 Freddie Mac: Mortgage Rates Inch Up To 3.91%
Home shoppers and refinancing homeowners are loving mortgage rates of late.
Freddie Mac, in its weekly survey of more than 100 lenders nationwide, reported the average thirty-year rate rose 2 basis points (0.02%) to 3.91% this week.
For the fourth week in a row, mortgage rates remained in sub-4% territory.
Weak economic data and continued controversy in the White House is keeping rates low.
Rates should be much higher, though.
Unemployment is rock-bottom, and the Federal Reserve, which met yesterday, tells us that the economy is on solid ground.
Mortgage rates tend to improve in good economic times, so, why rates aren't higher is hard to say.
The obvious takeaway, though, is that mortgage consumers should be shopping for rates, even if their home purchase or refinance plans are still months out. Recent data could spur them to lock in earlier.
If rates rise, they will be glad they did.
Click to see today's rates (Aug 19th, 2017)
Wild Day For Interest Rates
On  Wednesday, mortgage rates went on a wild ride when they were hit with both positive, then negative data.
First, it appeared mortgage rates would fall through the floor.
Consumer prices fell in May when no change was expected. Inflation is on the retreat, it seems. Mortgage rates fall in times of little or no inflation, that played out yesterday.
Retail sales were also much weaker than expected, helping rates. Typically, data that hints at a weaker economy will benefit rates.
Then, the Federal Reserve hiked its Federal Funds Rate. That was expected, so there was little reaction.
The bigger news that came from the Fed meeting was how the group plans to start offloading its war chest of mortgage-backed securities (MBS).
During the downturn, the Fed bought up trillions of dollars in MBS.
Mortgage rates are based on the price of these assets. With huge demand came higher prices and lower rates. That's why rates were so low starting, hitting bottom in 2012.
The Fed has long since stopped its purchase of these assets, but it still holds a massive amount of them. Mortgage rate watchers have been wondering when and how the group would start selling them.
After June's meeting, the Federal Reserve announced they would start getting rid of MBS and Treasuries to the tune of $10 billion per month, working up to $50 billion per month after a year.
The announcement was bad for rates.
Overall, though, markets took the news quite well, and mortgage rates were in positive territory by day's end.
Wednesday, surprisingly, proved to be one of the best days for mortgage rates in months.
The Making Of Freddie Mac's Average Rate
Each week, mortgage agency Freddie Mac surveys 125 lenders nationwide for its Primary Mortgage Market Survey (PMMS), a snapshot of current mortgage interest rates.
It asks mortgage companies, banks, and credit unions, and other lenders their current rate for a well-qualified borrower putting 20% down, and paying "discount points," or extra fees that directly reduce the rate.
The weekly Freddie Mac report is great for watching mortgage rate trends. The organization has been conducting the survey for 45 years. So, the weekly average rate is a good measure of historical movement.
But as a mortgage rate consumer who needs a truly current rate, Freddie Mac's survey isn't very useful. The agency polls lenders early in the week for its Thursday release. By publish time, their rate is already outdated.
Mortgage rates change by the minute.
Plus, Freddie's rates are based on the quote for a mythical homeowner: one with great credit, 20% down, and a short closing time frame.
Your rate might be higher or lower. The only way to know is to contact a reputable lender and request a rate quote.
Click to see today's rates (Aug 19th, 2017)
What Are Today's Mortgage Rates?
Today's interest rates are low. Historically any rate in the 4% range was considered "too good to be true." Rates have averaged more than 8% over the 45 years Freddie Mac has been tracking them.
Get today's live mortgage rates now. Your social security number is not required to get started, and all quotes come with access to your live mortgage credit scores.
Click to see today's rates (Aug 19th, 2017)
The information contained on The Mortgage Reports website is for informational purposes only and is not an advertisement for products offered by Full Beaker. The views and opinions expressed herein are those of the author and do not reflect the policy or position of Full Beaker, its officers, parent, or affiliates.
Try the Mortgage Calculator